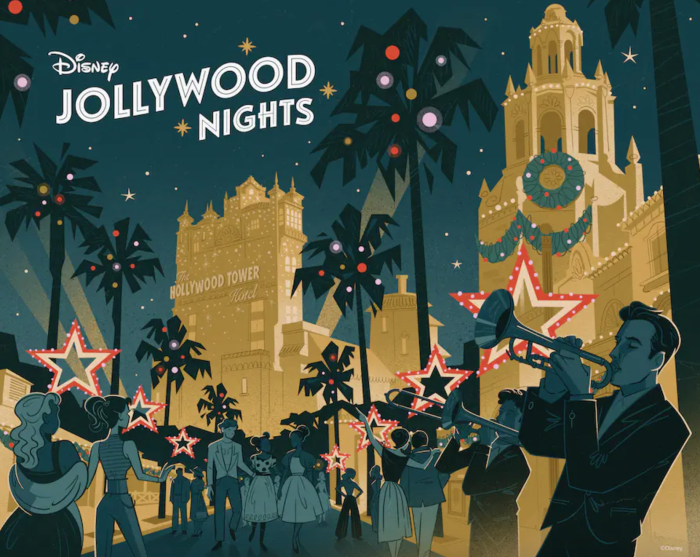 Jollywood Nights
Jollywood Nights Christmas Party: A Retro Holiday Extravaganza at Hollywood Studios!
Are you ready to step back in time and experience a glamorous vintage Christmas celebration like no other? Well, get ready, because Walt Disney World's Hollywood Studios is bringing the magic of Old Hollywood to life with their brand-new event: Jollywood Nights Christmas Party! It's the perfect opportunity to dress up in your finest vintage attire and immerse yourself in the glitz and glamour of a bygone era. So, grab your tickets, mark your calendars, and get ready to be transported to a winter wonderland of yesteryear!
Hollywood Studios is one of our favorite parks, because it includes some of the best rides and shows! We love Galaxy's Edge and Toy Story Land. Our favorite rides include: Star Wars Rise of the Resistance, Slinky Dog Dash, the Twilight Zone Tower of Terror, and Rock N Roller Coaster. At Christmas time, Hollywood Studios is known for its vintage holiday decorations. In recent years, they have also included nightly snow fall (AKA "snoap") on Hollywood Blvd.
READ: Where to Find Snoap in Orlando
What to Expect
Because this is a brand new event, we don't have anything to really base it on as far as details. All we know is what Disney has officially come out and said. Here's what we know so far.
Special Shows
Disney has given us a summary of the special shows we can expect to see:
Tune in to a musical variety show with special guests Kermit the Frog and Miss Piggy at Theater of the Stars—with special appearances from Princess Tiana, Belle and more.
Join in the fun during a spirited sing-along experience at Hyperion Theater. More details to come!
Wrap up the festivities and enjoy the return of Jingle Bell, Jingle BAM!—a seasonal nighttime spectacular that's jam-packed with music, special effects and dazzling state-of-the-art projections.
Themed Entertainment
Along with special shows, there will be holiday entertainment throughout the park:
Be welcomed to Jollywood—with a DJ spinning a holiday mix on Hollywood Boulevard.
Saunter over to Echo Lake for a throwback bash that's sure to stir up nostalgia. You may even spot Powerline Max, Phineas and Ferb!
Head down Commissary Lane and discover a holiday street fair filled with lively energy at Holiday Fiesta en la Calle. Latin holiday music fills the air as musicians play along the walkways. Warm lighting and colorful décor give the street a vibrant feel, as you sip drinks and nibble on treats inspired by Latin holiday traditions.
Revel in a jazzy setting at a limited-capacity, Hollywood-themed lounge—located at The Hollywood Brown Derby Restaurant.
Drop in to the The Hollywood Tower Hotel courtyard for a limited-capacity, otherworldly soirée.
Festive Snacks
Disney has promoted the fact that there will definitely be a selection of specialty foods and beverages that go with the glitzy, holiday theme. These options will be available to purchase exclusively during the party. We don't know yet if there will be any snacks included in the ticket price. If we are comparing it to other after hours events like Mickey's Very Merry Christmas Party which happens at the Magic Kingdom, we can assume that there will be a selection of snack stations included.
READ: How to Brave Holiday Crowds at Disney World
Dapper Attire
Disney is encouraging everyone to wear their dapper attire to this event! This is huge! With fan events like Dapper Day being so popular, this is the first official event that Disney is hosting where they are encouraging a fancy dress code. This doesn't mean that you are required to dress up, but when Disney asks you to dress in your finest Old Hollywood attire, don't you want to oblige?
In their own marketing materials, Disney literally says to "dress to impress." Be sure to follow the regular dress code found here: Disney Parks Dress Code.
Get glammed up or show off your unique style.

Disney Jollywood Nights is brimming with red-carpet moments, Hollywood vibes, glimmering décor and fantastic photo ops—so you're encouraged to don your holiday best!

Walt Disney World
READ: Christmas Disneybounding
Dates
Jollywood Nights Christmas Party will be held on select nights throughout the holiday season starting from November 11th, 2023, and running until December 20th, 2023. With multiple opportunities to attend, there's sure to be a date that fits perfectly into your holiday plans! The dates are as follows: November 11, 18, 20, 27, 29 and December 4, 6, 16, 18, 20. Hurry, many of these date are already sold out!
Prices
Jollywood Nights Christmas Party tickets are priced from $159 to $169 per person (adults and children are priced the same) depending on the date. Remember, this is an exclusive event that requires a separate ticket, so make sure to include it in your budget to ensure you don't miss out on all the festive fun!
Where to Purchase Tickets
You can purchase your Jollywood Nights Christmas Party tickets directly from the official Walt Disney World website or the My Disney Experience mobile app.
Hours
Jollywood Nights Christmas Party kicks off at 8:30 and runs until 12:30. That's 4 hours of non-stop holiday cheer! While the park typically closes to regular guests before the event starts, party ticket holders can start checking in at 7:00 PM. In the past, Disney has allowed party guests early entrance up to 3 hours before party time. Because this is a brand new event, we're not sure on this exact time. Getting there early definitely allows you to maximize your time in the park and enjoy some of your favorite attractions before the festivities begin!
Tips for a Magical Evening
Here are a few things to keep in mind.
Plan your outfit: To fully immerse yourself in the enchantment of Jollywood Nights Christmas Party, consider dressing up in old Hollywood vintage Christmas attire. Think elegant dresses, dapper suits, and stunning accessories that capture the essence of the era. You'll feel like a Hollywood star walking down the red carpet!
Arrive Early: To make the most of your evening, arrive early to explore the park and familiarize yourself with the layout. This will allow you to prioritize the attractions and entertainment options that you don't want to miss during the event.
Catch the Special Entertainment: One of the highlights of Jollywood Nights Christmas Party is the spectacular entertainment lineup! From nostalgic holiday shows to stunning musical performances, there's something for everyone. Make sure to check the schedule and plan your evening accordingly to catch as many shows as possible.
Enjoy Festive Treats: Indulge in the delicious holiday treats and seasonal delights offered during the event. From mouthwatering treats to festive beverages, there's no shortage of palate-pleasing options to satisfy your cravings. Don't forget to take advantage of the included complimentary snacks throughout the park!
Be Considerate of Others: Lastly, as we delve into the festive spirit, let's remember the importance of being respectful and considerate of others. The magic of Disney is even more special when shared with fellow guests. So, let's all spread holiday cheer and make room for everyone to enjoy the enchantment!
There you have it, my friends! Jollywood Nights Christmas Party is an incredible opportunity to soak up the holiday magic in true old Hollywood style. With dazzling entertainment, delectable treats, and festive delights at every turn, it's sure to be an evening you'll never forget. Mark your calendars, get your vintage Christmas attire ready, and prepare for a night of enchantment and Holiday happiness like no other at Walt Disney World's Hollywood Studios!
Please note: All information provided is subject to change, so be sure to double-check the official Walt Disney World website for the most up-to-date information on dates, prices, and hours.