Be Our Guest Restaurant
Welcome, Disney enthusiasts! Today, we're going to embark on a culinary adventure at one of the most enchanting restaurants in all of Walt Disney World: Be Our Guest Restaurant. Nestled inside the iconic Magic Kingdom park, this dining experience is truly a feast for the senses. What sets Be Our Guest apart from other magical dining destinations like Cinderella's Royal Table and Storybook Dining? Let's dive in and find out!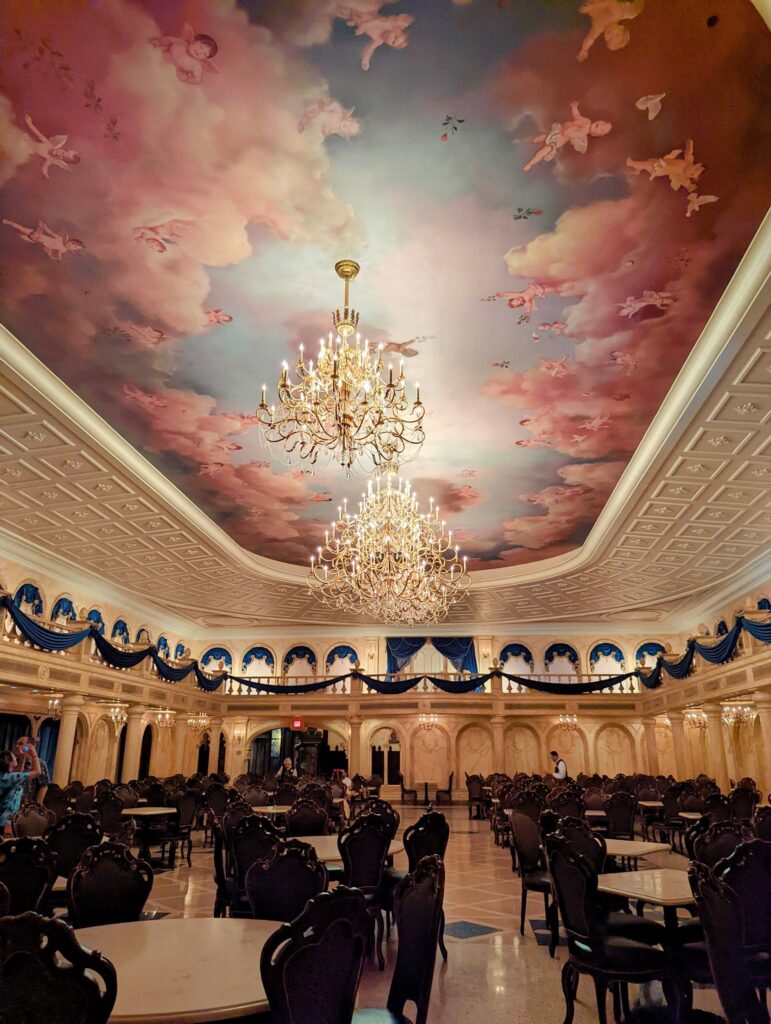 Unveiling the Magic: Unique Features
Be Our Guest Restaurant offers an immersive and unforgettable dining experience, inspired by Disney's beloved film, Beauty and the Beast. With three distinct dining rooms – the Ballroom, the West Wing, and the Rose Gallery – each with its own magical atmosphere, Be Our Guest offers a range of unique settings to suit your taste.
An Adventurous Menu
We have really enjoyed the meal, each time we have eaten at Be Our Guest. While the menu has several French inspired dishes that will seem a little adventurous to many families, our kids have enjoyed the opportunity to try some new things that felt extra fancy. The menu includes options like escargot and duck terrine. Because it's a little on the fancy side, it's not our kid's favorite meal at Disney, but the experience is unique. There are plenty of basic options for young children, like chicken strips and macaroni and cheese.
Pricing
Be Our Guest no longer offers the quick-service style option it used to feature for breakfast and lunch. Table-service dinning is now the same price for lunch and dinner and features a prix fixe menu like other signature dining experiences at Disney World. Expect the price of $67 per adult and $39 per child (age 3-9). Remember, these prices include your choice of entrée and non-alcoholic beverages! Annual Passholders and DVC members save 10%.
Timing is Everything: Best Time to Visit
Be Our Guest is a popular restaurant that stays pretty busy at all times. Try for an early lunch or late dinner for slightly less crowds. You will need an advanced reservation either way, but if you want to request a certain dining room, you'll have a better chance when it's less busy. We love going toward the end of the night. We also love going at Christmas time, when holiday decorations are up!
TIP: Make a reservation toward the end of the night! If your dining time goes beyond the park closing time, you'll have an empty Main Street to stroll as you make your way to the exit. It's such a unique and magical experience.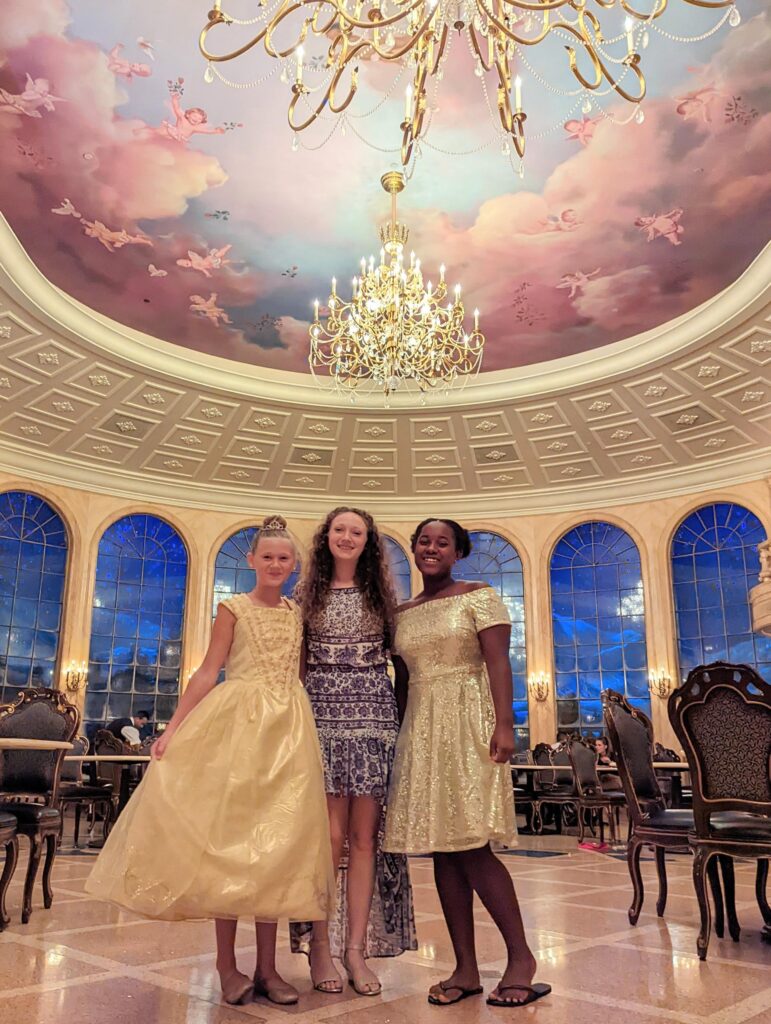 Insider Tips for a Magical Experience
Let's dive into some crucial tips you will want to make a note of:
Reservations Are a Must: Be sure to book your table at Be Our Guest as early as possible through the My Disney Experience app or website. This restaurant is in high demand, and availability can be limited, especially for dinner.
Room Selection Secrets: Each dining room at Be Our Guest offers a unique ambiance. The Ballroom is the grandest and largest, offering a feast for the eyes with its high ceilings, sparkling chandeliers, and views of softly falling snow outside the grand windows. The West Wing is shrouded in mystery, with the enchanted rose and thunderstorms filling the room. Meanwhile, the Castle Gallery features beautiful artwork and a more intimate setting. Consider your preferences and make a note of your desired room when making your reservation! Room preference cannot be guaranteed, but cast members have always been great at honoring our requests. The secret: be nice!
Requesting the Ballroom: As I already stated, room requests are not guaranteed. However, you can make a polite request during your reservation process. Let Disney know that the Ballroom is your top choice, and with a sprinkle of pixie dust, your dream dining experience may become a reality! We always make a note of it again with the cast member that is checking us in, and let them know that we don't mind waiting. In my opinion, eating at Be Our Guest is only worth it if you can sit in the ballroom. There, I said it. We were seated once in the Rose Gallery and it felt more like a cafeteria than a castle.
Be a Considerate Guest: Respecting the Magic As we dive into the enchantment of dining at Be Our Guest, it's essential to remember our Disney values. Be considerate of other guests and the cast members who make your experience truly magical. Stay mindful of the time and allow fellow guests to enjoy their dining experience. And most importantly, embrace the magic, treasure the memories, and let your inner child come out to play!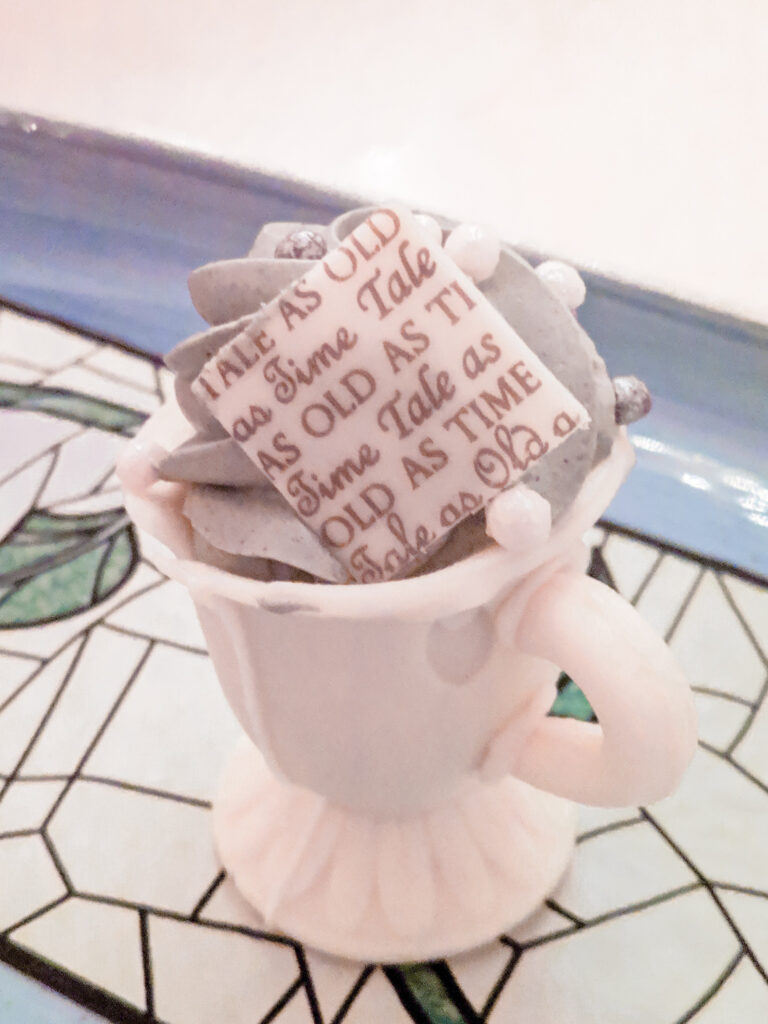 COMPARING TO OTHER MAGICAL DINING EXPERIENCES
Now, I know you might be wondering how Be Our Guest stacks up against other notable Disney restaurants. These signature dining experiences are all fairly similar in price, and are all prix fixe menus, but Be Our Guest is on the lower price range. Let's take a quick comparison:
Cinderella's Royal Table: While both are located inside the Magic Kingdom and offer an immersive dining experience, Cinderella's Royal Table holds the distinction of being located inside the Cinderella Castle, making it truly unique. Be Our Guest, on the other hand, takes you into the enchanted world of Beauty and the Beast. The main difference is that Be Our Guest is not a full character experience. The Beast does make an appearance, but does not stop at each table or do a meet and great at this time. The dinner price for an adult at Be Our Guest is $67, where Cinderella's Royal Table is $79.
Story Book Dining at Artist Point: Story Book Dining, located at Disney's Wilderness Lodge, is a charming dining experience featuring Snow White, Grumpy, Dopey, and the Evil Queen. Both are fantastic options, but Be Our Guest is not a full character experience. It really comes down to your personal preference and whether dining inside the ballroom of the Beast's castle is appealing. Story Book Dining does not require a park ticket, as it's located at the Wilderness Lodge. The dinner price for an adult at Story Book dining is $65.
Akershus Royal Banquet Hall: Situated in the Norway Pavilion at Epcot, Akershus Royal Banquet Hall offers an enchanting meal with various Disney princesses, similar to Cinderella's Royal Table. The dinner price for an adult at Akershus is $63.
Conclusion
Be Our Guest Restaurant is a must-visit culinary destination inside the enchanting Magic Kingdom. With its unique ambiance and delightful menu options, this dining experience will transport you into the world of Beauty and the Beast. Remember to secure your reservations early, consider your room preferences, and be respectful to fellow guests. Get ready for a magical dining journey that will leave you with treasured memories and a heart full of Disney magic. Happy dining, my friends!