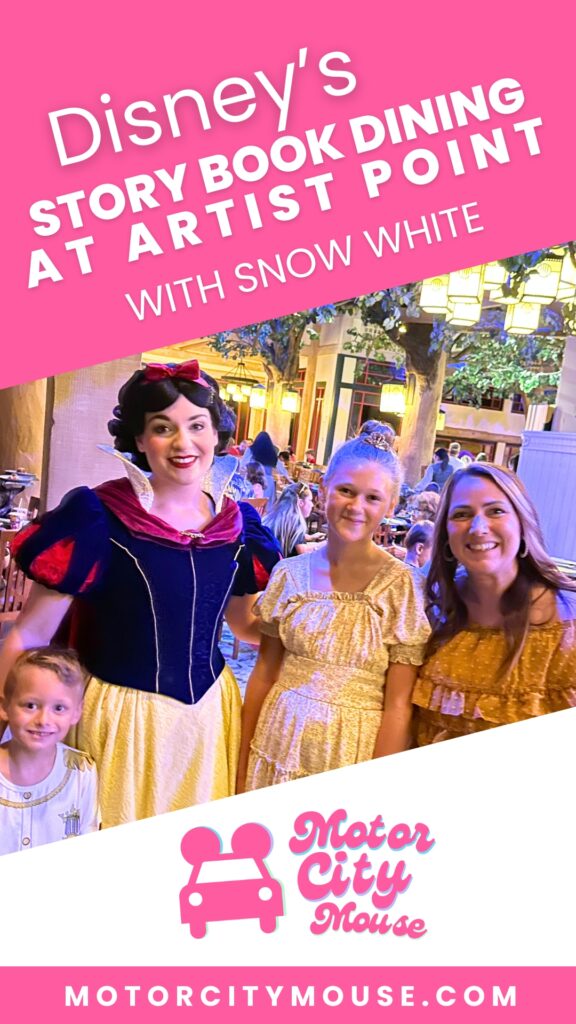 Story book Dining
Hey there, fellow Disney enthusiasts! I am thrilled to share our recent experience at Disney's Story Book Dining at Artist Point with Snow White. As a large family with kids ranging from 5 to 16 years old, we are always on the lookout for Disney restaurants that offer a fantastic dining experience without breaking the bank. Today, I'll take you on a mouthwatering journey through the enchanted forest and compare it to other popular Disney restaurants like Be Our Guest and Cinderella's Royal Table, so you can decide which one is best for you. Plus, I'll sprinkle in some valuable money-saving tips to make your Disney World vacation even more magical!
A Fairytale Come to Life
Upon entering Artist Point, we were immediately transported into the enchanting world of Snow White. The décor is reminiscent of a storybook forest, with towering trees, sparkling lights, and whimsical details at every turn. Our little ones couldn't contain their excitement as they spotted familiar characters from the beloved film. I highly recommend going after the sun has gone down, when the twinkly lights really do feel magical. But, it's a truly beautiful setting with a stunning view no matter the time of day.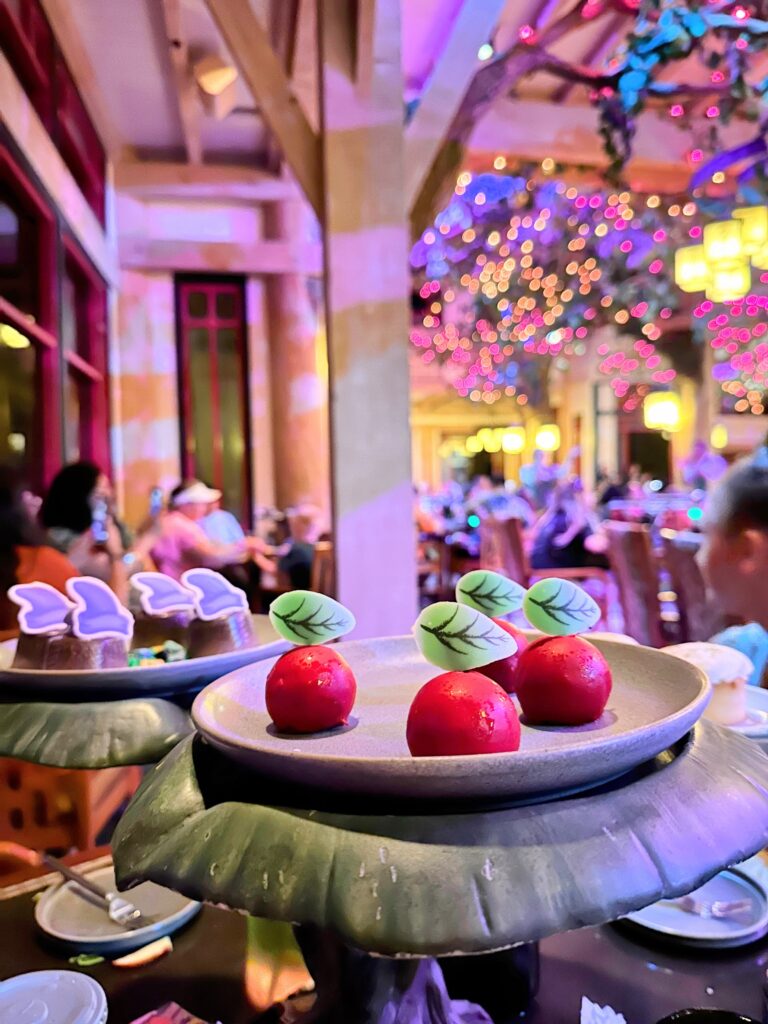 A Culinary Adventure Fit for Royalty
Next up, let's talk about the incredible food! Disney's Story Book Dining offers a prix fixe menu that includes a variety of delectable appetizers, entrees, and desserts. As we perused the options, we were pleased to find a great balance of kid-friendly favorites and sophisticated dishes for the adults.
The prix fixe menu starts with shared appetizers that are brought out on small plats and displayed on a beautiful tree-shaped tiered tray. The adult appetizers include:
Wild Mushroom Bisque
Hunter's Pie (turkey and chicken, cranberry preserve, crispy sauerkraut)
Wicked Shrimp Cocktail (Bloody Mary vinaigrette, seaweed salad, spiced house-made seasoning)
The kids were brought an adorable little tray of veggies and dip, with cheese and honey butter.
The main entrees included the following options:
"Cottage" Beef Stroganoff (tender beef, preserved vegetables, spätzle, mushrooms, aged cow's milk cheese)
Royal Prime Rib Roast with horseradish-mashed potato, carrots and jus
A Stroll through Nature: asparagus, leeks, arugula, gnocchi, sage, parmesan,
Magic Mirror's Slow-braised Pork Shank with polenta and gastrique
Brother's Grimm Herb Chicken with cauliflower purée, roasted vegetables, chicken jus and
Bashful's Sustainable Fish with herbed risotto with gremolata
Sorceress Spell of "Tricken" Chicken with cauliflower puree, roasted vegetables, vegetable jus
Kids could choose two of the following sides: roasted potatoes, carrots, broccolini, mashed potatoes and macaroni & cheese. Entrees included the following options:
Grilled Chicken
Grilled Fish of the Day
Prime Rib Roast
Dessert is an assortment of shared plates. There are four different desserts to try and they are each very decadent. Our kids didn't care for all of them, but it felt like a really nice variety and they were each really beautiful.
Soda, coffee and tea are all included with the meal. There is also a beautiful selection of alcoholic and nonalcoholic beverages. We tried "In the Clouds" which was a super fun drink with POWERADE® Mountain Berry Blast, Blueberry and Cotton Candy. We also tried the "Wishing Apple Punch" that came with a glow cube.
The offerings on this menu are considered American, with a German influence. Our two youngest kids are definitely our pickiest eaters, but they both found plenty of things to eat and enjoy.
Character Interactions
One standout moment was when Snow White herself graced our table with her presence. She engaged each family member and made our little ones feel like they were the stars of their own fairytale. The interactive character experiences truly brought the magic to life! Throughout our meal, we saw the Evil Queen, Snow White, Grumpy and Dopey. Grumpy and Dopey also stop at each table. There were several times that the lights would twinkle and special music was played. We loved when the characters all came out and danced around the room. At the end of the meal, you are given a "summons" from the Evil Queen and are able to stop for photos with her on your way out of the restaurant. She does an amazing job and playing the part and was a lot of fun to interact with (she rolled her eyes at our 6-year-olds play sward LOL).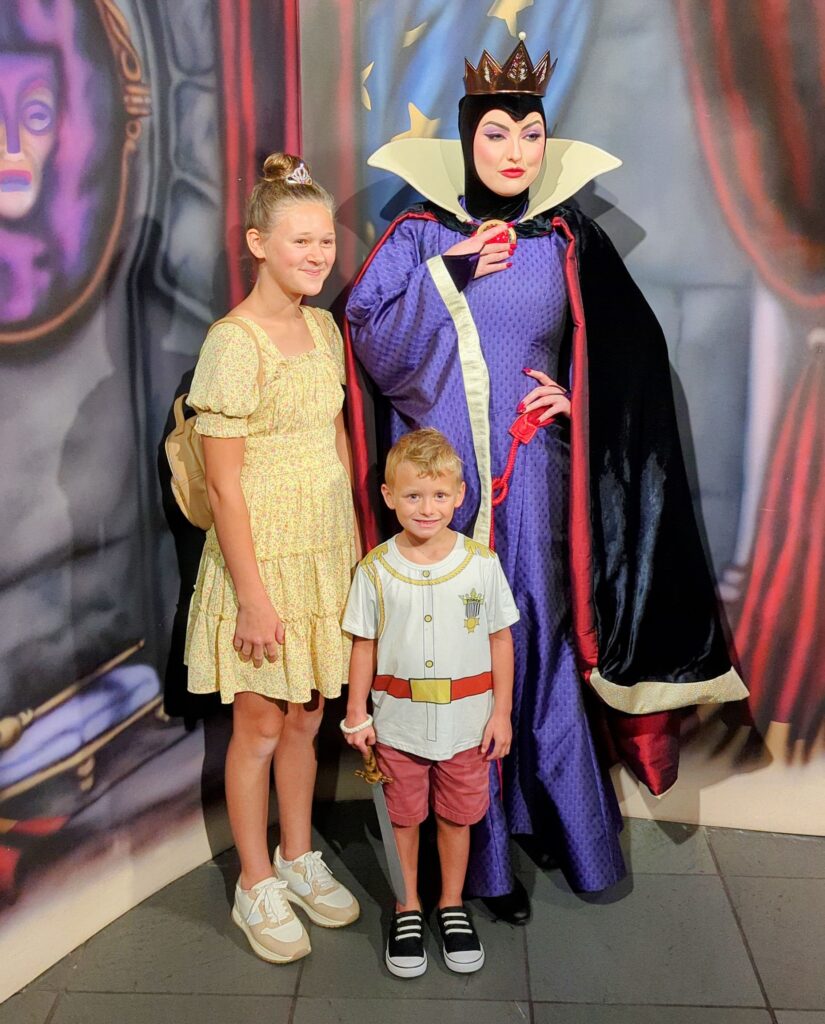 Comparison: Be Our Guest and Cinderella's Royal Table
Now, let's compare this enchanting experience to other popular Disney restaurants. Be Our Guest offers a similarly immersive ambiance inside the Beast's castle, but Disney's Story Book Dining stands out with its unique woodland atmosphere. Be Our Guest isn't really a true character meal, although the Beast does make a brief appearance. Cinderella's Royal Table provides a royal dining experience but is a little pricier. When we visited Cinderella's Royal Table, we saw Cinderella, Aurora, Ariel, Snow White and Jasmine. The meal was pretty comparable, but it's truly a unique experience to eat inside Cinderella castle.
Ultimately, it's all about personal preference and the specific Disney story that speaks to your family. It would be really hard for me to choose which one I like best! They are each so unique and special. One thing that sets Story Book Dining apart from dining experiences like Cinderella's Royal Table, Be Our Guest and Akershus Royal Banquet Hall, is that it's located at the Wilderness Lodge, making it the only character meal of it's kind that doesn't require a park ticket!
Savvy Savings: Budget-Friendly Disney Dining Tips
Now, let's dive into some money-saving tips, because who doesn't love getting the most bang for their buck? With Story Book Dining coming in at $65 per adult, plus tax and gratuity and $39 per child, it's definitely not on the budget-friendly spectrum. However, one thing about Story Book Dining that makes it a little more easy on the wallet, is the fact that you don't need a park ticket to eat there. This makes it a great option for families that are staying near by and are opting not to spend the money on theme park tickets. Making a reservation to dine at Story Book Dining gives you an incredibly immersive, Disney experience with character interactions outside of the parks. It's a great alternative to purchasing a park ticket and considerably less expensive.
Currently, there aren't a lot of discount options, but Annual Passholders and Vacation Club members do save 10%. This dining experience is only available for dinner, unlike other places that offer slightly less expensive rates at breakfast and lunch. Another way to save is by purchasing Disney gift cards ahead of time at a store like Sam's Club or at Target using your Red Card. Have any other money-saving tips to share? Drop them in the comments below!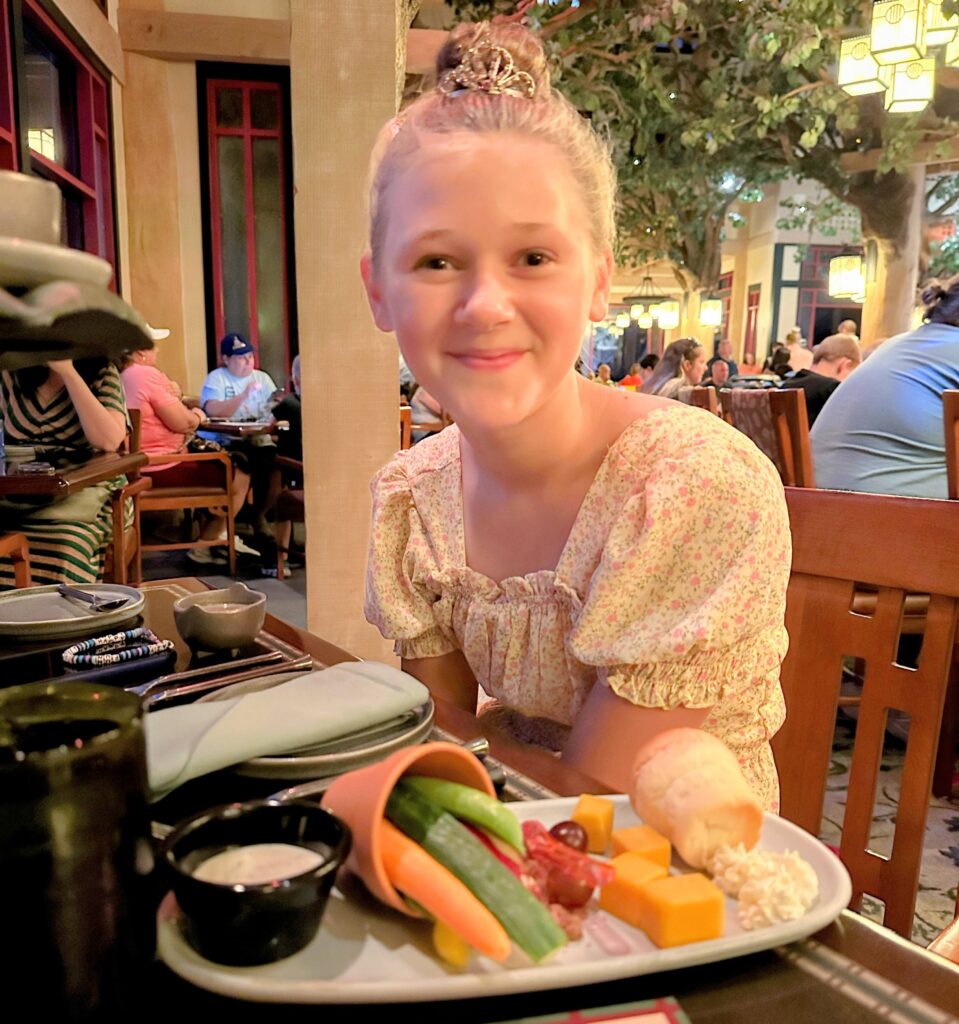 General Tips for Families Visiting Disney World
Before wrapping up, I want to share a few general tips for families visiting Disney World. First and foremost, always be kind and respectful to other guests and cast members. We're all here to enjoy the magic of Disney, so let's spread that positivity! Additionally, make sure to plan your dining reservations in advance, as popular restaurants tend to book up quickly.
TIPS FOR MAKING RESERVATIONS: Dining reservations open up for booking 60 days out, and popular restaurants will definitely book up. Often, people will cancel closer to the date, so always check availability a few days out and even the day of. I cannot stress enough how amazing Mouse Dining is for making hard-to-get dining reservations. They offer a free membership and paid options that will send you alerts when spots open up. Be ready, as soon as you get an alert, to grab your spot!
Conclusion
And just like that, our family's enchanting adventure at Disney's Story Book Dining at Artist Point with Snow White comes to a close. While the price point will make it a once and done for many people, it's definitely an experience you won't regret! As a large family, we save pricier dining experiences like this for special occasion. But honestly, between the food and the characters, it's worth every penny. From the fairytale atmosphere to the delectable food and unforgettable character interactions, this restaurant truly has it all. So, whether you're celebrating a special occasion or simply want to make magical memories with your loved ones, this dining experience is sure to leave you spellbound.