Welcome, Disney enthusiasts! Today, I am thrilled to share with you all the magical details about one of the most sought-after dining experiences at Walt Disney World – Cinderella's Royal Table. Prepare to be transported to a fairytale kingdom inside the iconic Cinderella Castle! In this blog post, we will dive into the enchanting character interactions, delectable menu options, pricing, and compare it to other popular Disney dining experiences like Be Our Guest, Story Book Dining, and Akershus Royal Banquet Hall. Plus, I'll reveal the secrets on how to get reservations, the best time to go, and even get a glimpse of what the castle looks like on the inside. Let's get started!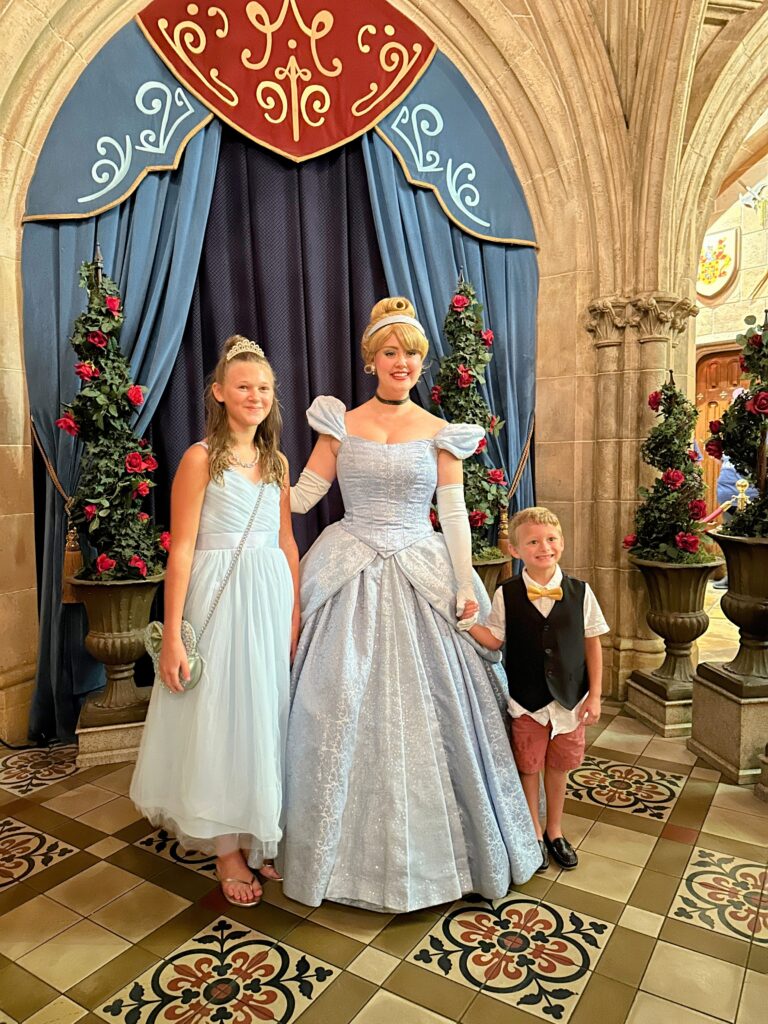 Character Interactions: Pure Disney Magic!
At Cinderella's Royal Table, you'll be dining amongst the elegance of a royal ballroom while being visited by iconic Disney characters. Cinderella, of course, takes center stage, graciously welcoming guests into her castle. You will meet Cinderella in the royal hall, before being escorted to your table. You'll have the opportunity for a beautiful photo op, complete with a royal hug from the beloved princess herself. Throughout your meal, be prepared to encounter other classic Disney characters such as Snow White, Ariel, Jasmine, and Aurora. It's an unforgettable experience, especially for the little ones who dream of meeting their favorite characters! There is no guarantee who will be present at each meal, but while we were there, we saw all five princesses!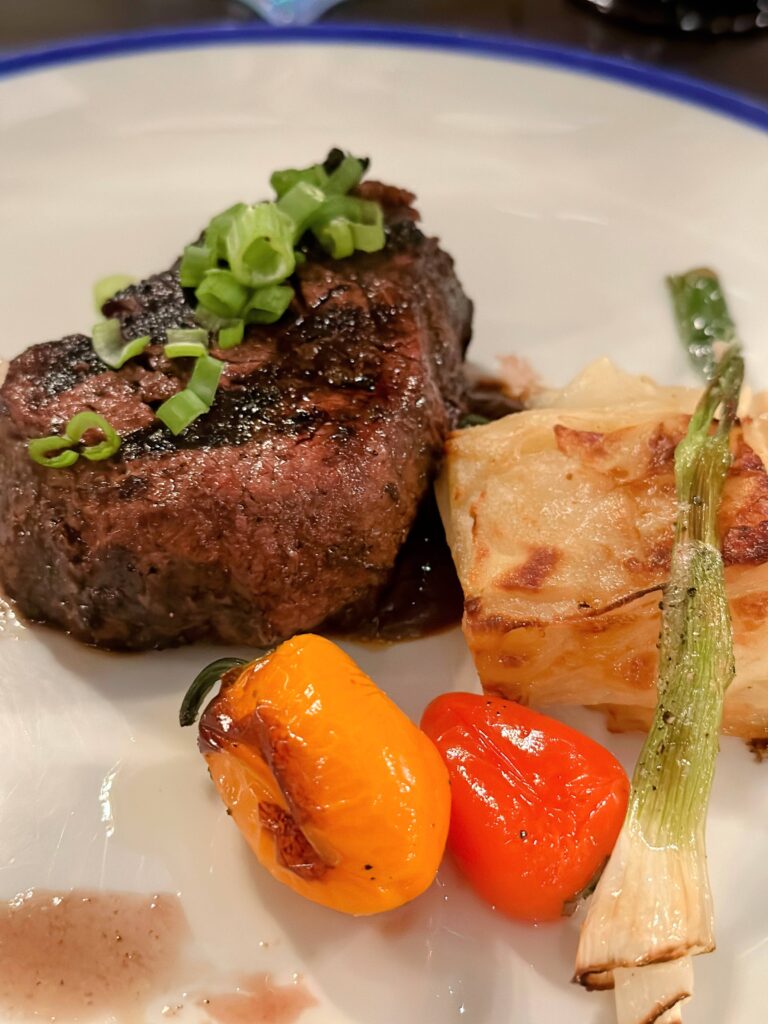 Delicious Menu Options and Pricing: Fit for Royalty!
Now, let's talk about the scrumptious cuisine fit for royalty. Cinderella's Royal Table offers a delightful array of dishes to cater to various palates and dietary needs. From savory options like tender beef and roasted chicken to delectable vegetarian and allergy-friendly alternatives, there's something for everyone. Don't forget to leave room for the mouthwatering desserts, like the famous Clock Strikes Twelve chocolate mousse. You can find a full menu here: Cinderella's Royal Table Menu
In terms of pricing, it's important to note that Cinderella's Royal Table is considered a signature dining experience, which means it offers a premium dining atmosphere. Prices for adults typically start around $79 per person, and for children (ages 3-9) they start around $47 per person. While it may be a splurge, remember that you're not just paying for a meal – you're paying for an extraordinary experience inside the majestic Cinderella Castle! Reservations at Cinderella's Royal Table require advance payment. You will need a credit card to book. If you are utilizing the Annual Pass or DVC member discount, this will be credited back after your meal.
Cinderella's Royal Table is the same for lunch and dinner ($79 per adult), with just slightly lower prices for breakfast ($65 per adult). It's definitely a splurge for many people, so I would ask you to consider, how much does it mean to you? If having the experience of dining inside the castle is something you have always wanted to do, or if visiting with multiple princesses is high on your list of priorities, you may be able to justify the price. For our large family, this was definitely a once and done experience. I'm so glad we had the opportunity to do it at least once, but it's definitely a pricey experience for 7 of us, even with a Passholder discount of 10%.
Money Saving TIPs: If you have a large family, consider saving money by taking just the kids that really want to go. For example, if you have one daughter, make it a mommy-and-me experience. If you are a passholder, wait until special passholder appreciation days when the discount is higher!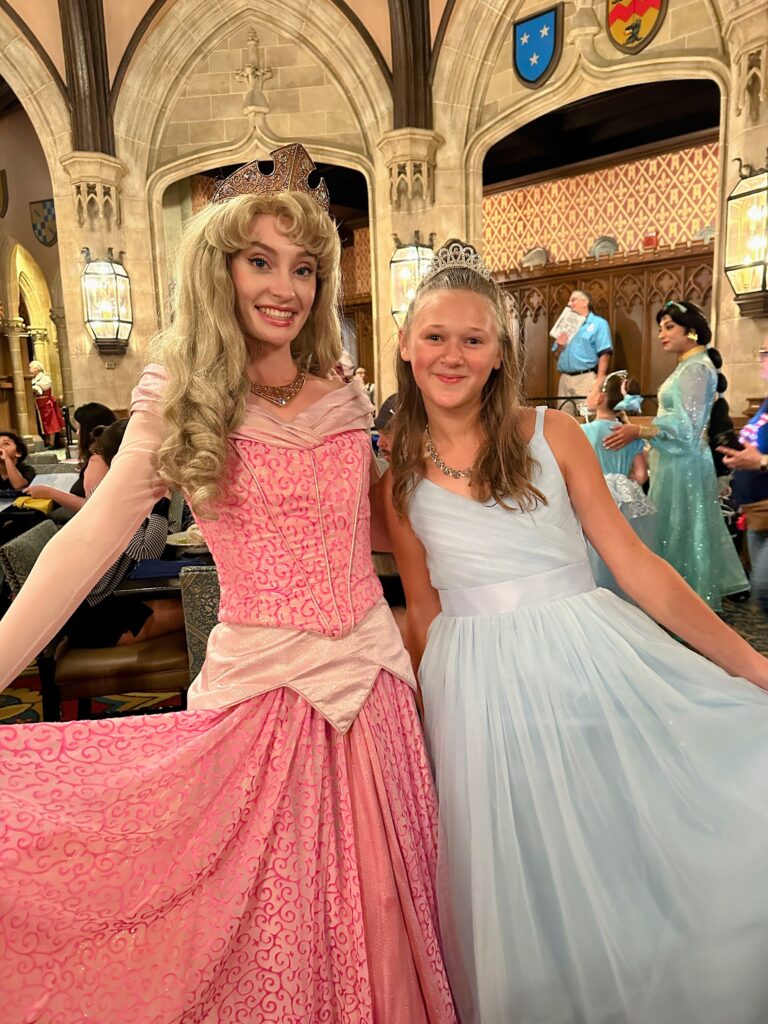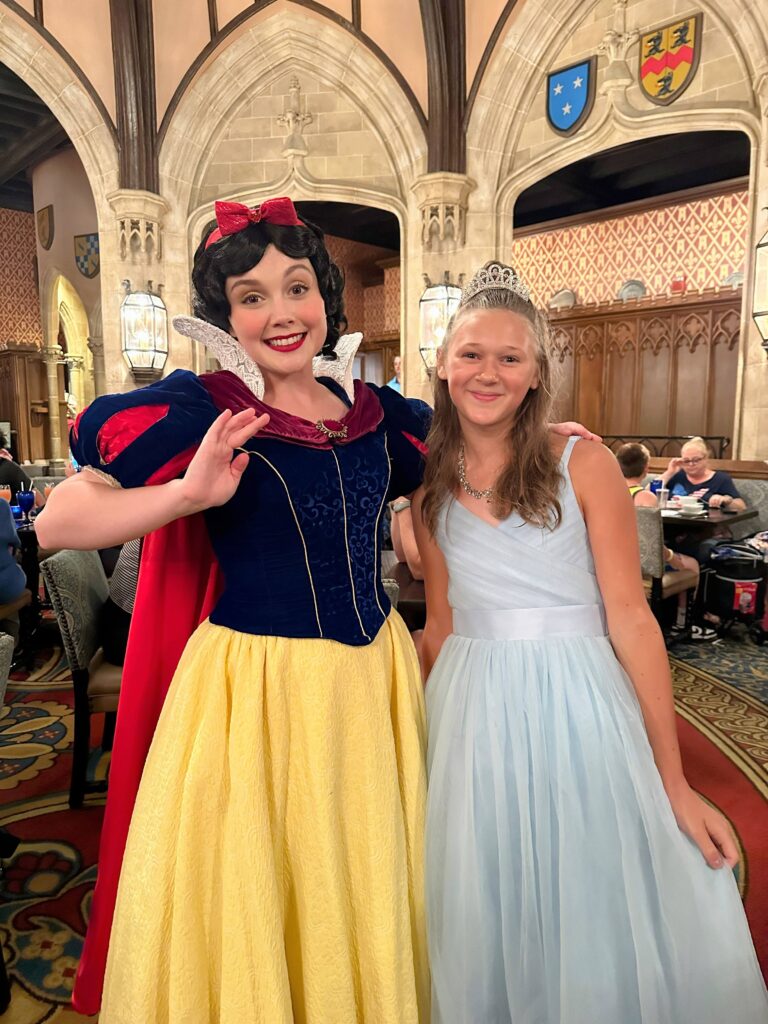 Comparing to Other Magical Dining Experiences
Now, I know you might be wondering how Cinderella's Royal Table stacks up against other notable Disney restaurants. While all of these restaurants are considered Signature Dining Experiences and are all relatively similar in price, CRT has the highest price point at $79 per adult. Let's take a quick comparison:
Be Our Guest: While both are located inside the Magic Kingdom and offer an immersive dining experience, Cinderella's Royal Table holds the distinction of being located inside the Cinderella Castle, making it truly unique. Be Our Guest, on the other hand, takes you into the enchanted world of Beauty and the Beast. The main difference is that Be Our Guest is not a full character experience. The Beast does make an appearance, but does not stop at each table or do a meet and great at this time. The dinner price for an adult at Be Our Guest is $67.
Story Book Dining at Artist Point: Story Book Dining, located at Disney's Wilderness Lodge, is a charming dining experience featuring Snow White, Grumpy, Dopey, and the Evil Queen. Cinderella's Royal Table offers a similar character-filled experience but is hosted within the iconic castle itself. Both are fantastic options, so it comes down to your personal preference and whether dining inside a castle holds a special allure for you. Story Book Dining does not require a park ticket, as it's located at the Wilderness Lodge. The dinner price for an adult at Story Book dining is $65.
Akershus Royal Banquet Hall: Situated in the Norway Pavilion at Epcot, Akershus Royal Banquet Hall offers an enchanting meal with various Disney princesses, similar to Cinderella's Royal Table. While both experiences are magical, Cinderella's Royal Table provides the added bonus of dining within Cinderella Castle, making it a truly extraordinary experience. The dinner price for an adult at Akershus is $63.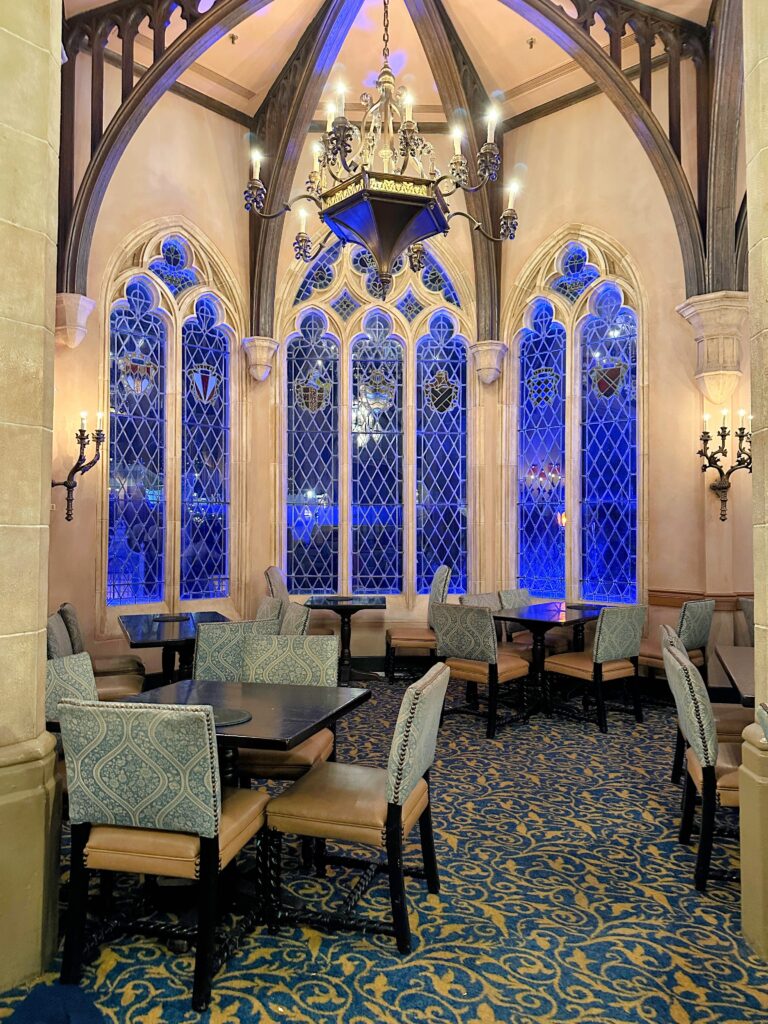 Securing Reservations and Best Time to Go
As you can imagine, reservations for Cinderella's Royal Table can be quite challenging to secure. However, fear not, dear friend! Here are a few tips to help you make your royal dreams come true:
Plan Ahead: Booking your dining reservation as early as possible is key! Reservations for all Disney dining experiences open 60 days in advance, so mark your calendars and be ready to grab your spot.
Flexibility is Key: Keep in mind that popular character dining experiences, including Cinderella's Royal Table, tend to fill up quickly. Being flexible with your dining dates and times will greatly increase your chances of snagging a reservation.
Early or Late Seating: Consider opting for early breakfast or late dinner seatings. These times often have more availability and can be a little less hectic, allowing you to savor the magical ambiance even more.
Utilize Mouse Dining Alerts: I cannot stress enough how amazing Mouse Dining is for making hard-to-get dining reservations. They offer a free membership and paid options that will send you alerts when spots open up. Be ready, as soon as you get an alert, to grab your spot!
Check for Last Minute Reservations: There will always be people that make last minute cancelations, which means you may be able to snag a last-minute reservation! If you haven't been able to secure a spot, stay flexible and check the day before or even the day of for openings!
Go at Night! We chose to make a reservation towards the end of the night. We were eating dinner right when the fireworks were going off outside. I absolutely loved this experience and if we were to eat here again, this is exactly when I'd choose to go. Not only do I enjoy the dim lighting of the evening, but we had a firework view out the large windows, which just elevated the magic! On top of that, we were among some of the last to finish our meal and had the entire castle to ourselves as we closed out the night. If you've ever had a late night dining reservation inside the Magic Kingdom, you know it also comes with an almost empty Main Street as you walk out. It's such a magical end to a wonderful evening!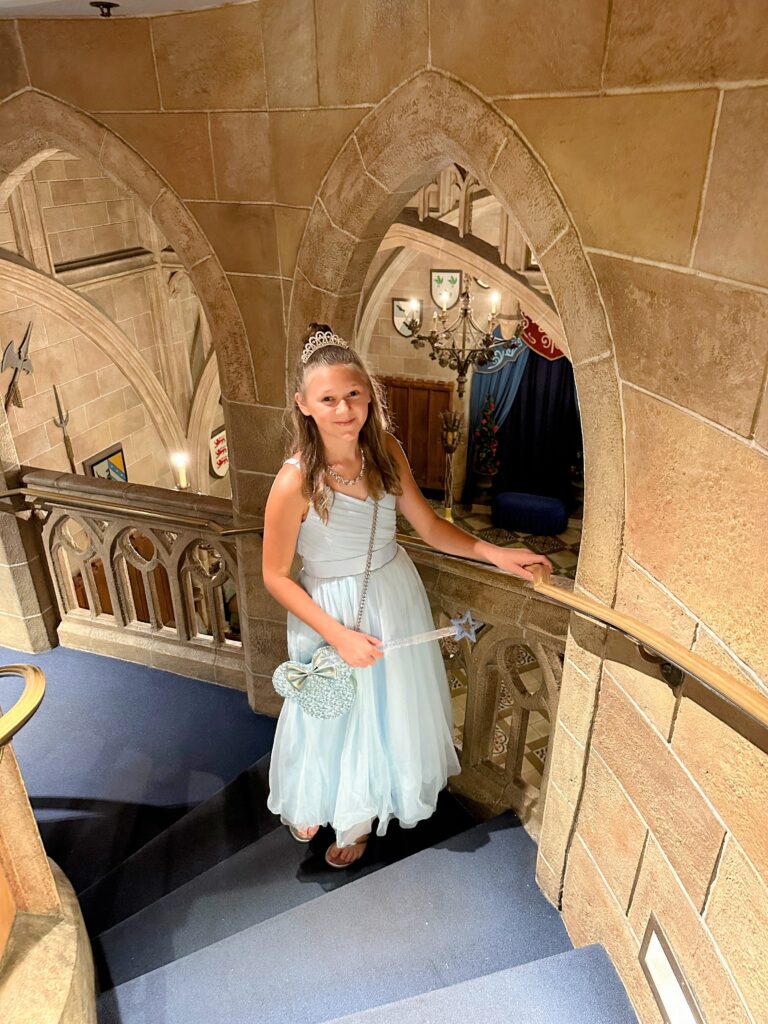 Inside the Castle: A Fairytale Come True!
Finally, let's delve into what awaits you inside the iconic Cinderella Castle. As you ascend the spiral staircase, you'll feel like a true VIP entering a royal ballroom. The interior embodies the opulence of a fairytale castle, with soaring ceilings adorned in sparkling chandeliers and majestic stained glass windows. It's very realistic to what you would expect from a gothic castle. The dining area itself is actually smaller than I was expecting, but in a good way. The attention to detail is simply awe-inspiring, transporting you into the world of Cinderella herself.
Magical Extras: In addition to the interactions with multiple princesses, exquisite meal and castle experience, we were also given "wishing stars" at the beginning of our meal and the choice between a magic wand and a sward.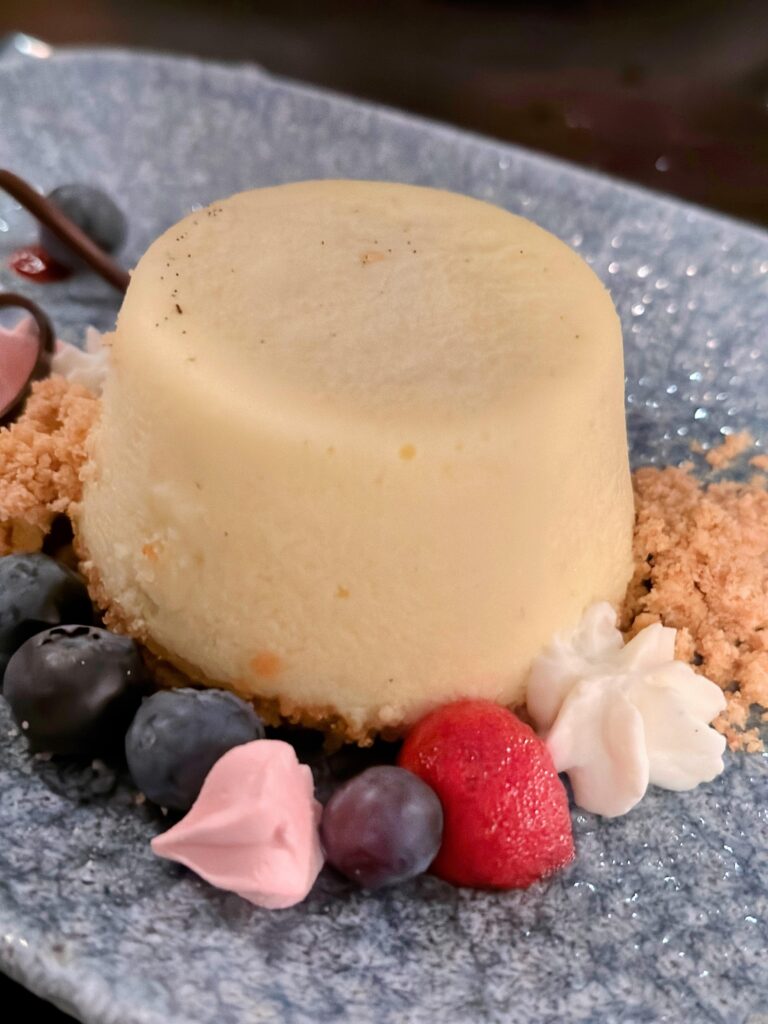 Conclusion: Where Dreams Come True!
Dining at Cinderella's Royal Table is an experience like no other. The character interactions, delectable menu options, and stunning castle setting create memories that will last a lifetime. While it may be a splurge, the magic it delivers is truly priceless. So, if you're looking to make your Disney vacation even more extraordinary and don't mind a premium dining experience, I highly recommend making a reservation at Cinderella's Royal Table. Just remember to plan ahead, be flexible, and respect other guests' enjoyment of the experience. After all, we're all here to enjoy the magic of Disney together!
Now, it's time to grab your glass slippers and embark on a royal dining adventure at Cinderella's Royal Table – because dreams really do come true at Walt Disney World!