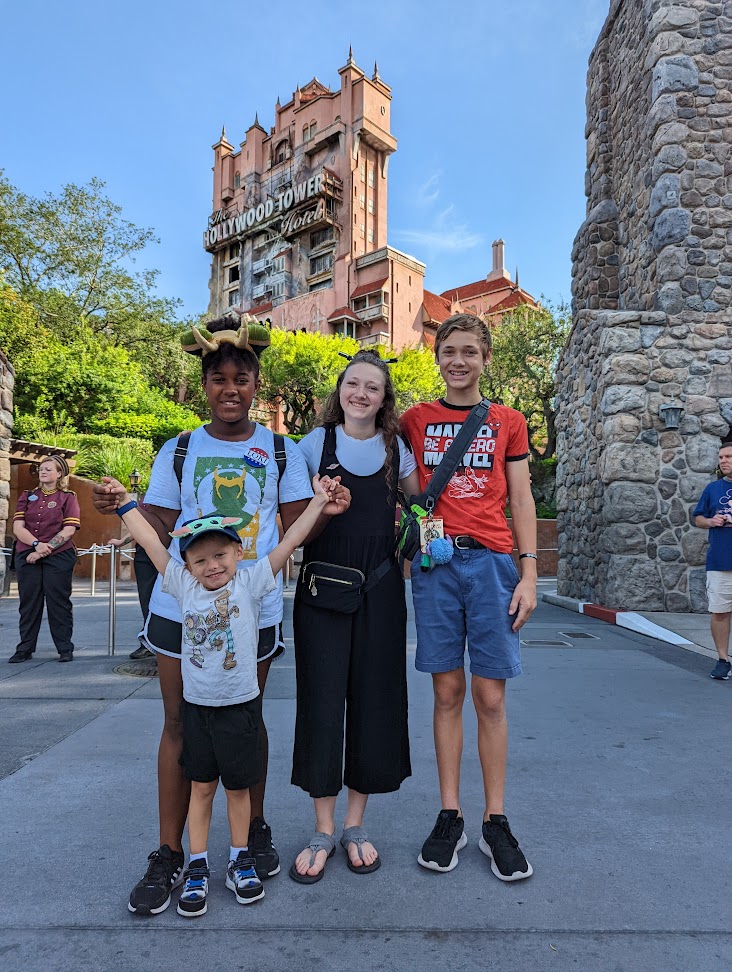 Walt Disney World can be a lot of fun, but it can also be very tiresome. Your family might have picked a hotter, much busier day to go, and maybe you're wondering If any quiet spots to rest at Disney World even exist. As a Disney World Passholder, I know which places typically have fewer crowds and more shade. Here is your list of quiet spots to rest at all the Walt Disney World Parks!
Magic Kingdom
The People Mover
On a less busy day, The People Mover is typically a walk-on ride with a short wait time. The People Mover is a nice, relaxing ride for taking a break off your feet and enjoying an entire view of the Tomorrowland area, including The Cinderella Castle. It's also one of the longest rides at Walt Disney World.
Columbia Harbor House
Another spot that can be really quiet, depending on the day, is the Columbia Harbor House. I love getting a table up on the second floor by a window, where we've been able to get close-up views of any parades passing by. The Columbia Harbor House also has affordable meals and free ice water.
Tom Sawyer's Island
Tom Sawyer's Island was the quietest area my family went to, even on a super busy day at Magic Kingdom. Plus, Tom Sawyer's Island is well-shaded, and there is a lot to explore!
Walt Disney World Railroad
With stops at three different spots around the park, a station is never too far away. This relaxing ride takes about 20 minutes, plus stops, to go all the way around. Definitely long enough to rest and even take a power nap!
EPCOT
Connections cafe
Connections Cafe is on the left of Spaceship Earth, and it has snacks and Starbucks, plenty of benches and comfy seats, and a large open space. This place can become filled up on busy days, but the largeness of the Connections Cafe gives a nice break from being in the jam-packed, loud crowds.
Kawaii: Japan's Cute Culture
This kawaii exhibit located in Japan is a dimly lit, quiet, and air-conditioned area. This is a place I recommend for a quick sensory break if you happen to make your way over to EPCOT's Japan pavilion.
Reflections of China
Reflections of China is a 360 stand-up show, but there is a lounge just outside of the theatre entrance that's a great place to relax!
The Land
Inside The Land is a long stretch of seats, benches, and tables that are almost never packed with people. This is another excellent place to rest and escape crowded, tight spaces. The Land also has a food court with affordable meals, snacks, and drinks.
Hollywood Studios
Incredibles Area at Pixar Place
The incredible area at Pixar place is right outside of the main entrance to Toy Story Land. This is an open-air space with shade, benches, and a Joffrey's and pastry stand. My family rested here with our coffees and plenty of bench space, shade, and quiet time away from the large crowds.
Tune-In Lounge
This is such a cute, vintage place to relax! If you stop here, I highly recommend snapping a few photos!
Indoor Shows
There are several indoor shows at Hollywood Studios, and each of them make a great place to rest in the air conditioning on a hot day. Arrive early before the show starts for extra time to relax.
Animal Kingdom
Wildlife Express Train
Take the Wildlife Express Train at the Animal Kingdom! This train is located far back in the less-crowded area of Animal Kingdom, and it's a nice break away from large crowds. The Wildlife Express Train goes back further into the park for a beautiful scenic view, and the overhead speaker playing on the train will tell you some fun facts about the Animal Kingdom. The area located right out of the Wildlife Express Train entrance is also a quiet, shaded area.
Animation Experience at Conservation Station
I really liked taking a break off my feet and learning how to draw popular Disney cartoons at the Animation Experience! You also can take the Wildlife Express Train to get here, which is a plus!
More Tips
In addition to all the rest areas at the Disney World Parks, I recommend taking a ride up in the Skyliner! It gives a nice, long break off your feet to enjoy a free ride and a pretty view.
If you have a large group going with you on your next Disney World trip, you may also like my post on quick-service restaurants for large groups at Disney World.