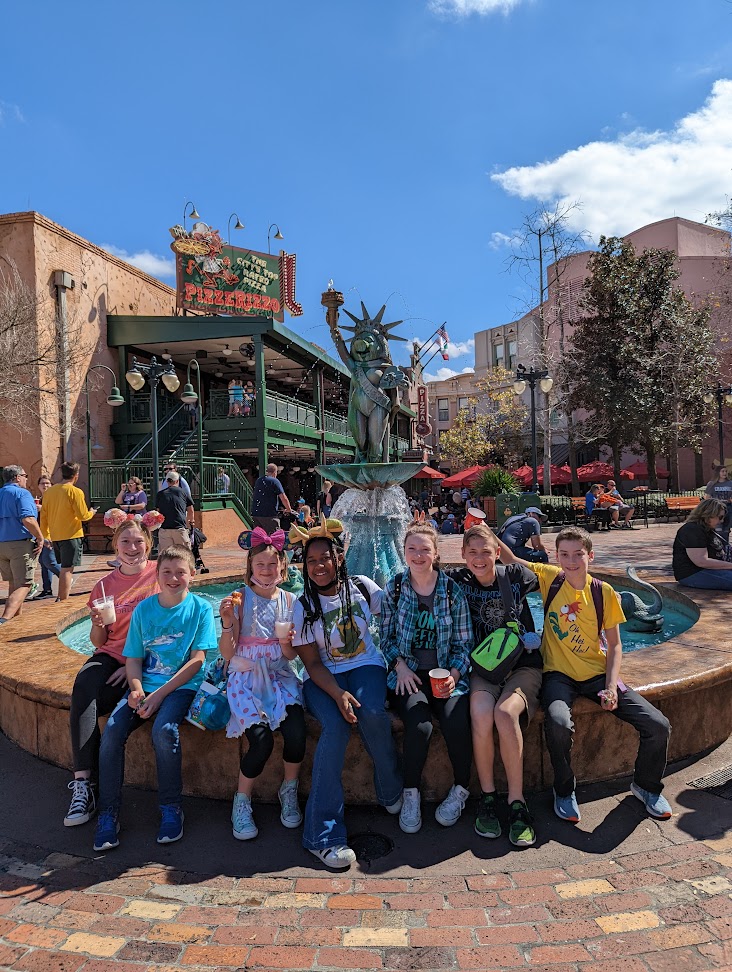 Quick Service Restaurants
I'm sharing a few of my family's favorite quick-service restaurants at the Walt Disney World parks that easily accommodate large families and parties.
It can be quite the hassle trying to find restaurants that seat bigger groups together, especially when some places literally have their tables attached to the ground. Nonetheless, it's never impossible to find restaurants for your big group! Just keep in mind that you may not find a single table large enough to fit everyone in your group. Be flexible and look for places that offer plenty of seating so that you're able to find tables next to each other. Here are a few of our favorite Walt Disney World Resort's Quick Service restaurants for large groups:
Magic Kingdom
The Columbia Harbour House in Liberty Square (#1 Pick!) – this is possibly the best-kept secret for quieter restaurants at the Magic Kingdom park (shhh). The Columbia Harbour House has an upstairs floor with plenty of seating and an extremely calm and quiet environment (this may not apply on incredibly busy days), making this a perfect place to escape the crowds on a hot day! If your party finds tables near the windows of the second floor, you could get a close-up view of passing parade! There are large tables available to fit families of 6 and you may be able to pull up extra chairs.
Cosmic Ray's Starlight Cafe in Tomorrowland has lots of seating! If you want to eat at Cosmic Ray's Starlight Cafe, I recommend grabbing a table near the stage to watch the show. It can get pretty busy during the lunch the dinner hour, so get there early for a table to fit your group.
Pecos Bill Tall Tale Inn and Cafe in Adventureland is a good size restaurant with lots of seating. They have small tables that are close together. This restaurant also gets pretty busy during the lunch and dinner hour, so try to hit it early.
TIPS: Be willing to split up at small tables that are close together. Go early or on off times when restaurants aren't as busy.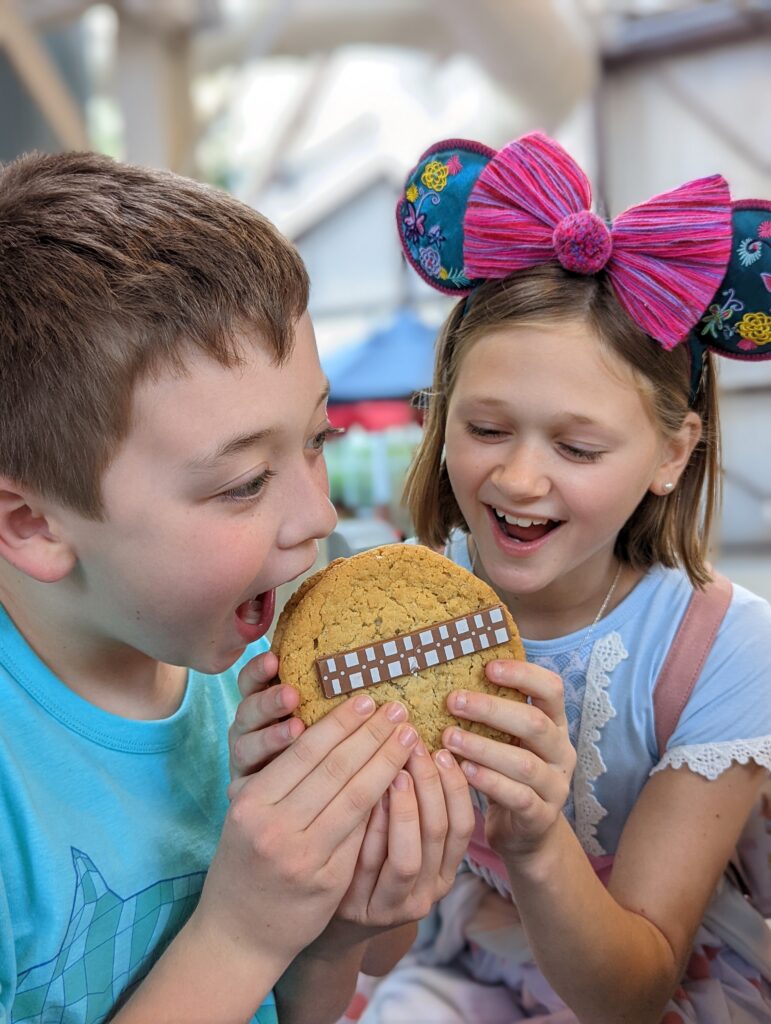 Hollywood Studios
PizzeRizzo – this pizzeria is located near the Muppet Vision 3D show. PizzeRizzo offers two floors of outdoor and indoor seating. The Miss Piggy fountain near PizzeRizzo is also a fun spot for big groups to sit around!
Backlot Express – this quick-service restaurant is located near the "Star Tours" attraction. The Backlot Express is massive and has plenty of indoor and outdoor seating! The only major con to this restaurant is that it's mostly open-air. Most of the indoor air-conditioned seating may get quickly filled up. On the other hand, the food is filling, and the prices are reasonable!
TIP: Look for large snacks that can be split! We like splitting the Wookie Cookie at Backlot Express – it's huge!
EPCOT
Regal Eagle Smokehouse – located in America, this restaurant has plenty of outdoor and indoor seating for large families. The Regal Eagle Smokehouse meal prices are reasonable. As a plus, this restaurant is near the EPCOT concert stage which hosts nightly performances during EPCOT's seasonal events.
Sunshine Seasons is located inside "The Land" pavilion on the lower floor. Sunshine Seasons has long lines of tables that make it fairly easy to find spots for your party to sit close to each other.
Connections Cafe is located to the left of Spaceship Earth near the very front of the park. This new quick-service restaurant is huge and offers lots of indoor seating. The open atmosphere makes the Connections Cafe a calming environment, and even better, there's a Starbucks inside!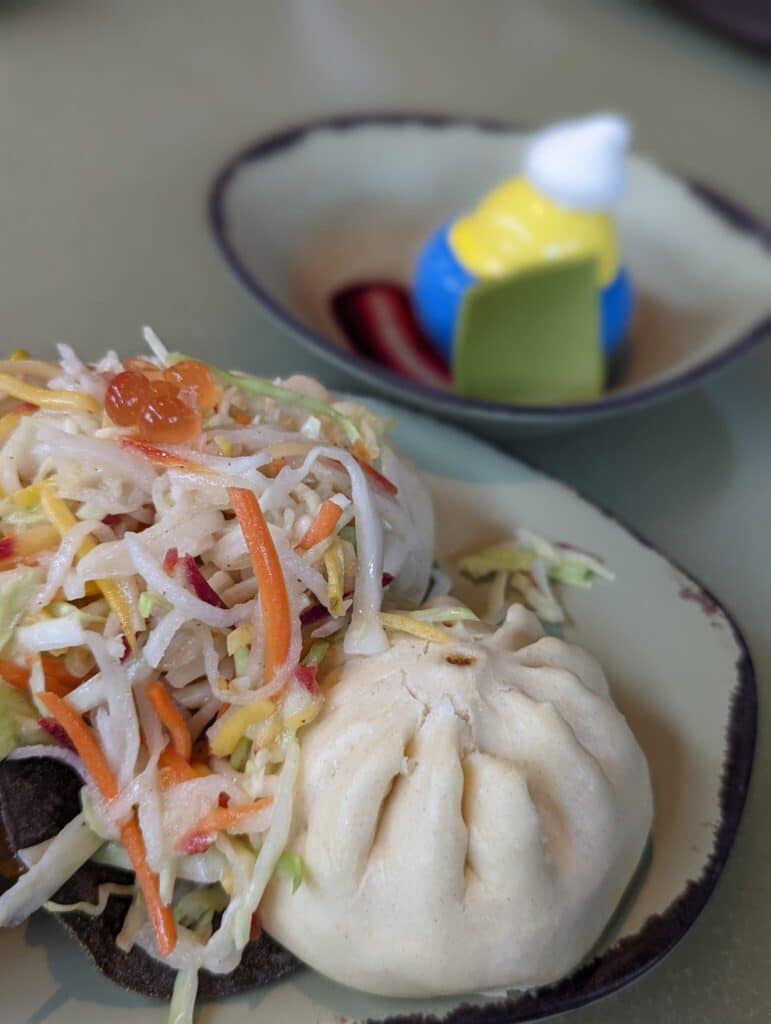 Animal Kingdom
Satu'li Canteen – Located in Pandora, this Disney restaurant has super delicious food and pretty large tables that seat big parties. Satu'li Canteen has both indoor and outdoor seating. This restaurant is pretty popular, though, and there may be a wait time to eat here. On busy days, you will need to show proof of a mobile order before they allow you to sit down.
Flame Tree Barbecue has a medium-sized venue with a big open space, but the tables aren't movable. If you prefer a restaurant in Animal Kingdom where you're large group will be guaranteed tables next to each other, this isn't the greatest spot. However, portion sizes at the Flame Tree Barbecue are generous, and we found this to be a great place to split meals while on a budget (hello, half chicken meal)!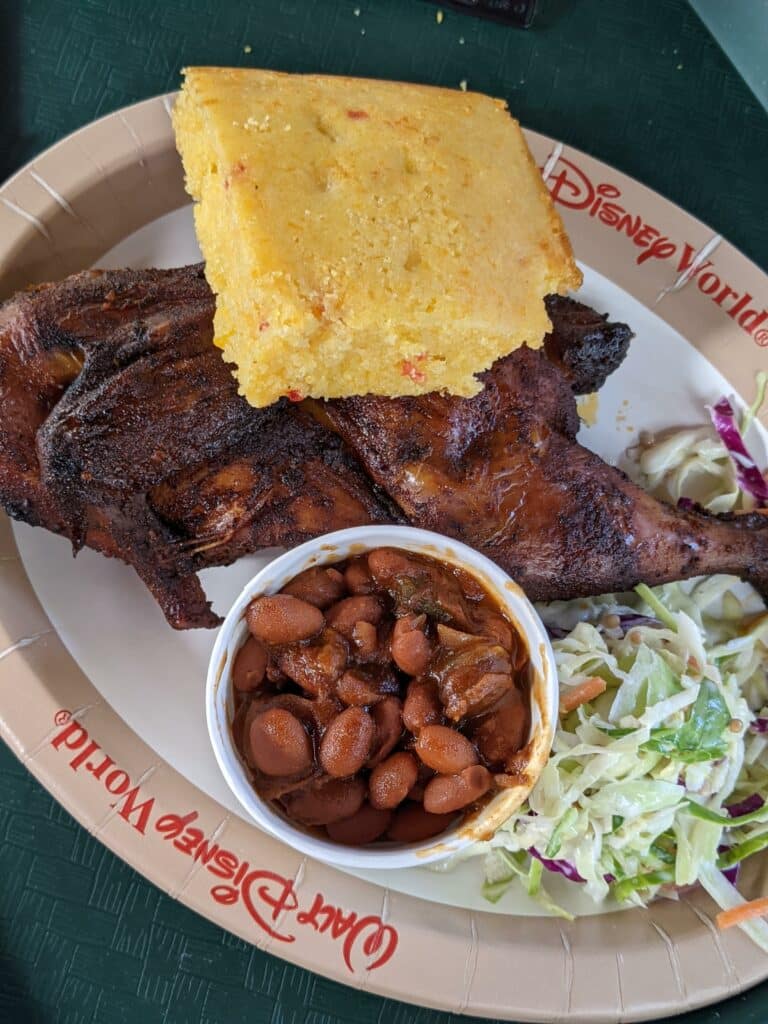 This concludes my family's favorite Walt Disney World quick-service restaurants! You can visit the Disney World Dining site to view even more restaurant options that accommodate your large group and other dining preferences.