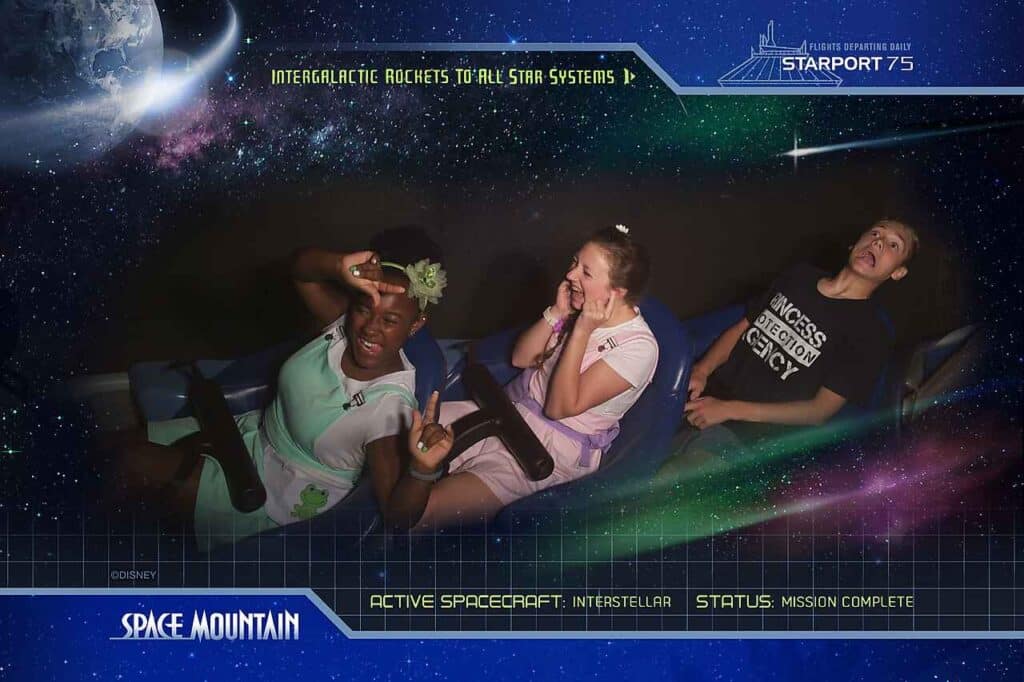 SPACE MOUNTAIN
You can forget everything you might think know about this roller coaster because Space Mountain is a mission of chaos. Your spaceship will prepare for launch and incline at a 90-degree angle, leaving your space team in suspense, filled with adrenaline, and possibly regretting ever getting in line for this ride. Soon, your spaceship will be blasting through the darkness of space, taking sharp turns, quick stops, and down numerous unexpected drops and dips. You will never know what is about to happen next on Space Mountain. If there is anything you can be prepared for on this adventure, remember this: expect to constantly feel like you are going to hit everything around you.
Location
Walt Disney World: Magic Kingdom, Tomorrowland
Type of ride
Indoor Dark Rollercoaster
LOCATION
The ride is located in Walt Disney World's Magic Kingdom. If you go through the main entrance of Tomorrowland over the bridge, you can get to Space Mountain by walking the entire way there going straight. If you decide to get to Space Mountain walking from Fantasy Land, go to the right and walk past the Tomorrowland Speedway. Then, take a left past the rocket ship mist dispenser.
WHAT AGE IS IT BEST FOR?
I recommend ages ten and up for this ride. Space Mountain is in the dark for nearly the entire ride, and there are plenty of shocking loud noises, sharp turns, and dips that come without warning. Even being a teenager who has gone on Space Mountain so many times that I've lost count, the loud noises still freak me out (the ride photo at the top of this post confirms that)!
HOW TO RIDE Space Mountain
You can buy a Lightning Lane pass for Space Mountain to skip the long wait, or you can wait in the standby line. Genie+ is also always an option if you want guidance for the best time of day to wait in line. The regular wait time is at least an hour.
WILL I GET MOTION SICKNESS ON Space Mountain?
If you are prone to motion sickness, You shouldn't ride Space Mountain. I also do not recommend this ride for anyone who has back, neck, heart, blood pressure, or any other issues that this roller coaster might aggravate.
WHAT ITEMS CAN I TAKE ON Space Mountain?
You can take anything on Space Mountain, as long as all your things fit comfortably down at your feet or in the pouch near your seat. Cast members will ask you to take your hats, ears, and other loose items off and store them in your pouch next to your seat.
HOW MANY PEOPLE FIT IN A ROW?
Each rocket cart seats one person per row, and there are three rows in total for each cart.
CAN CHILDREN RIDE ON YOUR LAP?
Children cannot ride on your lap. If you want to take little ones with you on the ride, you need to make sure they meet the 44″ height requirement before they can ride with you in your rocket.
ARE THERE RIDE PHOTOS AVAILABLE?
The ride photo is taken near the beginning of the roller coaster. Your photo will be taken when you go through a blue tunnel, and once you hear a shocking noise and see a flash of light. You can get your ride photos available as soon as you exit the ride. You can use your magic band or park ticket to scan your photo, and you will soon be able to view your canned photos in your My Disney Experience account.
ACCESSIBILITY
Remaining in your wheelchair for the queue is allowed, but you must be able to transfer out of your wheelchair for the roller coaster.
INSIDER TIPS
Resist the urge to throw your hands up into the air! There are other Disney rides where you will get the chance to do that, but this is not one of those rides. I encourage anyone who wishes to ride this attraction to keep their hands inside the cart.
Lines wait times for Space Mountain will likely remain long for the entire day. Your best chance at waiting in a shorter standby line is to be at the park either before rope drop or wait to ride Space Mountain right before the Magic Kingdom park closes.
Drops
One 26′ drop and small dips