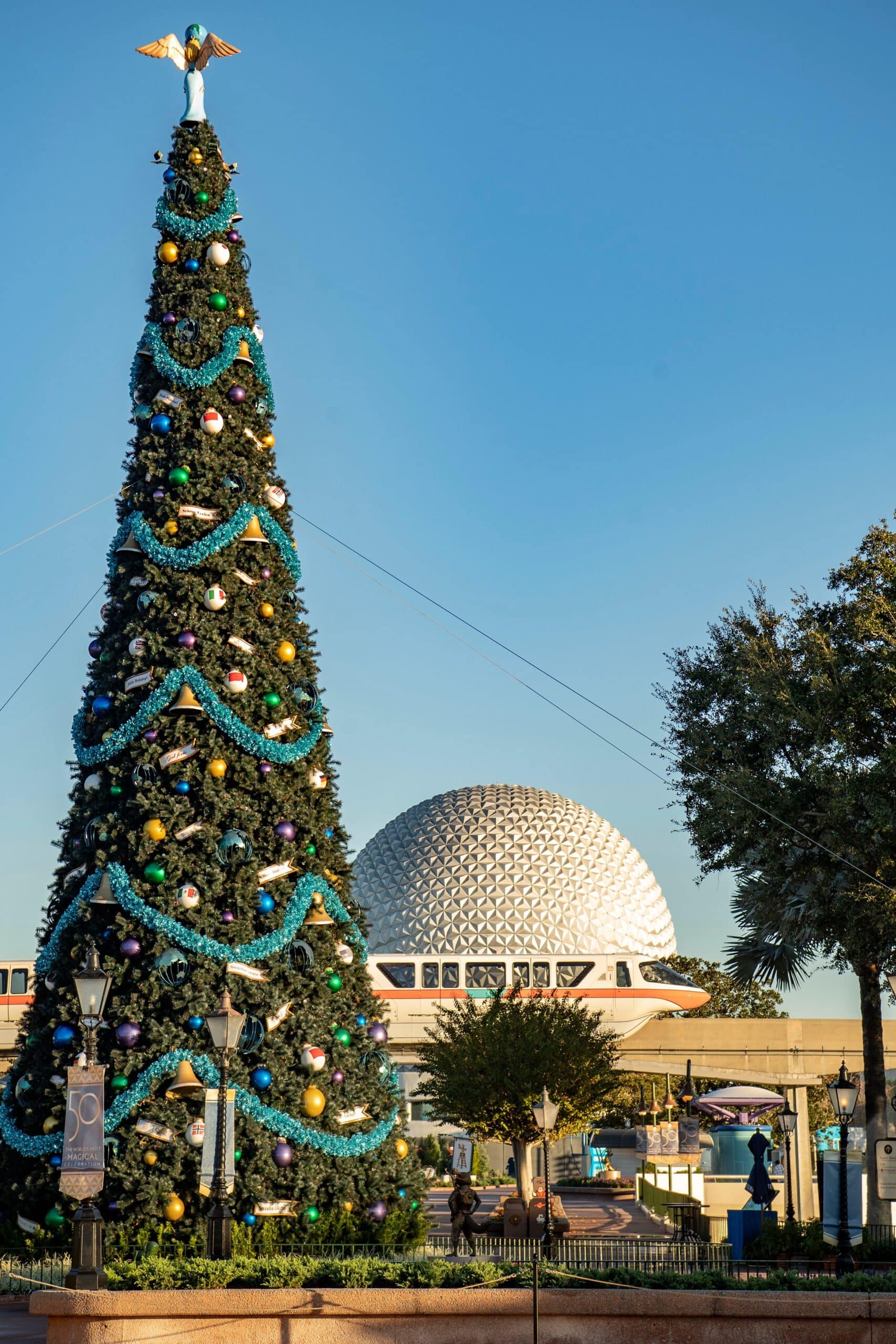 Joyous Holiday Traditions Return to EPCOt
The holiday season at EPCOT is such a beautiful, unique experience. Filled with wonderful sights, sounds and flavors from around the world. I am so excited to see the return of the Candlelight Processional as well as several new special events and other festive favorites. EPCOT Festival of the Holidays will officially return November 25, 2022 and run through December 30, 2022.
Candlelight Processional
The Candlelight Processional has been a tradition since the opening of EPCOT in 1971. This special Christmas celebration features a celebrity narrator, the Voices of Liberty ensemble and a 50-piece live orchestra with herald trumpets and a huge choir of Disney cast members and local community groups.
Candlelight Processional Dates and celebrity narrators
This year's Candlelight Processional will be held on the following dates:
Simu Liu – November 25 and 26, 2022
Chita Rivera – November 27 through 29, 2022
Raul Esparza – November 30 and December 1, 2022
Whoopi Goldberg – December 2 and December 3, 2022
Isabella Rossellini – December 4 through December 6, 2022
Daymond John – December 7 and December 9, 2022
Josh Gad – December 10 through December 12, 2022
Gloria Estefan – December 13 and December 14, 2022
Neil Patrick Harris – December 15 through December 18, 2022
Mariska Hargitay – December 19 and December 20, 2022
Cal Ripken Jr. – December 21 through December 23, 2022
Marie Osmond – December 24 through December 26, 2022
Courtney Vance – December 27 and December 28, 2022
Angela Bassett – December 29 and December 30, 2022
Candlelight Processional Dining Packages
Candlelight Processional dining packages are back for the 2022 holiday season! Dining package reservations work similarly to a regular dining reservation, but they include a guaranteed seat for the Candlelight Processional. At your dining reservation time, each person in your party with a valid reservation will be given a sticker to wear with a specific show time to attend. The Candlelight Processional has three showings each night at 5:15 PM, 7:00 PM and 8:30 PM at the America Gardens Theatre.
TIP: You are not required to have a reservation for the Candlelight Processional, but due to the popularity of this event, seating fills up very fast! If you are unable to get a dining package reservation, it is encouraged to get in line several hours early, especially for the more popular celebrity narrators.
Dining packages opened up on October 6th and can be made 60 days out from the date you are hoping to attend. You can book as early as 6am EST on the 60 day mark (though some people have reported being able to do it as early as 5:45am. Reservations can be made online here: Candlelight Dining Packages
TIP: The last show of the night is usually the least crowded.
Each dining reservation includes an appetizer, entrée and dessert or one (1) full buffet (where applicable), along with a non-alcoholic beverage and one (1) guaranteed seat per person to a Candlelight Processional performance held on the same day. To enter EPCOT, both a theme park reservation and valid theme park admission are required. EPCOT admission is not included in the price of the dining package.
Restaurants Offering Advanced Dining Reservations (Ordered by Price)
Rose & Crown Dining Room – United Kingdom Pavilion $64.00/adult $28.00/child
Biergarten Restaurant – Germany Pavilion $65.00/adult $37.00/child
Garden Grill Restaurant – The Land Pavilion $71.00/adult $46.00/child
Coral Reef Restaurant – The Living Seas $74.00/adult $30.00/child
Le Cellier Steakhouse – Canada Pavilion $100.00/adult $39.00/child
Same-Day Dining Packages
Spice Road Table – Morocco Pavilion $52.00/adult $23.00/child
Regal Eagle Smokehouse: Craft Drafts & Barbecue – American Adventure Pavilion $40.00/adult
Candlelight Processional Frequently Asked Questions
Q: Is there an additional price for the Candlelight Processional?
A: No! General admission to the Candlelight Processional is included in your EPCOT day ticket price. The only time you pay extra is for a dining package that includes a reserved seat.
Q: What showtime is the least busy for the Candlelight Processional at EPCOT?
A: The last show of the night is usually the least busy.
Q: How early do I need to get in line for general seating at the Candlelight Processional?
A: Several hours early at least. For the more popular celebrity narrators, some people will be lined up as soon as the park opens! Dining package reservations will fill most of the open seating for this extremely popular event. To get one of the general admission seats, you will need to wait in line for hours.
Q: If I have a dining package reservation for the Candlelight Processional, will I have a guaranteed seat?
A: Yes, each person with a valid Candlelight Processional dining reservation package will have a guaranteed seat in the America Gardens Theatre during your assigned showtime. However, for the best seats up front, you will want to get in line a little early. Be sure to use the dining package line to the left of the stage, not the general admission line on the right.
Q: Do I need a park reservation and a separate EPCOT ticket if I have a dining reservation?
A: Yes, you will need an EPCOT park ticket and a park reservation for the day you are attending, in addition to your dining reservation.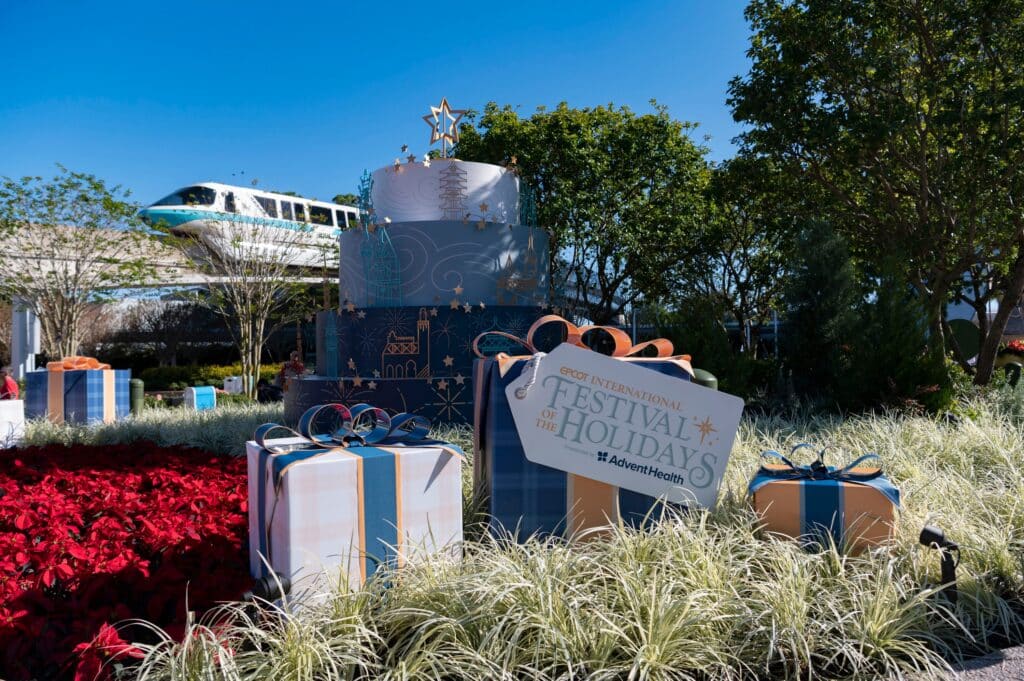 Other Special Holiday Features
Other special events happening at EPCOT this holiday season will include:
"JOYFUL! A Celebration of the Season" a stirring and uplifting performance of music in celebration of Christmas and Kwanzaa returns with multiple performances daily.
Storytellers, musical acts and other performers will bring holiday traditions of the world to life around World Showcase.
Holiday Kitchens will cook up treasured recipes and festive drinks from around the globe, as well as an eye-popping selection of treats to satisfy nearly any sweet tooth. Latin-American heritage will be celebrated and savored at the all-new Nochebuena Cocina Holiday Kitchen featuring traditional dishes served throughout the holiday season, including Pernil: Mojo Pork with Tostones, and Alfajores: Vanilla Shortbread Cookies with Dulce de Leche and Coconut.
The Holiday Cookie Stroll offers guests the opportunity to embark on a sweet adventure.
And more festive fun for all ages to be announced closer to the holidays!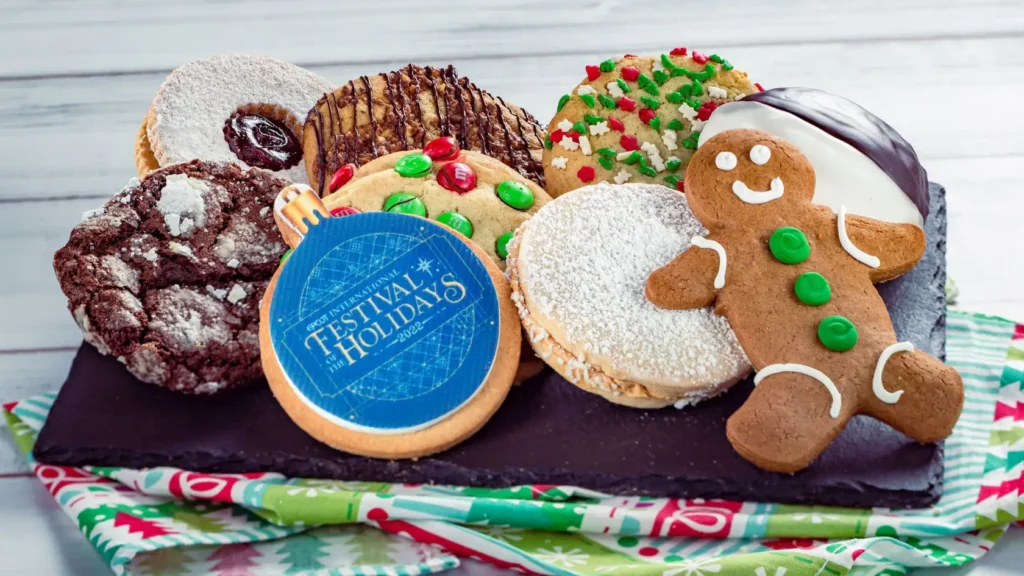 Holiday Cookie Stroll
Purchase 5 cookies from any of the official cookie stroll locations featured in your Festival Passport, and collect a matching stamp for each cookie purchased. Once you've collected 5 stamps, bring the stamped Passport to Holiday Sweets & Treats to receive a specialty treat!
Official cookie stroll locations include:
Nochebuena Cocina: Alfajores – Vanilla Shortbread Cookie with Dulce de Leche and Coconut
Yukon Holiday Kitchen: SNICKERS®-Doodle Cookie made with SNICKERS® Bar pieces
L'Chaim! Holiday Kitchen: Black and White Cookie (plant-based)
American Holiday Table: Chocolate Crinkle Cookie
Bavaria Holiday Kitchen: Linzer Cookie
Holiday Hearth Desserts: Gingerbread Cookie
Sunshine Seasons: M&M's® Sugar Cookie
Connections Café: Sugar Cookie
Holiday Kitchens
Find festive flavors at the following locations:
American Holiday Table – American Adventure Pavilion
Bavaria Holiday Kitchen – Germany Pavilion
Chestnuts & Good Cheer Holiday Kitchen – Near Test Track Presented by Chevrolet
The Donut Box – Near Test Track Presented by Chevrolet
Holiday Hearth Desserts – The Odyssey Pavilion
Holiday Sweets & Treats – Near Port of Entry
L'Chaim! Holiday Kitchen – Between Morocco and France Pavilions
Las Posadas Holiday Kitchen – Mexico Pavilion
Le Marché de Noël Holiday Kitchen – France Pavilion
Mele Kalikimaka – Near Port of Entry
Nochebuena Cocina – Near Port of Entry – NEW!
Shanghai Holiday Kitchen – China Pavilion
Shi Wasu Holiday Kitchen – Japan Pavilion
Tangierine Café: Flavors of the Medina – Morocco Pavilion
Tuscany Holiday Kitchen – Italy Pavilion
Yukon Holiday Kitchen – Canada Pavilion
Funnel Cake – Between the American Adventure Pavilion
Joffrey's Coffee & Tea Company – Throughout EPCOT
Refreshment Outpost – Between the China and Germany Pavilions
Refreshment Port – Showcase Plaza
Thank you for Sharing and Pining!