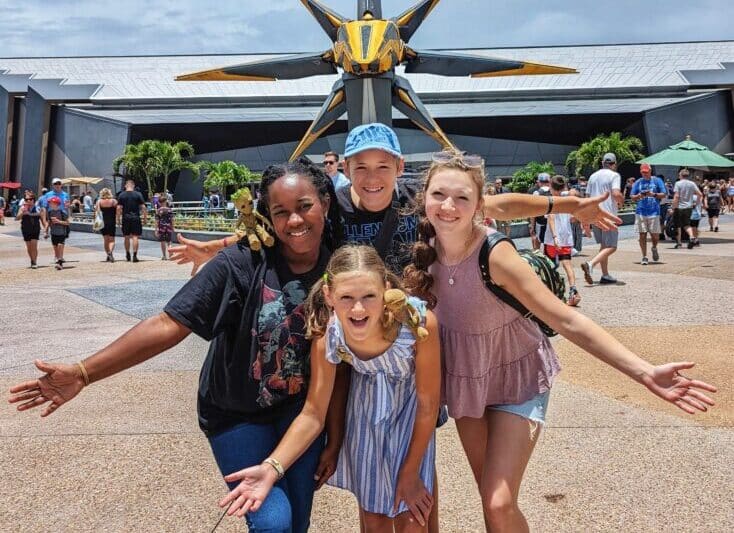 HOW TO RIDE COSMIC REWIND
You cannot simply show up and expect to wait in a stand-by line for Cosmic Rewind. Walt Disney World Resort has used a virtual line or queue for their most recent rides. This has simplified things for them, but for us, it has made it tricky to experience the new ride. As you can guess, for an extremely popular new ride like Cosmic Rewind, it's nearly impossible (or is it?).
HOW DO I GET INTO THE VIRTUAL QUEUE?
Disney has set up their virtual queue so that you may only reserve a spot at a certain time. This time is at 7 am for all guests, including annual pass holders and resort guests. You can reserve this spot from any location. You do not need to be on Disney property!
TIP: SPOTS FOR THE VIRTUAL QUEUE FILL UP WITHIN MILLISECONDS! BE READY TO ACT FAST!
On the app, you must confirm your group before joining the queue. You confirm your party by linking account names, which are linked to their park tickets. As you are confirming your group, keep in mind the minimum height requirement of 42 in. After confirming your party (before 7 am), at exactly 7 am an option for a virtual queue will appear. If you are lucky enough to get a spot, you will be given a group number and a predicted wait time. From there you should keep an eye on your group's status for your specific call-back time.
WHAT TO DO IF YOU DON'T GET A SPOT AT 7 AM
If you aren't able to secure a spot at 7 am, don't fear, there's another way!
You have this same opportunity at exactly 1 pm! Only this time, you must be in the park. You must be physically present inside EPCOT (actually scanned in with your park pass, not just sitting in the parking lot). To be honest you are better off this way instead of waking early for the 7 am time slot. The same rules apply, you must have everyone in your party confirmed and have their park tickets connected. If you receive a spot, you will get a group number and a wait time. Don't forget to keep an eye on your group's status.
TIP: USE THE PHONE WITH THE BEST SIGNAL OR FASTEST CONNECTION. USE YOUR DATA IF POSSIBLE, NOT THE DISNEY WIFI.
When we received our boarding group at 1 pm, there was an estimated call-back time of 110 minutes, but it went fast! It didn't take that full time on the day we were there. I have heard similar experiences from others.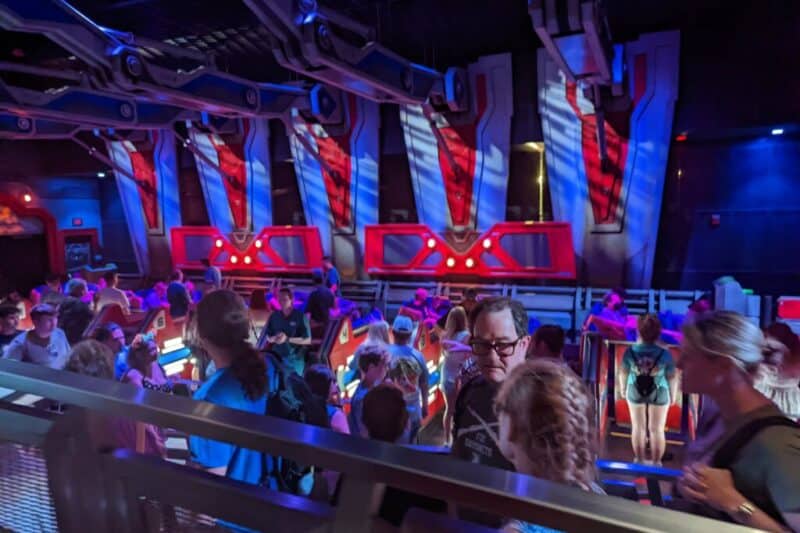 THE LIGHTNING LANE OPTION
The other option is to purchase an individual Lighting Lane pass through the My Disney Experience app. These passes are currently $14-$17 per person. The general public is not able to purchase this Lightning Lane pass until the time of park opening.
While the ride is new and so popular, regular ticket holders will never have a chance to purchase one of these passes, and here is why: resort guests can purchase Lightning Lane passes as early as 7 am. There are many people who have booked their stay at a Disney resort specifically for the ability to utilize early booking of Lightning Lane passes. Resort guests may hop on at 7 am and purchase a Lightning Lane pass for Cosmic Rewind. By the time standard ticket holders are able to purchase at the time of park opening, they will most likely be sold out. So, if you really want to guarantee a spot on Cosmic Rewind, staying at a Disney resort and purchasing an Individual Lightning Lane pass for Cosmic Rewind at 7 am may be a good strategy.