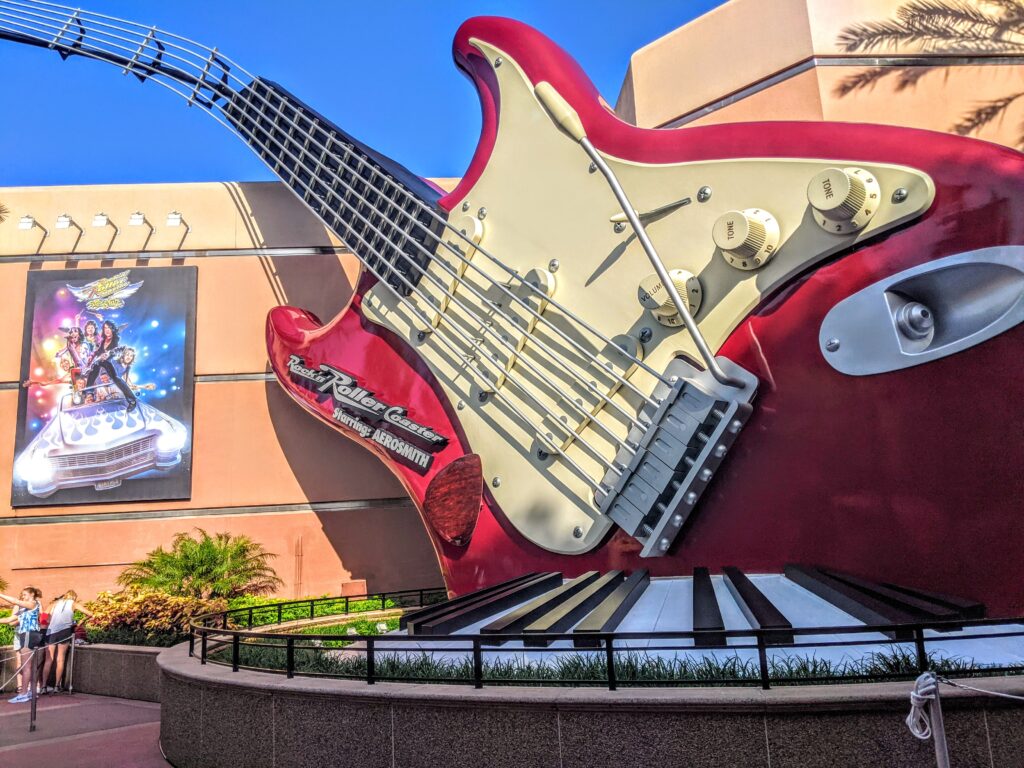 Location
Hollywood Studios – Walt Disney World
Type of Ride
Rollercoaster
Rock n' Roller Coaster Starring Aerosmith
The G-Force records bring home the thrill, speed, and rock on Rock n' Roller featuring Aerosmith! If you love rock, particularly Aerosmith, this ride will blow your mind. From the queue to the ride itself, it keeps the excitement of its visitors rolling. On this ride, you will speed through town in your V.I.P super-stretch vehicle while listening to Aerosmith's original hits!
Location
Rock n' Roller Coaster is located at Walt Disney's Hollywood Studios. To get there, you must walk towards the Tower of Terror, but before you turn right to find the line, take a left. You will see an upside-down car riding on guitar strings.
What Age is it Best for?
I recommend this ride for 11 year olds and up for two reasons. One, the ride may be too loud and intense for the younger crowd. Two, younger kids do not appreciate the greatness of rock 'n roll as much as the older crowd.
How to Ride
There are three ways to ride Rock n' Roller Coaster. First through the standby line. For this ride, it is usually one of the longer waits at Hollywood Studios. I wouldn't recommend waiting more than 100 minutes for this attraction (the wait usually goes down). Warning, part of the wait is in the sun, so it can get very hot on a Florida summer day. Good news, it gets better once you are in the shade and under the fans, or even better inside in the air conditioning.
Will I get Motion Sickness on this Ride?
This ride is super fast, and is constantly whizzing past glow-in-the-dark objects… so you most likely will get motion sickness. In fact, my brother who doesn't usually get motion sickness got a bit light-headed after doing it two times.
What Items Can I Take on This Ride?
Honestly, they are very loose about what you can bring onto this ride. I have always brought my mini backpack onto the ride with no problem. For bags (even full-size backpacks) you will stow them at your feet. I would usually wrap the straps around my legs for extra protection. They will ask you to remove any loose items like glasses, ears, and hats, and stow them in the pouch in front of you. This pouch is not very big, so if you are able I would recommend bringing a bag to put these small items in.
How Many People Fit it a Row?
Two people fit in a row on Rock n' Roller coaster. There are 12 rows to one "super-stretch" limo, so your party will be in the same limo unless you have for then 24 people in your party. I would not recommend going into the single rider line, because your group will be split up. The wait is not guaranteed to be much short, in fact, it may be even longer.
Are there Ride Photos Available?
There are ride photos available. The picture is taken right at the start as you speed off. Me, my brother, and my sister usually come up with a pose to do in the line. For this ride we do our best funny pose or… we look simply bored. I will warn you that posing is much harder than it looks, especially when you go from speed 0 to 57 mph in 3 seconds for the boost off.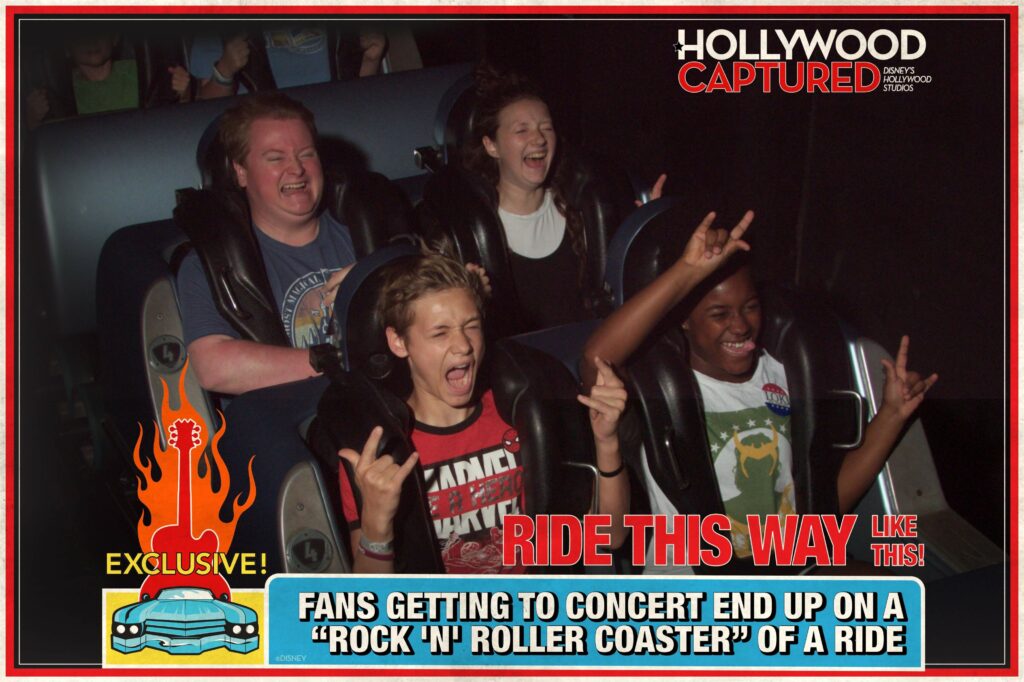 Accessibility
For wheelchair users, you are able to go through both the standby line or the lighting lane. You should be cautious with this ride, the style of it may worsen your condition. If your condition won't be worsened, you must transition into the ride cart. Cast members will provide help for you as you are loading and unloading the ride.
Insider Tips
There are several things you should know before getting on this ride:
There is a studio where you will see Aerosmith and their manager get ready to leave for a concert. However, they are devastated to leave their fans (us) abruptly. During this time, most people push forward to get a better view of the crew, but I would recommend moving to the far left towards the door. If you do this, you will bypass the group of people as you form a line again.
I seriously recommend doing a group pose as the ride boosts off! Purchasing the ride photo will keep the memory of this rock adventure alive!
Length
1 minute and 22 seconds