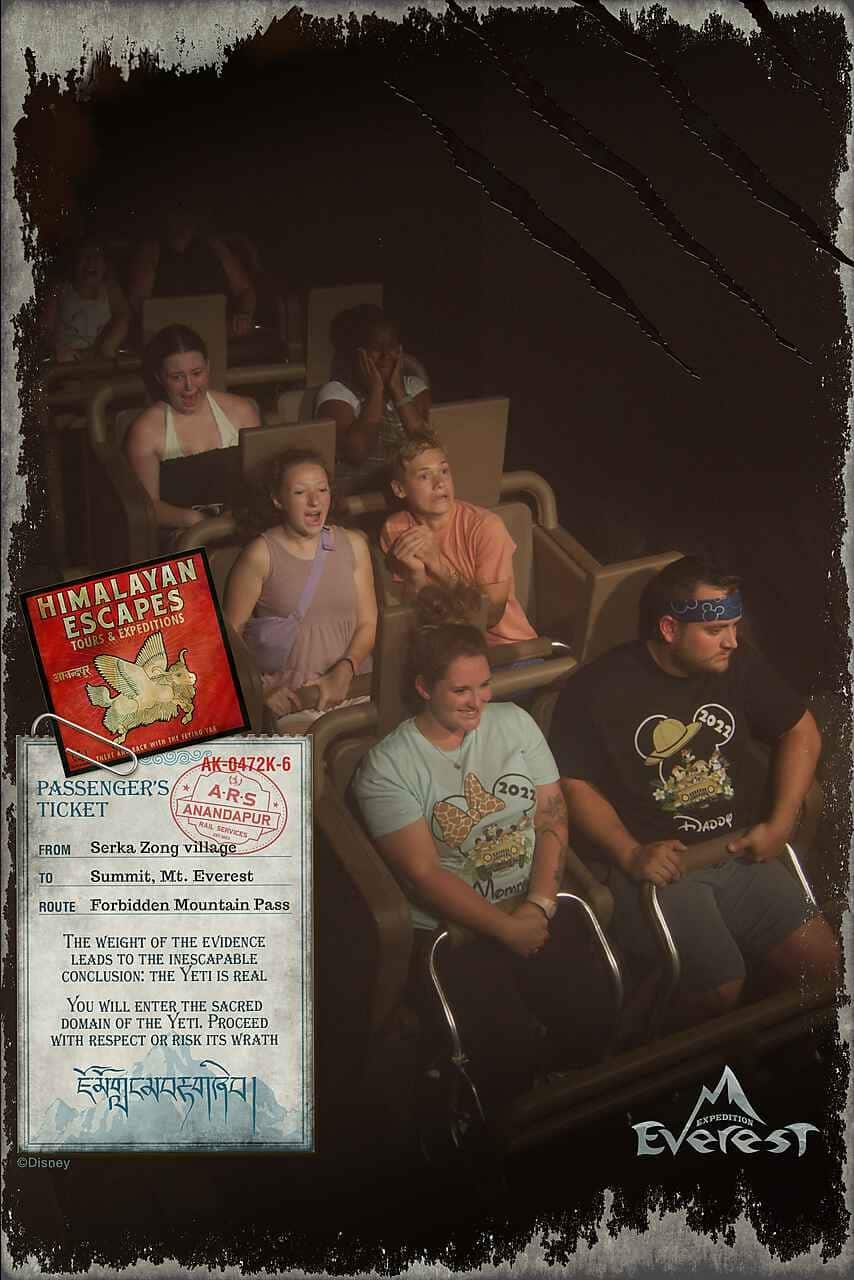 Location
Walt Disney World: Animal Kingdom, Asia.
Type of ride
Roller coaster
Expedition Everest
Do you feel daring and up for a risky adventure? Join Expedition Everest! Climb up nearly 200 feet into the steep cliffs of Mount Everest and try to steer clear of the dangerous snow yeti. Your cart will twist up and down the mountains, revealing damaged tracks and sending your cart at high speeds, twisting backward down into the dark tunnels of Mount Everest. Now you are in the yeti's territory, and you have to make the dangerous truck down an 80″ foot drop at a blizzarding top speed of 50 mph. You just make it out alive after barely escaping the claws of the 25-foot yeti.
Location of expedition Everest
Expedition Everest is in Walt Disney World's Animal Kingdom. To get to Animal Kingdom's Asia, travel over the bridge that's on the right of The Tree of Life. Expedition Everest won't be hard to miss once you see a giant snowy mountain in view.
What Age is it Best For?
I recommend ages ten and up for this ride. Expedition Everest is one of the most intense rides at the Walt Disney World parks. This roller coaster has moments in the dark, flashing lights, and loud noises. These things may frighten younger children, including the yeti.
How to Ride Expedition Everest
Expedition Everest offers a standby line, lightning lane, and single-rider line. Getting a Lightning Lane pass will guarantee a much shorter wait time, and Genie+ is also a great option for expert guidance on the day's shortest wait times. The regular standby line is at least an hour wait.
Will I Get Motion Sickness on this Ride?
If you are prone to motion sickness, this ride is definitely not for you. There are big drops, and many moments in the dark, including a long sequence of backward motion in the dark. I also don't recommend this ride to anyone with heart, neck, back, blood pressure, or other conditions that this ride could aggravate.
What Items can I Take on this Ride?
You can take anything on Expedition Everest, as long as the items fit comfortably below your feet or in the pouch in front of you. I recommend putting loose items like ears, hats, and glasses into the pouch.
How Many People Fit in a Row?
Two people fit in one row, and there are 17 rows in total.
Are there Any Ride Photos available?
There are ride photos available for Expedition Everest. You can view and scan the photos with a Disney card or Magic Band at the exit of the ride. Your photo is taken at the big drop out of the mountain.
Accessibility
You may stay in your wheelchair for the queue, but you must be able to transfer out of your wheelchair for the ride.
Insider tips
Expect that Expedition Everest could break down during your time at the Animal Kingdom park. I recommend that this be your first ride of the day to beat afternoon crowds.