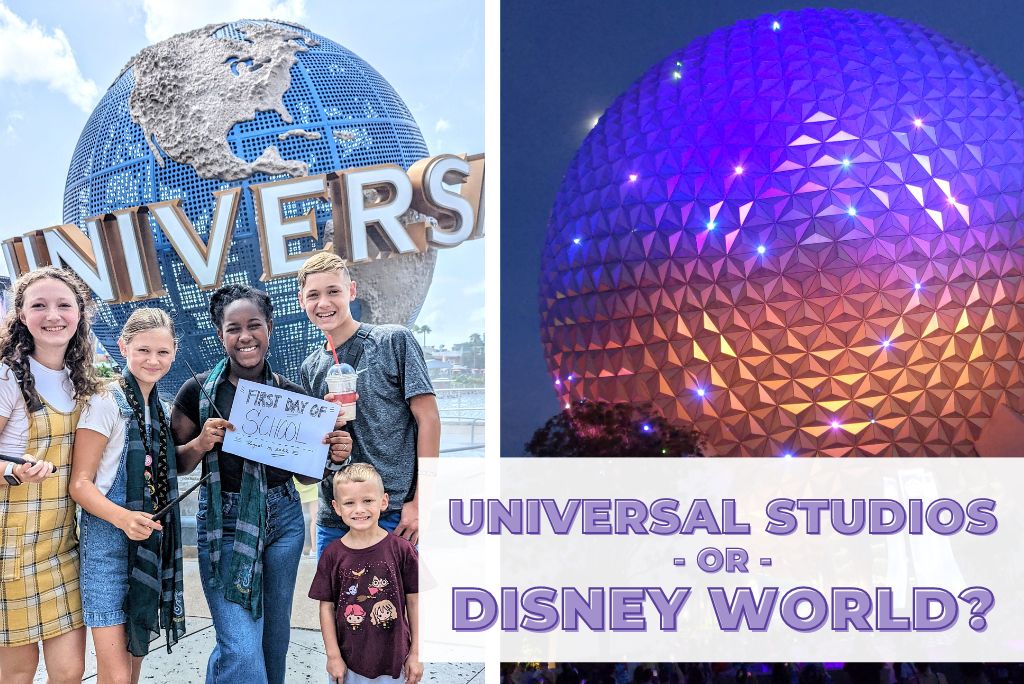 Comparing Universal Studios with Walt Disney World
You may have heard the question argued before – which one is better: the Universal parks or Disney World? Thrill-seekers most likely will say that the Universal parks are better, and those who get the warm fuzzies will most likely say Disney World. The reality, however, is that both parks are amazing and offer unique experiences and sensations. The better question to ask ourselves is, what park is better for us personally to visit? As an annual passholder at both parks and a person who enjoys going to both parks for different reasons, I hope my insight and knowledge can help you decide which one you may enjoy more for your next visit to Florida.
Here are the comparisons and contrasts of the Universal Studios Orlando and Walt Disney World theme parks.
Please Note: Disney World and Universal Studios are NOT the same places. They are completely different companies and unrelated to one another in any way. It is a huge pet peeve of passholders and local guests when we see people wearing Mickey ears and Disney t-shirts at Universal Studios! Of course, I'm only half serious, haha. But for real, please don't go to Universal Studios and ask where Cinderella's castle is. The only castle you will find there is Hogwarts.
Disney World and Universal Parks: Similarities
Here are a few of the main similarities I see between both parks:
The Employees – What I have noticed about both Disney World and Universal Parks is how polite the employees are at both parks! While Disney World "Cast Members" are especially cheerful, Universal "Team Members" are equally skilled at resolving difficult situations, such as when a grumpy guest gives them a hard time. The park employees always stay so calm; I don't know how they do it!
Experiences that take you into the world of your favorite movies – both Disney World and Universal have done a wonderful job at making their guests feel immersed in the worlds of well-known fictional characters, such as on rides like "Escape from Gringotts Bank" in Universal Studios, or "Avatar Flight of Passage" at Disney's Animal Kingdom.
Great food – Both parks offer picture-worthy and tasty treats, beverages, and meals. For example, I really enjoy the experience of going to Honey Dukes or grabbing a butterbeer in the Islands of Adventure's Hogsmead area. At Galaxy's Edge in Disney's Hollywood Studios, I like to stop for blue milk or order a pretty treat from Main Street's Confectionery in Magic Kingdom.
Disney World and Universal Parks: Differences
There are a lot of unique things that set Disney and Universal apart from each other. Here are a few of the differences I have noticed:
Different types of thrills – Universal definitely offers a bigger selection of thrilling and intense rides compared to Disney World, such as "Velosicoaster" in Islands of Adventure, or "Rip Ride Rockit" in Universal Studios. However, many of Disney World's rides focus on telling thrilling stories, such as "Rise of the Resistance" at Hollywood Studios, or "Guardians of the Galaxy: Cosmic Rewind" at EPCOT.
Different characters – It is important to take into thought which movie characters you love the most. If you are a big Star Wars or Disney princess fan, Disney World parks may be right for you. If you favor Jurrasic Park or Harry Potter series more, the Universal Parks may be right for you.
Different experiences for different ages – Disney World has done a wonderful job at providing experiences and rides for very young infants, toddlers, teens, and adults, which makes Disney World a great place for families. Universal does offer a much wider selection of play areas than Disney World does, but not necessarily as many kid-friendly rides as Disney World.
Indoor and outdoor rides – The majority of Disney World's rides are indoors, which is a great advantage for going on a rainy or windy day. Universal, on the other hand, offers more outdoor rides, which makes things tricky for guests on stormy days.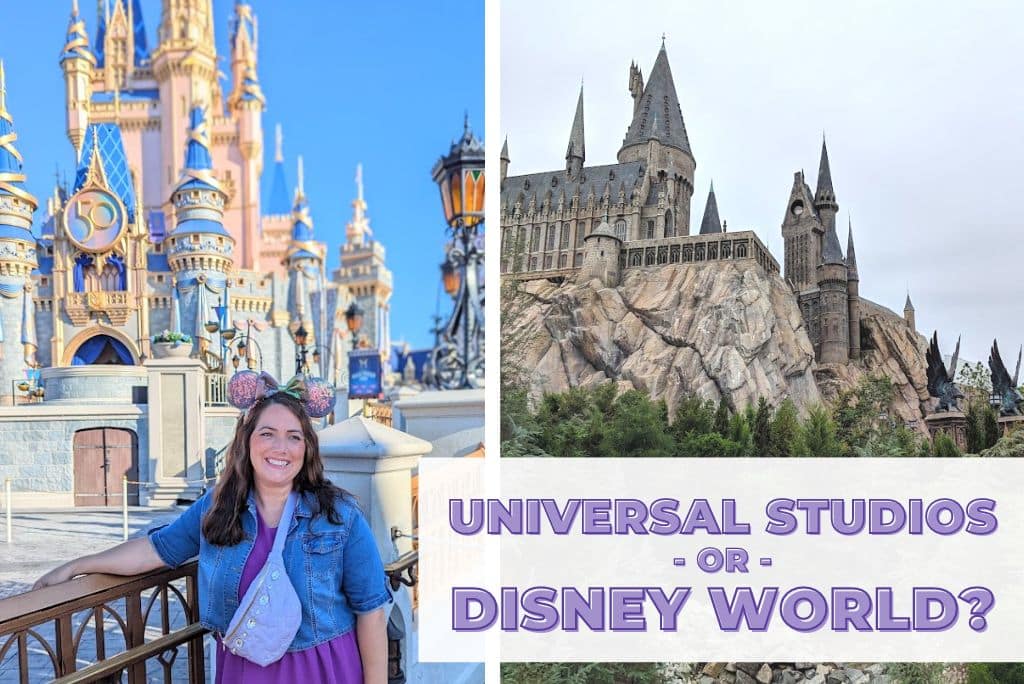 Conclusion
Deciding whether to go to Disney World or the Universal parks mainly depends on your interests, circumstances, and priorities. If you have a family with kids too little to ride bigger rides, Disney World may be a better option. If you prefer bigger thrills over experiences, the Universal Parks may be better for you. I definitely believe both parks are amazing, and maybe you would want to visit both for your next vacation if your budget allows it!