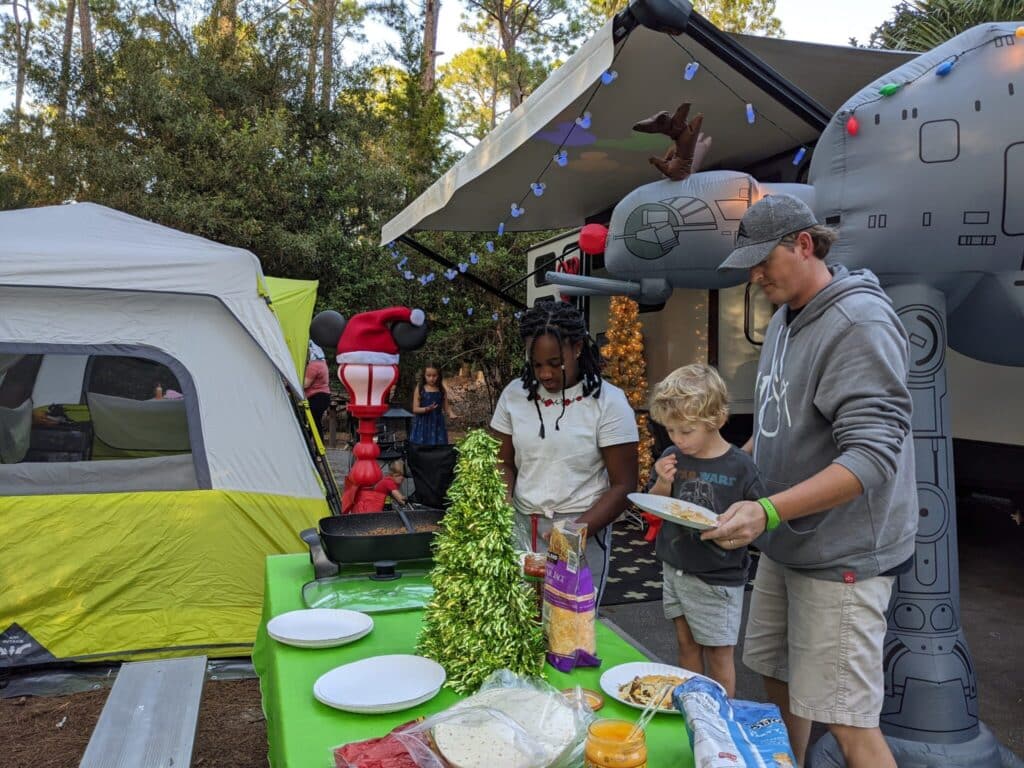 Christmas at Fort Wilderness
Disney's Fort Wilderness Campground is one of our all-time favorite places to camp and probably our favorite way to experience Disney. Camping during the Christmas season at Fort Wilderness is extra special! You can read my full post covering everything you need to know about Fort Wilderness HERE. In this post, I'm going to share some of the extra merry things about camping at "the Fort" during the Christmas season and what you should know before you go.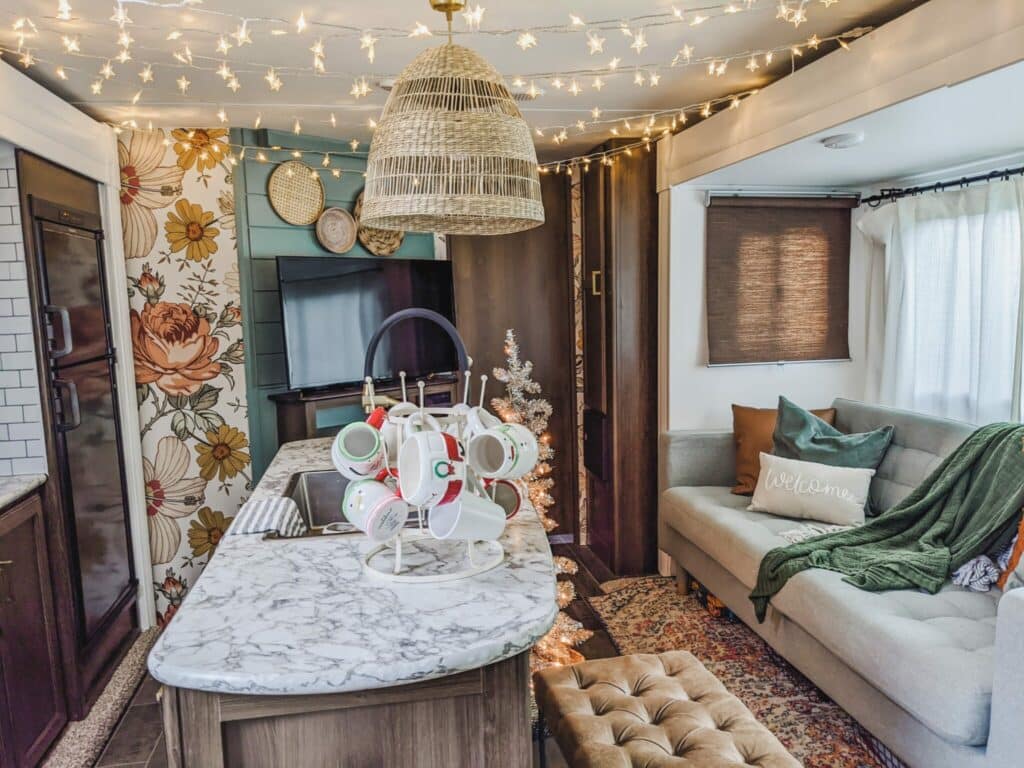 Christmas Decorations
Pack your Christmas decorations (the more the merrier)! Beginning the first of November, campers start decking the halls of their RVs with string lights, inflatables, giant Mickey and Minnie, wreathes and garland. It's always so fun to travel around the park to see all the decorations. People go all out with their Disney themed holiday décor.
Don't Forget: throw in extra extension cords and outdoor surge protectors!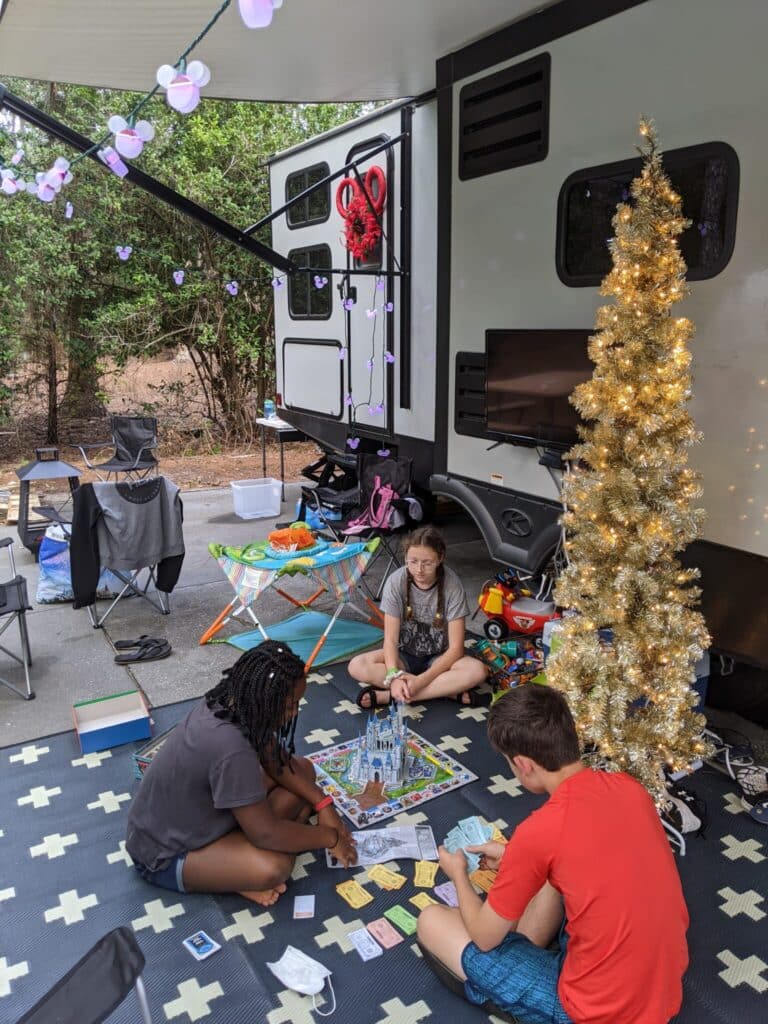 Utilize a Disney Vacation Planner
Use a Disney Vacation Planner, it's totally free and super helpful! It can be hard to reserve a spot during peak holiday hours. The earlier in November that you can go, the better. But if you're hoping to go closer to Christmas day, you will want to book far in advance. A Disney Vacation Planner that specializes in booking Fort Wilderness vacations can work their magic and may be able to snag you a spot that otherwise seemed unavailable. We booked through Happy Travels Travel Agency the last time we went. Our vacation planner Hilda was amazing. You can contact Hilda Neal directly at Camelot822@aol.com or by calling 302-598-8892.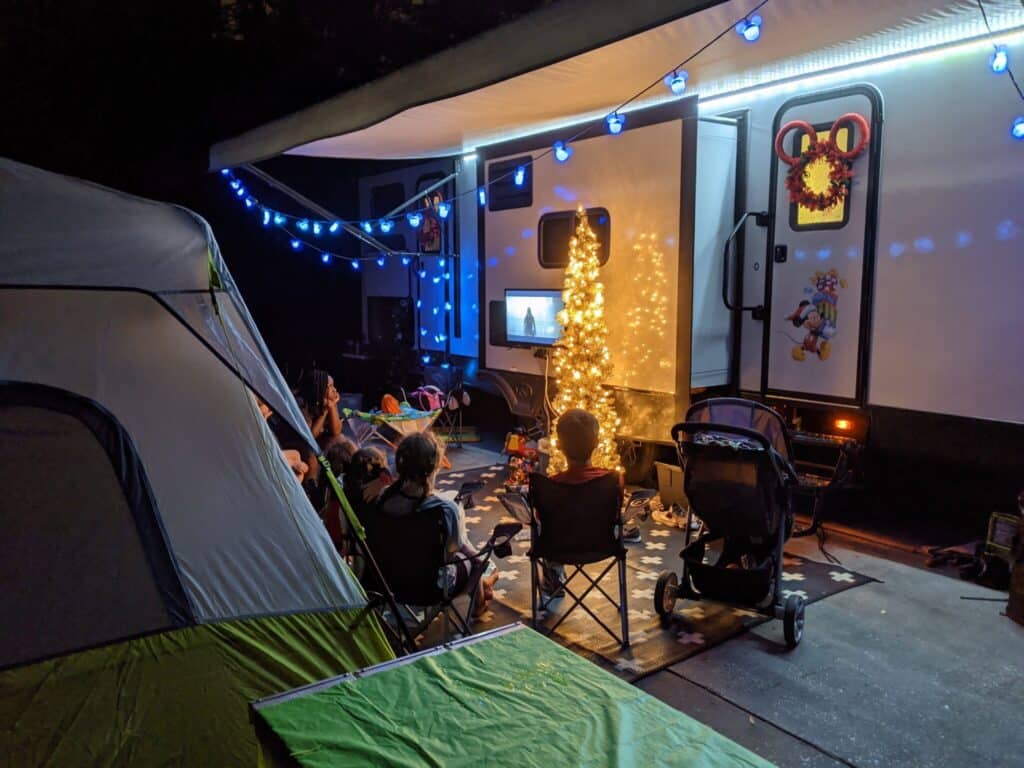 Pack for Hot and Cold
Don't forget your sweatshirt. Weather in Florida can start getting cool in November and December. If you want to sit outside around a campfire, you may be surprised to find that you need a sweatshirt on some nights. Even when it's warm during the day, it can get pretty cool at night. You will feel especially chilly when taking the boat ride back from the Magic Kingdom to Fort Wilderness.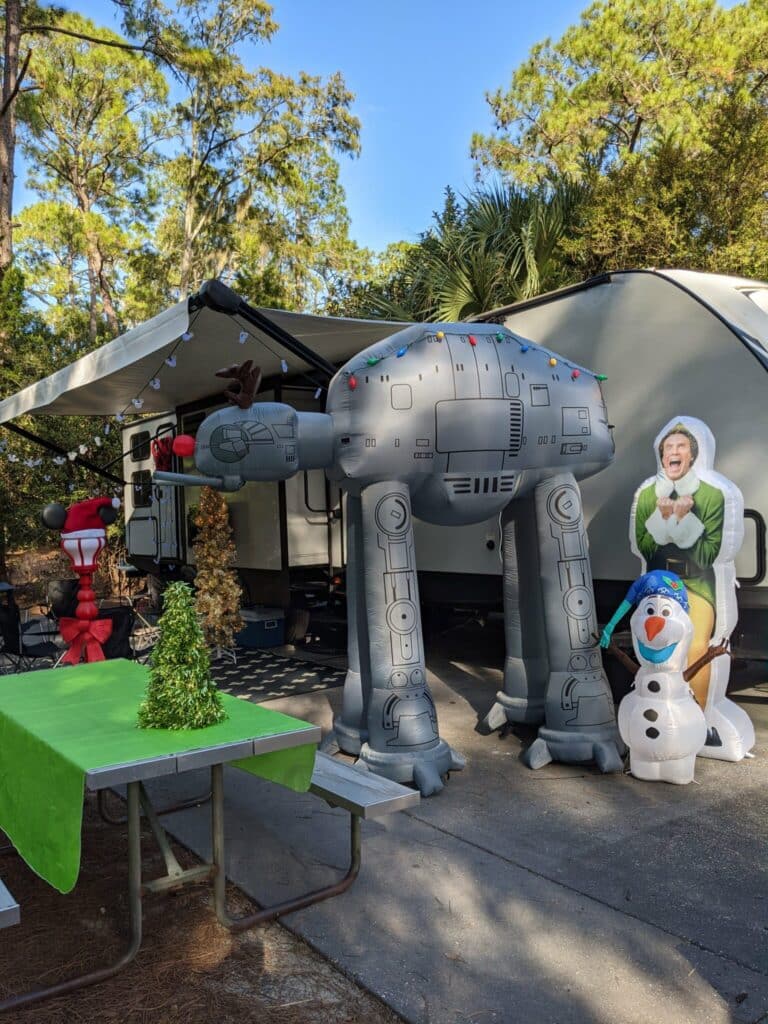 Activities at the Fort
Being from the Mid-West, we're used to cold weather and will swim in Florida during the Winter with no hesitation! The pools are heated and our kids have never complained about the opportunity to swim. There are so many fun things to do at Fort Wilderness, but certain activities and scheduled events have been impacted by current safety policies. You'll want to ask at check-in what things are open and for the current schedule.
Insider Tip: Join a Fort Wilderness Facebook group for up-to-date tips from other campers! You'll be able to compare notes with someone who is currently there or just left. They may be able to offer better insight into what things are currently closed. A couple groups I love are Happy Campers of Disney's Fort Wilderness Campground, Fort Wilderness Campers and Disney's Fort Wilderness Camping Group.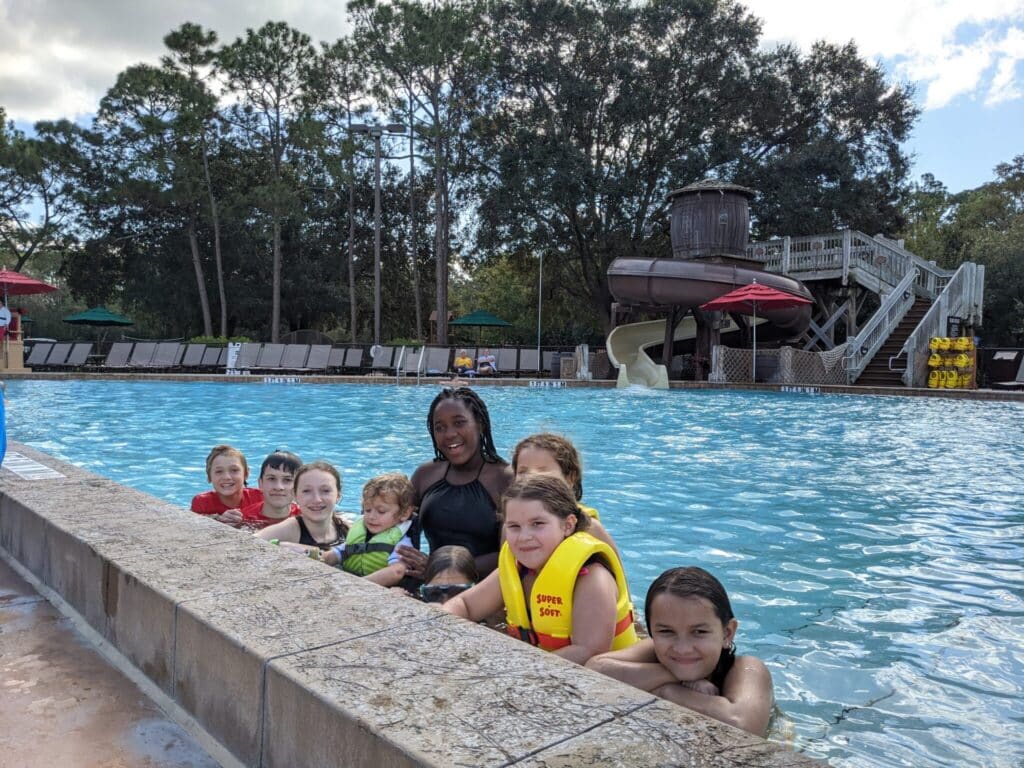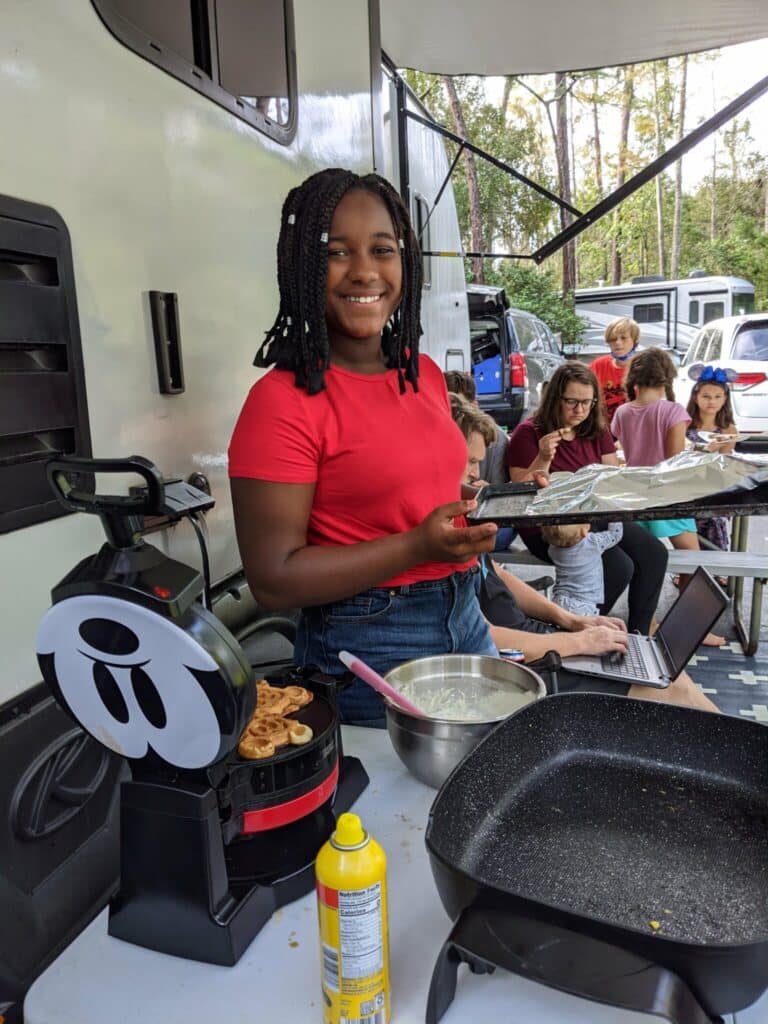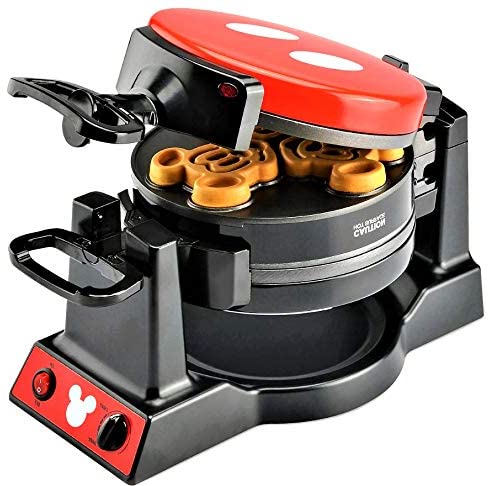 Mickey Waffles
If you don't have this Mickey waffle maker, put it on your Christmas list this year or buy it now! There is no better way to start your day at Fort Wilderness than with Mickey waffles. This is the only waffle maker out there that makes them exactly like they come in the restaurants at the Walt Disney World Resort. We love packing tubes of refrigerator cinnamon rolls to throw on the waffle maker! They usually come with icing and are packaged super conveniently for camping!