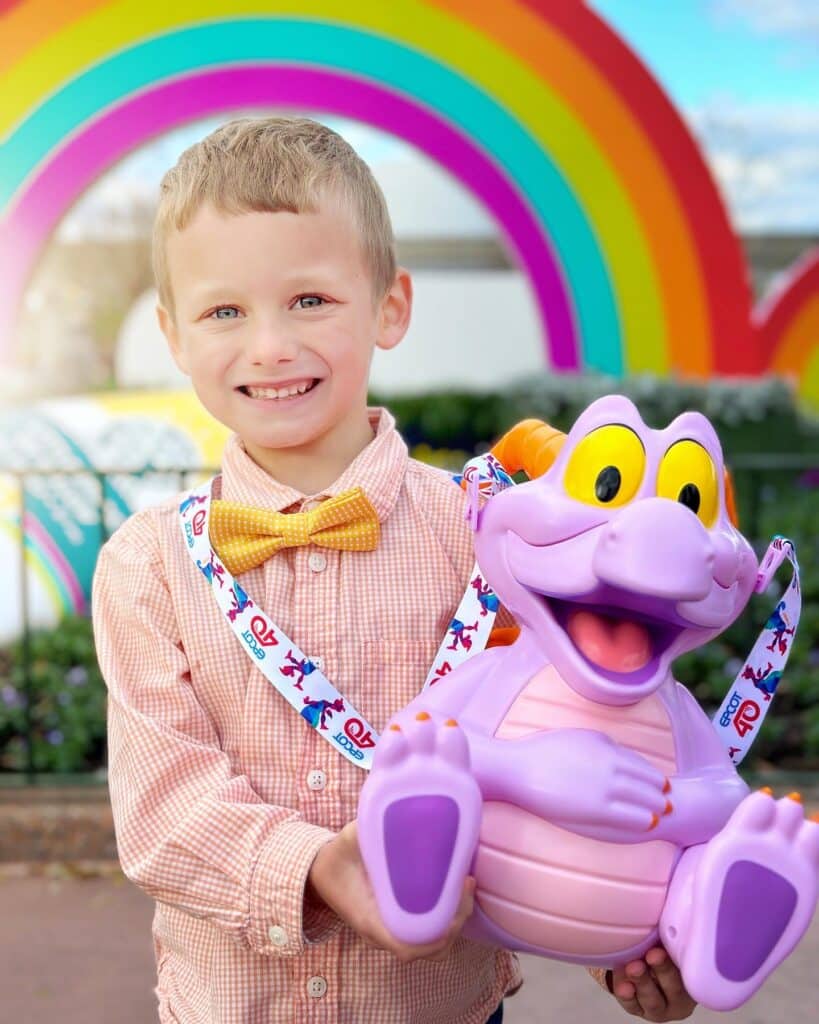 Vegan Food at EPCOT Festival of the Arts
I always get so excited to try a delicious treat at EPCOT to then find out it's also vegan! During EPCOT's Festival of the Arts, there are loads of different new foods and drinks served, and navigating the entire menu can be overwhelming. That is why I have compiled a list of all the vegan food at EPCOT's Festival of the Arts!
Moderne
Location: Test Track Presented by Chevolret
Price: 4.75
Moderne is a vegan alternative to sushi. This dish features compressed watermelon tataki with pickled watermelon rind topped with wasabi peas, yuzu pearls, and watermelon foam.
Fruit Pizza
Location: Figment's Inspiration Station at the Odyssey: Art, Food, and Little Sparks of Magic
Price: 3.75
This is a pizza-shaped slice of watermelon topped with balsamic, cantaloupe, and other berries.
Figment Premium Popcorn Bucket
Location: Figment's Inspiration Station at the Odyssey: Art, Food and Little Sparks of Magic
Price: 25.00
This premium popcorn bucket comes with pre-packaged rainbow-colored popcorn, and it's perfect for fans of Figment!
Plant-based Brat
Location: Refreshment Outpost in between Germany and China
Price: 9.50
This plant-based bratwurst comes with a vegan-friendly bun, decorated with turmeric aioli, coffee barbecue jackfruit, and vegan slaw.
Mille-Feuille de Betteraves aux Herbes et Noix de Cajoux
Location: L'Art de la Cuisine Française in the France Pavillion
Price: 12.75
This dish consists of plant-based napoleon with beets, decorated with a cashew-herb filling, pepper-pine nut sauce, and plant-based balsamic vinegar caviar.
Blood Orange-braised Beet Tartare
Location: Gourmet Landscapes in the Canada Pavillion
Price: 5.50
This interesting dish comes with pickled clamshell mushrooms, mustard vinaigrette, and golden beets. The blood orange-braised beet tartare is also a Wonderful Walk of Colorful Cuisine Item, which means buying this item will help you on your journey to earn a delicious prize after completing this challenge!
Carrots Three Ways
Location: Tangierine Café: Flavors of the Medina in the Morocco Pavillion
Price: 4.25
This dish features carrots galore: chermoula-spiced green carrots, pickled carrots, and plant-based carrot ginger purée, which is also gluten-free and wheat friendly.
For More Information
There is other vegan food at EPCOT's Festival of the Arts from 2022 that did not make it on the 2023 Festival of the Arts menu. For more details on vegan food at the Festival of the arts, you can visit the Walt Disney World website for a full menu.
For more information on vegan food at the Walk Disney World parks, a great blog to check out is VeganDisneyFood!
If you liked this post, you should also check out my post on Best Vegan Snacks at Walk Disney World!