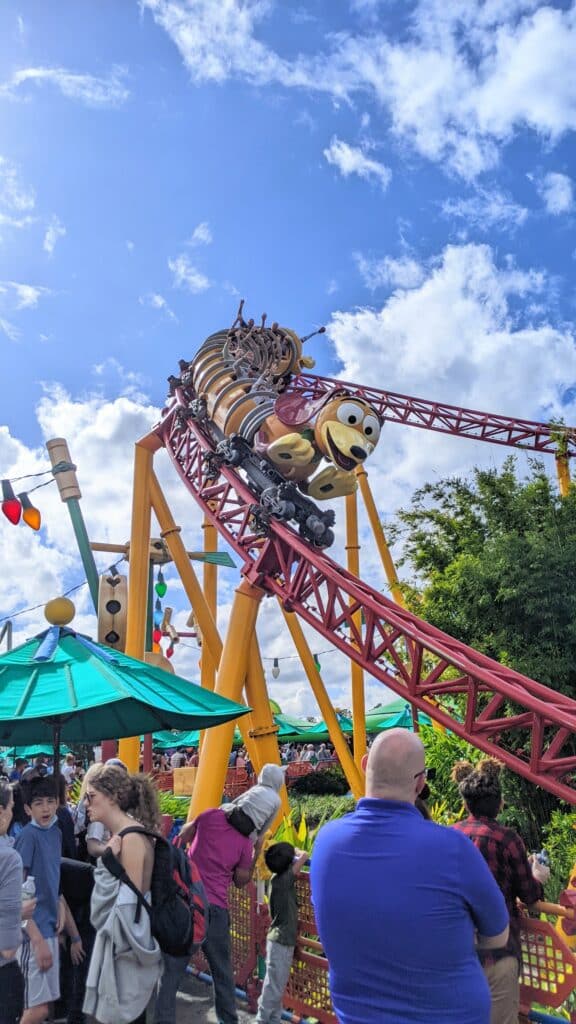 Location
Hollywood Studios – Walt Disney World
Type of Ride
Launched rollercoaster
Slinky Dog Dash
Slinky Dog Dash is a thrilling and high-speed adventure that the entire family can enjoy! Whether you are a Toy Story fan or not, you will love how well this ride immerses its guests in feeling like toys, riding in a life-sized version of Slinky Dog. Slinky Dog with take you on an adventure featuring high speeds, drops, twists, and turns that accommodate the movements of an actual slinky toy. Believe me; you will definitely leave this sweet ride with a smile on your face!
Slinky Dog Dash Location
This ride is located in Toy Story Land. You will see part of the roller coaster once you enter Toy Story Land. The queue is over the bridge on the right of the Alien Swirling Saucers. On a very busy day at the Hollywood Studios park, cast members may guide guests into a line that stretches out to the entrance of Toy Story Land.
What Age is Slinky Dog Dash Best for?
I recommend ages 8 and up for this ride. There are never any moments in the dark or loud noises. However, this roller coaster might just be a little bit too intense for younger kids who do not have much roller coaster experience. On the other hand, this ride is not so intense that children younger than 8 wouldn't enjoy it.
How to Ride Slinky Dog Dash
This ride offers a standby line and a Lightning lane. If you pay for Genie+ or a Lightning pass, you are guaranteed a much shorter wait time than if you were to wait in the regular standby line. The regular wait time for Slinky Dog Dash is at least one hour.
Will I get Motion Sickness on Slinky Dog Dash?
I recommend that you sit this ride out if you are prone to motion sickness or if you have blood pressure, heart, neck, back, or any other conditions that might be aggravated by this roller coaster.
What Items Can I Take on Slinky Dog Dash?
You can take anything with you on this ride, as long as it fits comfortably and securely below your feet or in the pouches that are provided on the ride. The cast members will ask you to store loose items like ears, hats, and glasses in the pouch in front of your seat.
How Many People Fit it a Row?
Two people fit together in one row, and there are nine rows per train.
Can Children Ride on Your Lap?
Children cannot ride on your lap for Slinky Dog Dash. If you want to take little kids with you, you first need to make sure they meet the minimum 38″ height requirement before they can ride with you. You can still wait with little ones in line and meet them at the exit of the roller coaster.
Are there Ride Photos Available?
There are ride photos available for Slinky Dog Dash. Your picture will be taken near the end of the ride, and you can use your magic band or park ticket to scan your photo after exiting the roller coaster. Your photo is taken near the end of the ride after your Slinky Dog train wobbles up and down for some time.
Accessibility
Guests must be able to transfer to a wheelchair for the queue and must be able to transfer out of the wheelchair for the ride.
Insider Tips
When your slinky launches up a second hill, make sure to look to your left for an amazing view of Galaxy's Edge!