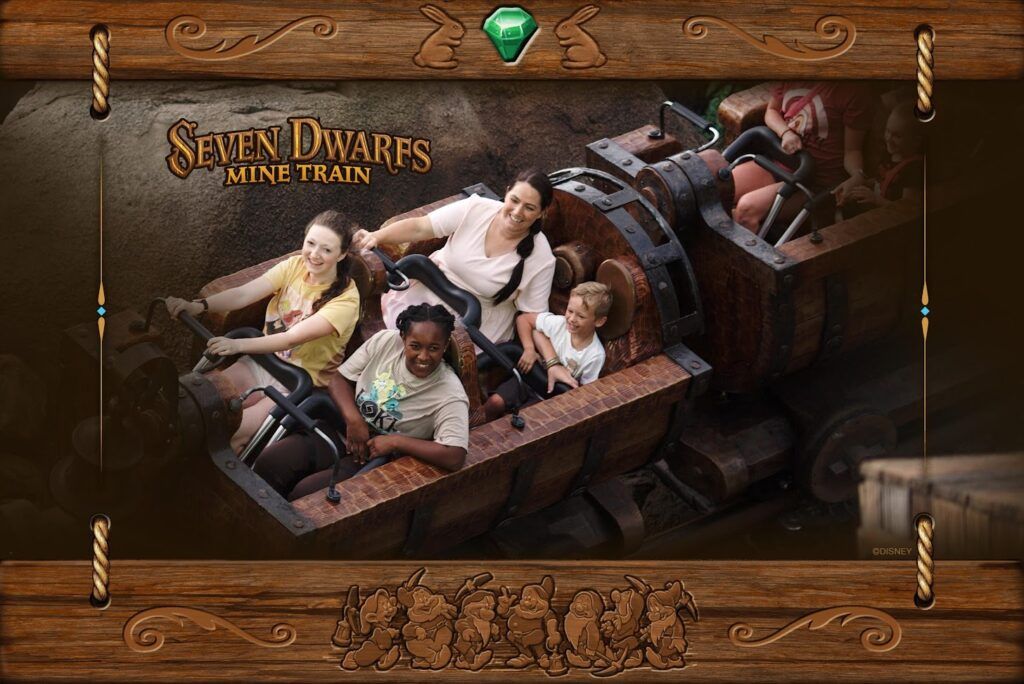 Location
Magic Kingdom – Walt Disney World
Type of Ride
Rollercoaster
Seven Dwarfs Mine Train
Seven Dwarfs Mine Train will have you singing "Heigh-ho, heigh-ho, it's up the mount we go!" on this thrilling fairytale adventure. Your swaying mine cart will take you up and down hills and sharp turns to the mine cave where the dwarfs work and sing. You'll be singing the entire way up the big drop and out of the mine cave. The Seven Dwarves Mine Train is a perfect ride for adults and kids who want a tiny bit of thrill but a lot of Disney magic. The coaster track is smooth, and your cart doesn't sway too intensely. Once you take your seat, you will have time to fasten your belongings on the floor or in the little pouch in front of you, and then it's off to work you go!
Location of Seven Dwarfs Mine Train
Seven Dwarfs Mine Train is in Fantasy Land of Magic Kingdom, behind the Cinderella Castle. Seven Dwarfs Mine Train is close to The Many Adventures of Winnie the Pooh attraction.
What Age is it Best for?
My little brother first rode this coaster at four years old and absolutely loved this ride! I recommend this ride as a starter coaster for little kids that meet the 38″ requirement, but I guarantee adults will enjoy this ride as well. There is nothing frightening in the Seven Dwarfs Mine Train ride, and the drops are small, so it is very likely little kids will enjoy this ride as much as my little brother did.
How to Ride Seven Dwarfs Mine Train
The regular standby wait is at least an hour. You can pay for a Lightning Lane pass to skip the big lines, or you can pay for genie+ to get expert advice on what times to do different rides.
Will I get Motion Sickness on Seven Dwarfs Mine Train?
While it is not nearly as intense as some of the other roller coasters in the Disney World parks, this ride may cause you to feel sick if you are prone to motion sickness. I also do not recommend this ride for people with severe back, neck, heart, blood pressure, or other conditions that this ride might aggravate.
What items can I take on Seven Dwarfs Mine Train?
You can take anything on this ride as long as it fits securely below your feet or in the pouch provided in front of your seat. Cast Members will ask you to stow your loose hats, ears, and other small items in the pouch in front of you.
Can children ride on your lap?
Children cannot ride on your lap on Seven Dwarfs Mine Train. If you want to take children with you on this Seven Dwarfs Mine Train, they must meet the 38″ height requirement before they can ride with you.
Are there ride photos available?
There are ride photos available for Seven Dwarfs Mine Train. There is no place after exiting the ride to scan your magic band or ticket, so if you would like your photo, make sure you have the My Disney Experience app on your device and sign into your account. Another would be to make sure you have a working magic band with you while on the attraction.
Accessibility
You must be able to transfer out of your wheelchair for this attraction.
Insider Ride Tips
If you are a little nervous about being motion sick on this ride but would like to try it anyway, I recommend asking for seats in the front rows of the cart. As long as you request, cast members will do what they can to make sure you get a row in the front of the mine train.
Try to get seats in a row near the back of the train if you want a more thrilling adventure!