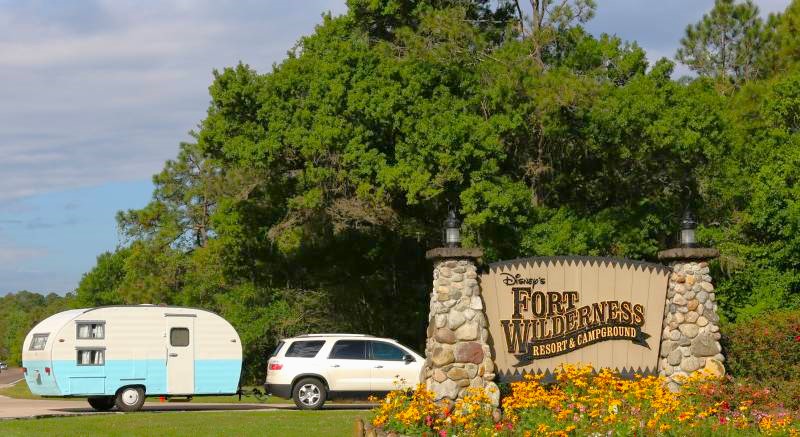 We love Fort Wilderness
I have fond memories of camping at Disney's Fort Wilderness Campground as a child, and have enjoyed going back several times now with my own kids! We've stayed at almost every other Disney value and moderate resort. We have visited every Disney hotel on property, toured the grounds and eaten at their unique restaurants. We are huge Disney resort fans. From the service you receive, the themed rooms and fun kids activities, free transportation and easy access to the parks, we've really never had a bad experience. No other campground puts you just minutes away from the Magic Kingdom, Epcot, Animal Kingdom, Hollywood Studios and Disney Springs.
Fort Wilderness Campground is part of the "value" class of resorts right on Walt Disney World property in Orlando, Florida. You get many of the same magical benefits you would at the other Disney resorts. These benefits include; close proximity to the parks, Magic Bands at a discounted rate, free Disney transportation and more! The campground can be a great option for people that love to camp, prefer to be out in nature over a hotel, or have a large family that has outgrown standard rooms.
With all that being said, even though it's called a "Resort and Campground"
Fort Wilderness is really a campground, and it's important to remember that.
It's not a hotel.
Read: How to Plan a Disney Vacation for Under $1,500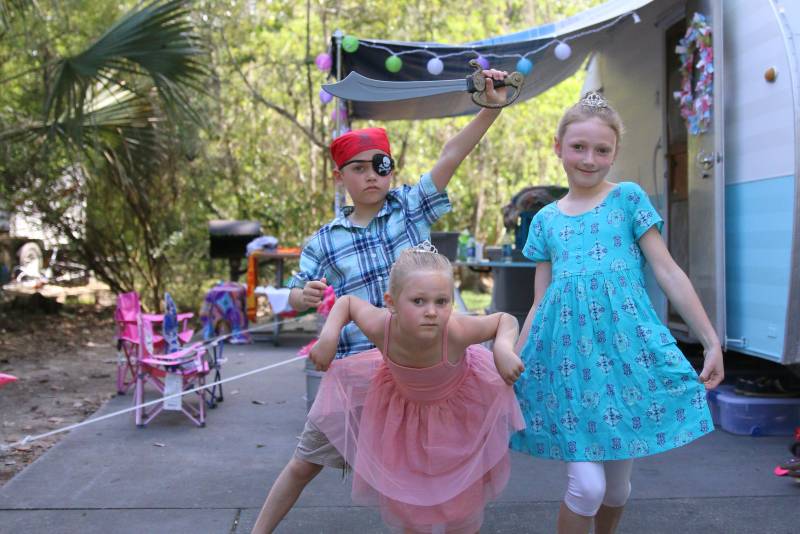 If you're reviewing Fort Wilderness by comparison to other Disney resorts, you could easily be disappointed. But, if you're thinking of it as a campground, it just might be the best campground you ever stay at!
What Age is it Best For?
We have stayed at Fort Wilderness while our kids were little (5, 7 and 9) and have gone back later with a 2 year old and a 13 year old and again with 16 year-olds! At times, we have visited with grandparents and cousins of all ages. We ALL had a great time and Disney truly has thought of something for every age.
The pool area is so well equipped for the toddler years and my 5, 7 and 9 year old all loved the water slide. They loved that they could stand in line and go down it all by themselves. You might think the pool would be less appealing to teens as it is only 3 feet deep and full of young kids, but my teens have never complained. Teenagers will enjoy the horseback riding, boating, fishing and other outdoor activities, but if they're hoping for an impressive arcade area they will be disappointed.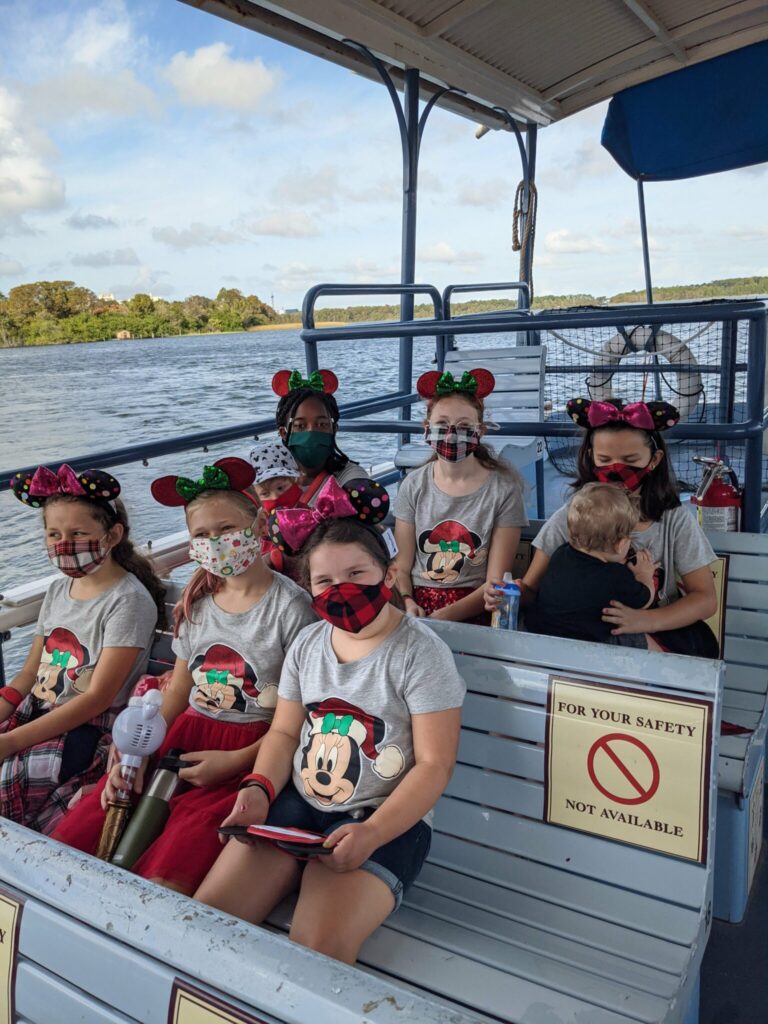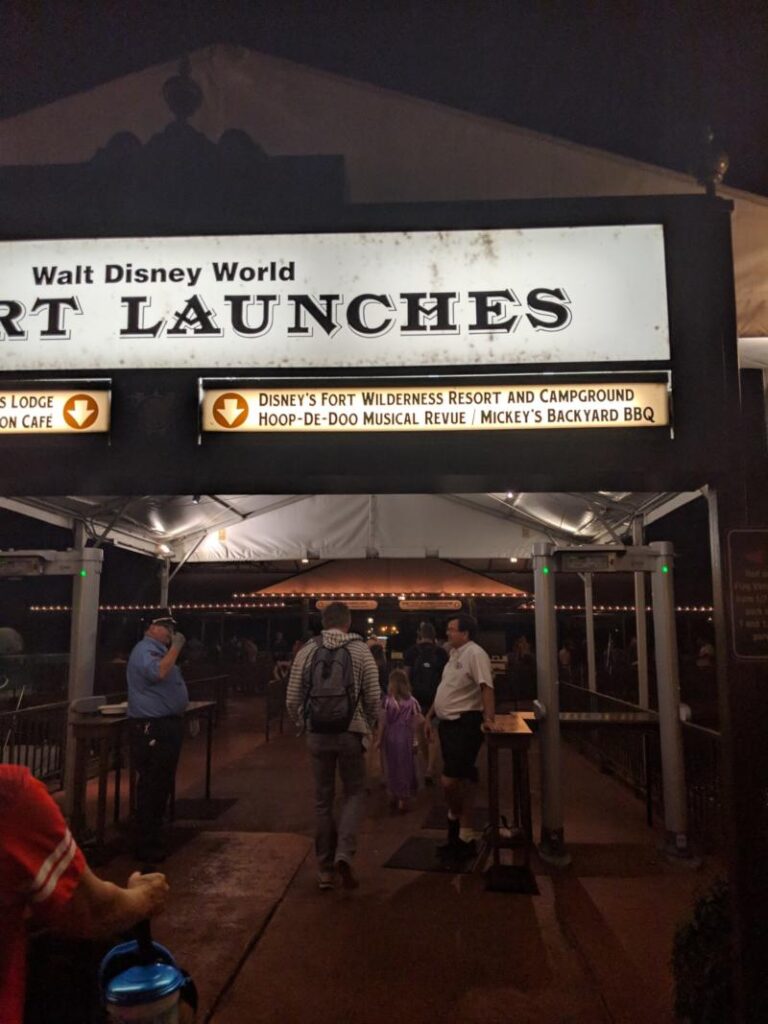 What We Loved
There are numerous things that set Fort Wilderness apart from other campgrounds. All the fun, Disney touches and added perks are what make it so unique. I'll share what we loved most about Fort Wilderness, but it's a pretty long list!
Read: How to See Everything at Disney World in One Day
Transportation
Easy, fun (and free!) boat ride to the Magic Kingdom, Wilderness Lodge, Contemporary Resort and Polynesian Resort
Campground bus system that takes you around the resort and out to all theme parks
We loved that you could park your RV and never have to move it again to get anywhere because of all the transportation options
Golf carts you can rent (or bring your own!)
Bikes you can rent (or bring your own!)
Tip: Ride the boat at least once! Even if you're not headed to a theme park, you can take the boat over to the Contemporary Resort and hop on the monorail for a fun circle around the Magic Kingdom resort area with views of Cinderella's castle!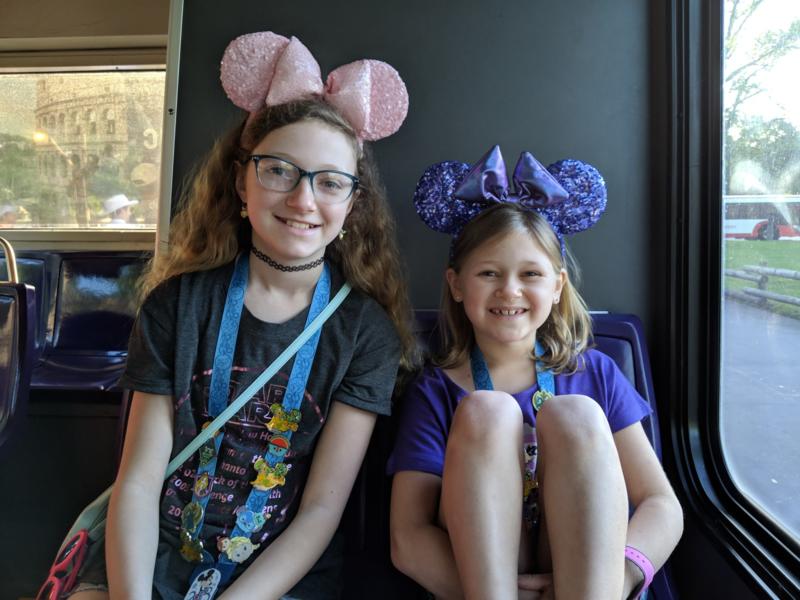 TIP: Strollers must be folded up before getting onto any Disney bus!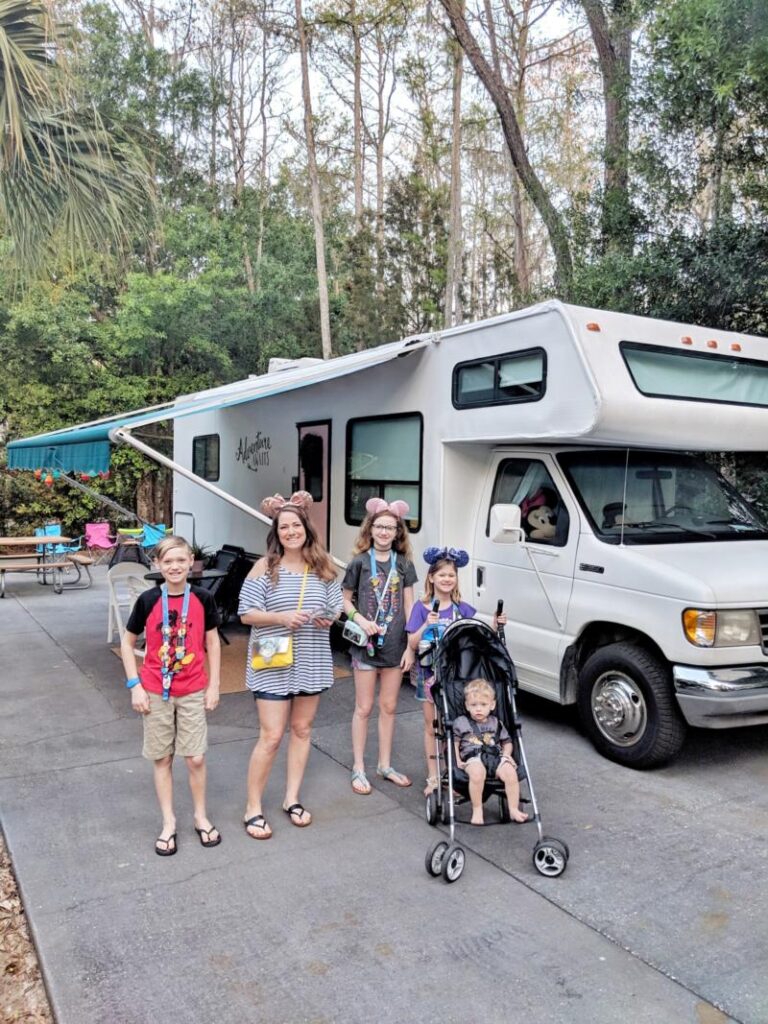 Disney Magic
Magic Kingdom firework viewing every night!
Electrical water parade every night!
Access to the same, helpful concierge service you would receive staying at any Disney resort (where you can conveniently purchase park tickets, ask questions and make dining reservations).
Chip and Dale's campfire singalong and movie every night! *Check current schedule to see what nights of the week this is offered.
Special activities/games by and in the pool every day. The kids especially enjoyed the Disney Jr. Pool Party.
You're given the opportunity to purchase magic bands at a discounted rate when booking your trip, just like you would get at any of the other resorts which can be loaded with park tickets, linked to a credit card so you don't have to carry your wallet and used as a key for return entry to the campground.
Read: Disney on a Dime! How to do a Cheap Disney Vacation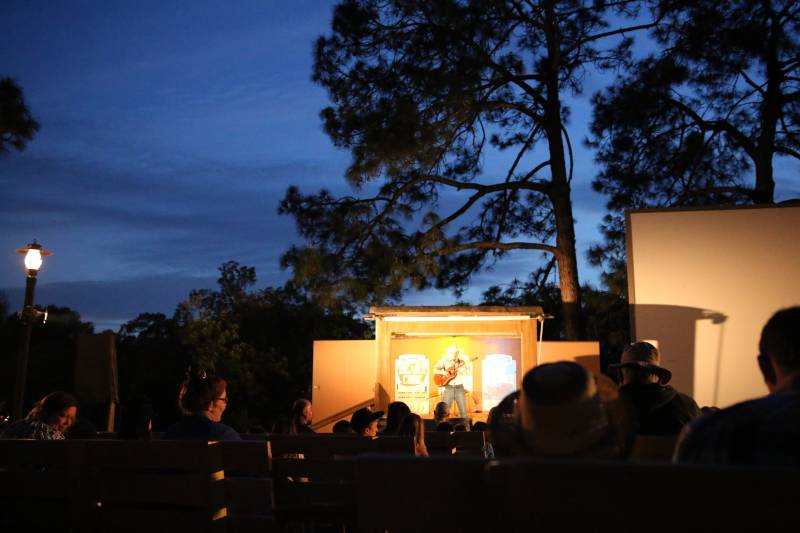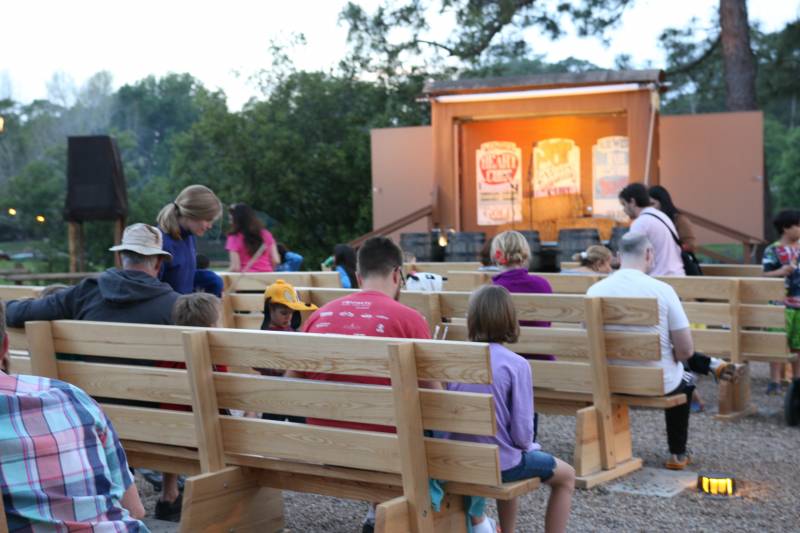 Facilities
If you take your own fishing supplies, you can fish in so many different areas around the park for free – otherwise, bait is available to purchase and fishing poles are available to rent.
The peacefulness – Even at full capacity, the camping areas were much quieter than I would have expected!
Several eating options right on the premises… we LOVED the Hoop-Dee-Do Review!
Kid-friendly pools and water slide: gated water area for toddlers with toddler size slides and shallow water, pool and slide that's only 3′ deep with several life guards on duty and plenty of lounge chairs in view meant I could relax a little more than normal at the pool!
The sites are large and clean. I was pleasantly surprised by how wooded and shaded each spot was.
Very nice laundry facilities.
Plenty of other optional activities available: We didn't have time to take in all that the campground had to offer such as archery, horseback riding, carriage rides, wilderness exploring, etc. There are lots of options though, for kids and adults of all ages!
If you have a large family and have outgrown the max allowed number in a Disney value resort – the campground may be a great option! Every site is allowed an RV, trailer or pop-up and a tent (though some spots have sandy spots for a tent and others don't) for up to 10 people/per site. There are also cabins available throughout the park and RV rental!
Group camping spots are available and they did a great job of putting our campsite right across from my in-laws. At many of the Disney resorts, they cannot guarantee family groups will be near each other, so we were pleasantly surprised by how close we were able to be.
It's the only place to stay at Disney that is pet-friendly! They have a very nice dog park and also offer pet boarding for the days you are away or in the park (for a fee of course).
Read: Everything for Free at Disney World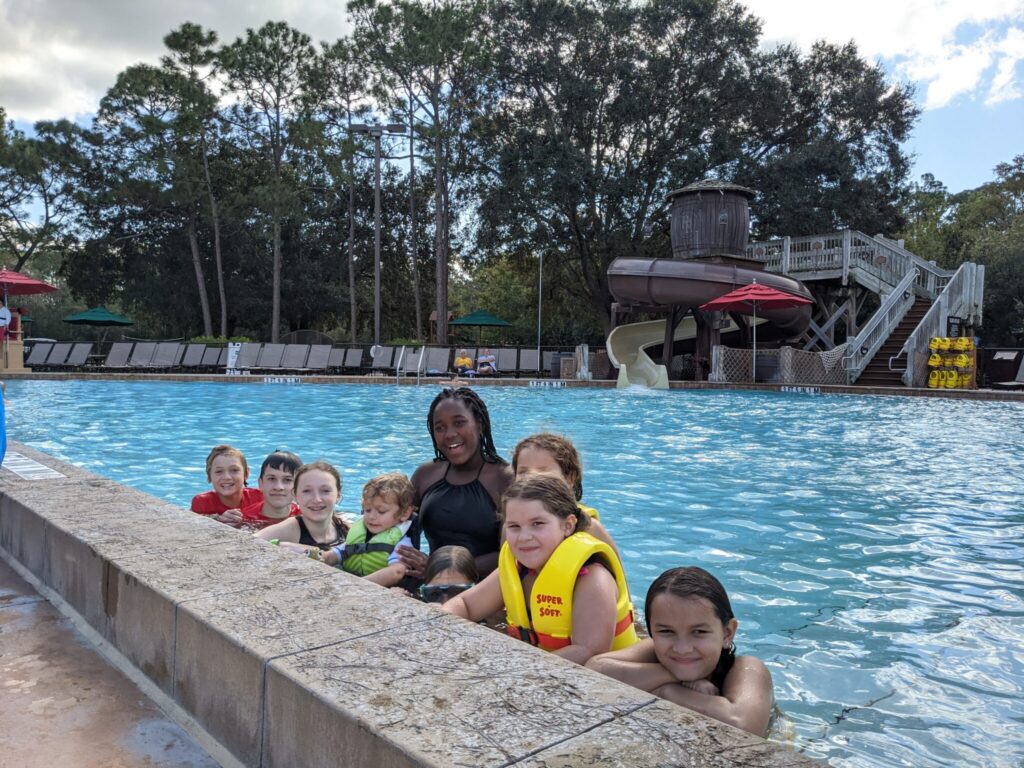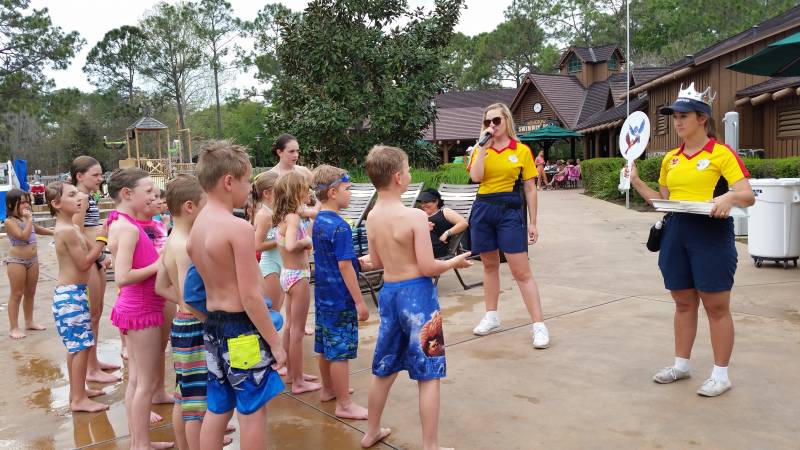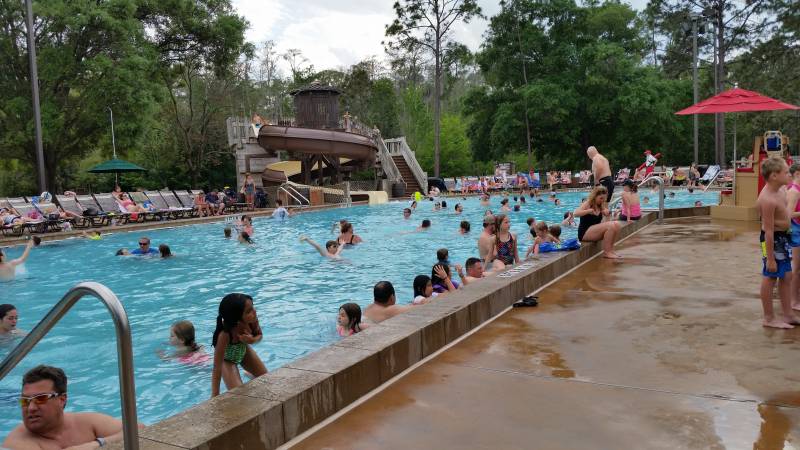 Insider Tip: Join a Fort Wilderness Facebook group for up-to-date tips from other campers! You'll be able to compare notes with someone who is currently there or just left. They may be able to offer better insight into what things are currently closed. A couple groups I love are Happy Campers of Disney's Fort Wilderness Campground, Fort Wilderness Campers and Disney's Fort Wilderness Camping Group.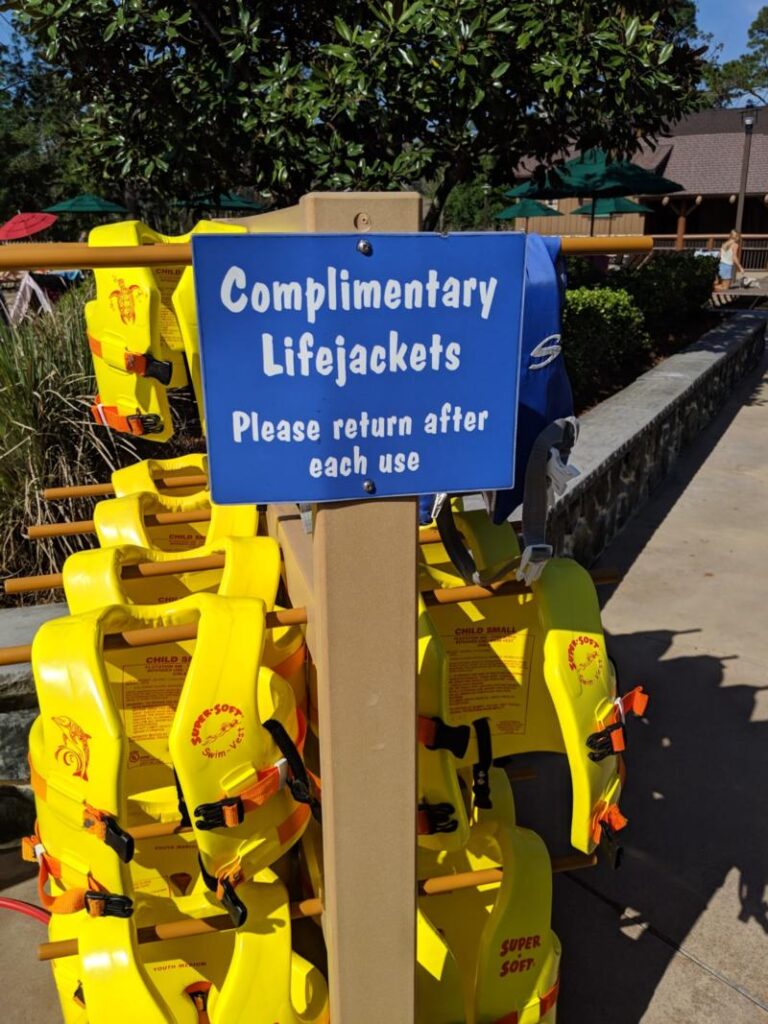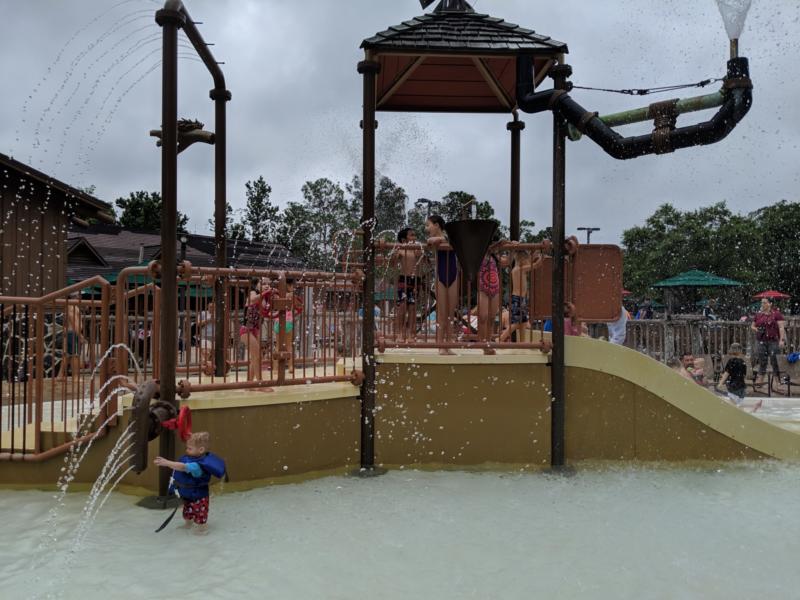 What We Didn't Love
There really wasn't much that we didn't like. The biggest drawback is the large size that makes getting from one side of the campground to the other, a hassle.
One time, we stayed at a premier spot that put us closer to the lake/boats, fireworks and restaurants but farther from the pool. We have also stayed in a loop that put us directly across from the pool. Both spots had their pros and cons. Being near the lake made a short stroll down to the beach every night for fireworks and to the restaurant for beverage refills.
When going to the pool, we would load our pool gear into a wagon and walked down to the pool with everything we needed to stay for a few hours before coming back. This worked well but if you are one to come and go, you will find it's a pain unless you've rented a golf cart. Being closer to the pool was our favorite spot to be. We hopped on a bus when we wanted to get down to the beach or restaurants, but loved having such a short stroll to the pool.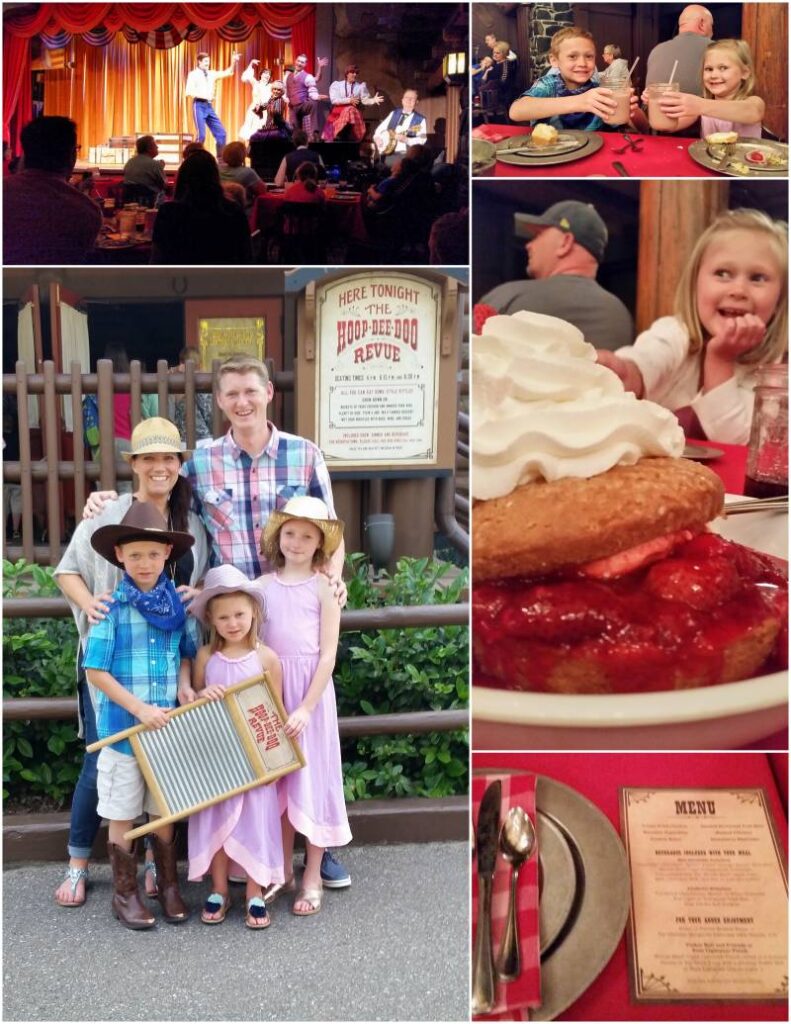 Other Tips
Here are a few tips we picked up from our experience.
Getting Around
There is absolutely no parking throughout the park aside from the room for 2 cars at your site. With how large it is, most places you'll want to go are quite a far walk or you'll want to hop on a bus. But, because there are no places to drive your car to, most people just leave them at their sites. I love the fact that you don't have to worry as much about the traffic. Our kids were able to walk around and ride their scooters without the fear of constant cars going by. But, it made getting to places a little less than ideal.
Your options for getting around the campground are:
Taking your own golf cart or renting one for $60/day – The price is steep, so we never rented one, but thought it might be nice for a day or so if you plan on staying around the park all day.
Taking bikes OR renting bikes
Walking – The park is exactly one mile from one end to the other
Riding the bus system that has plenty of stops throughout the park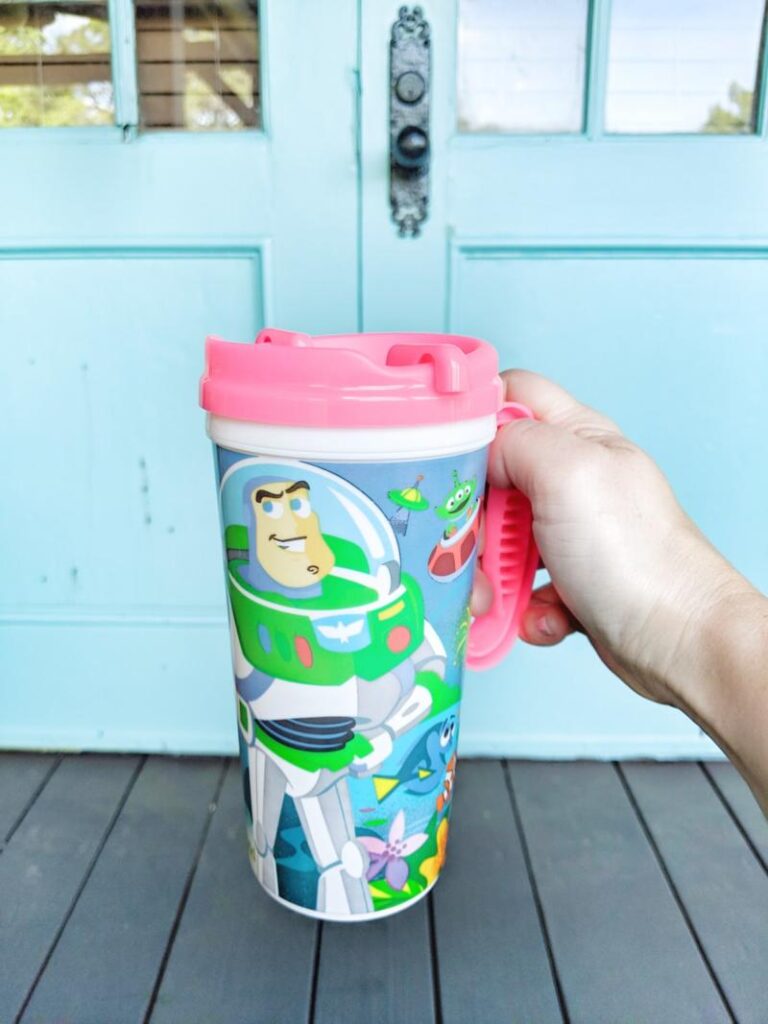 Buy the refillable resort mugs
Buy the refillable mug if you plan on staying for a while. They may seem pricey, but we found them to be really nice at the pool where you could get unlimited refills. You can also refill them at the quick service restaurant on the premises and at other Disney resorts (but not in the theme parks!).
Visit the Tri-Circle-D Ranch
The Tri-Circle-D Ranch is absolutely gorgeous and such a nice place to visit. Depending on where you are camping in the park, you may want to hop on a bus and take it back to where the ranch is located near the restaurants and beach. It is free to visit.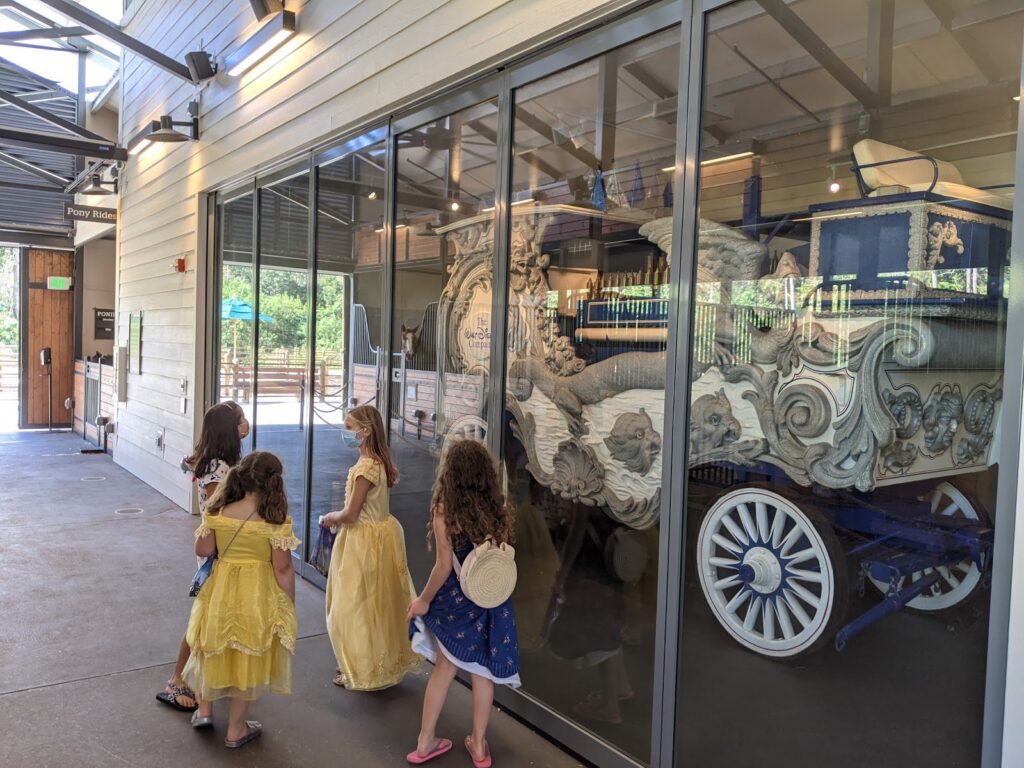 BYOS
Bring your own s'mores. Every night, gather near the Meadows recreation area for a movie under the stars. Some nights also feature Chip and Dale for a campfire sing-along. There is a fire going, perfect for roasting marshmallows, but you have to bring your own supplies.
Don't feed the wildlife!
We noticed the first day we got there that the squirrels were exceptionally friendly (as well as the ducks for that matter). Too many Disney princesses have called the woodland animals in and fed them from their campsites. Believe me when I say, no food is safe. See the below picture for proof of what they are capable of! The nice thing is, I called this in to report it and a very nice maintenance/pest control man came out to take a look and they refunded us money for the damages.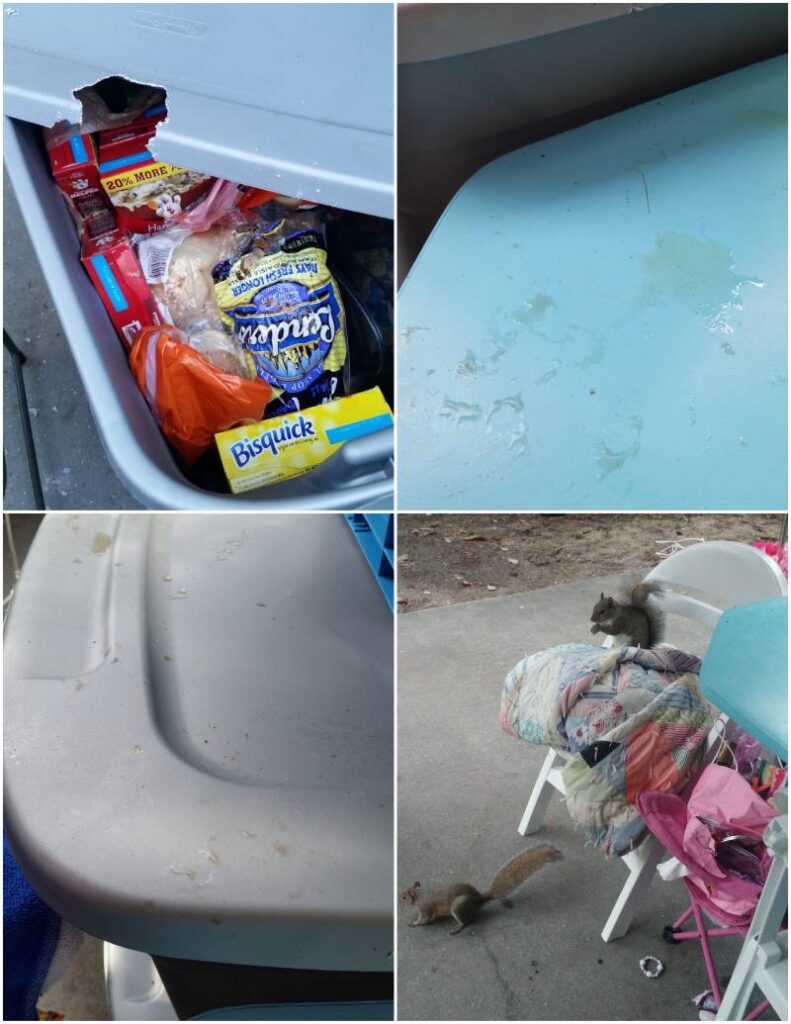 The price fluctuates depending on season
Go on the off-season if possible, you can see a price calendar here. Sites are as low as $55 on the off-season and can go up to around $150 for a premier during peak season.
Read: How to Pin Trade on a Dime
Bring the Right Fire Pit
You can enjoy a free nightly fire with Chip and Dale, but if you want to have your own fire, you'll need to bring the appropriate fire pit. Fire pits must be completely enclosed on the sides and top. The exact one we bought on Amazon is currently unavailable, but you can check out this one.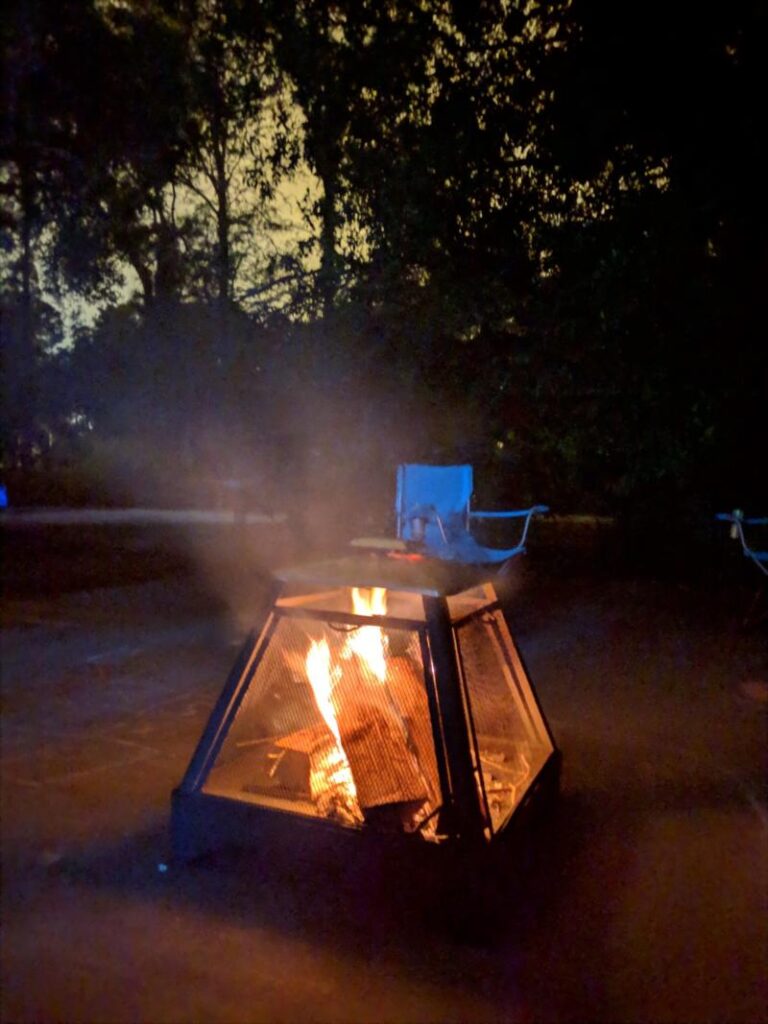 Choose your spot wisely
When making your reservation, you are able to request a certain site and loop. On one visit, we chose the premium spots in the 400 loop (they are larger, include cable and are located closer to the lake and restaurants). If you don't plan on seeing the fireworks every night or eating at any of the restaurants, you may want to choose a spot that's closer to the Meadows pool. We have also stayed in the 1000 loop across from the pool, which is now our favorite spot! If you have older kids, they are close enough to walk to the arcade or gift shop by themselves, and you are close enough to the pool to go back and fourth. There is a drink refill station and small snack shop there, as well as a very nice gift shop.
Update: Our current favorite spot is the 900 loop which puts you close to the Meadows Recreation Area, bus stop and restrooms.
Keep in mind that all spots are slightly different in size based on the tree positions. The spot we had in the 900 loop was plenty big for our 37′ travel trailer, 2 cars and a 15 person tent.
TIP: If you call in when making your reservation, you can request certain loops and sight numbers, but these are not guaranteed. I always ask again at check-in if there is a spot I really want. Many times they are able to accommodate.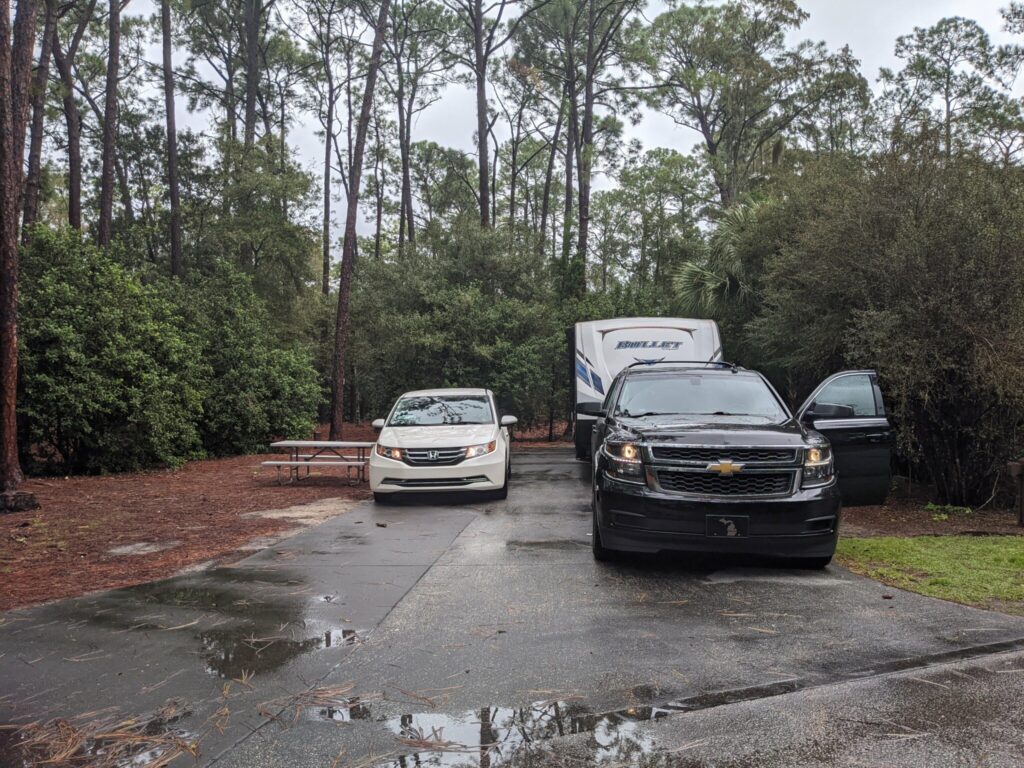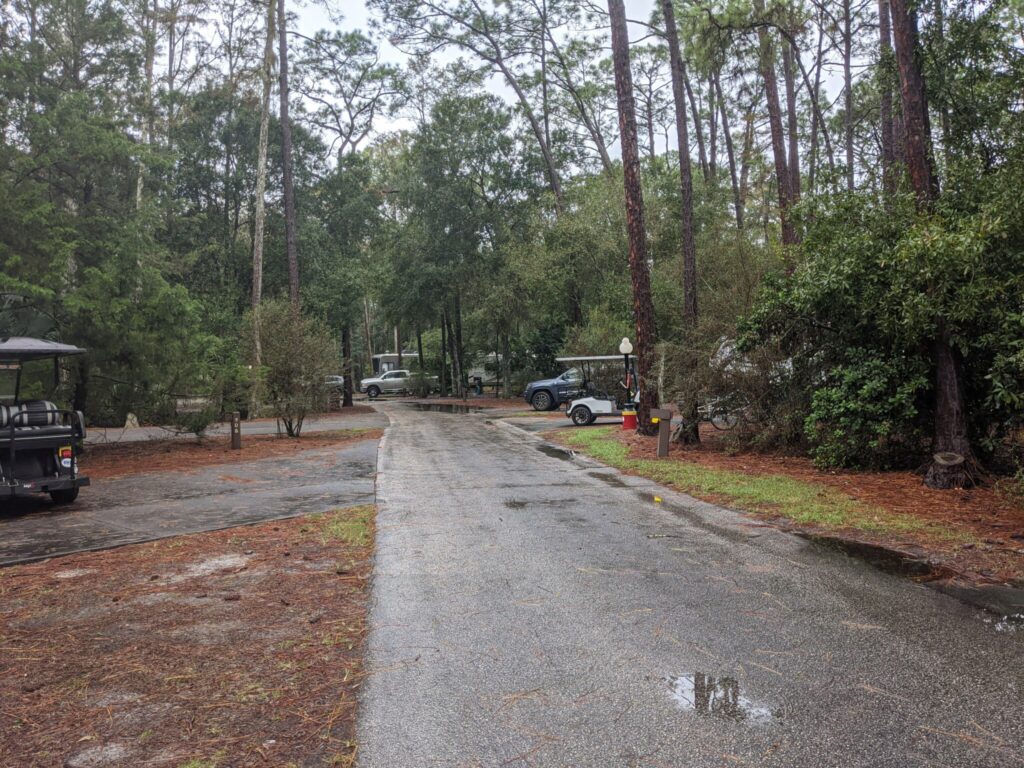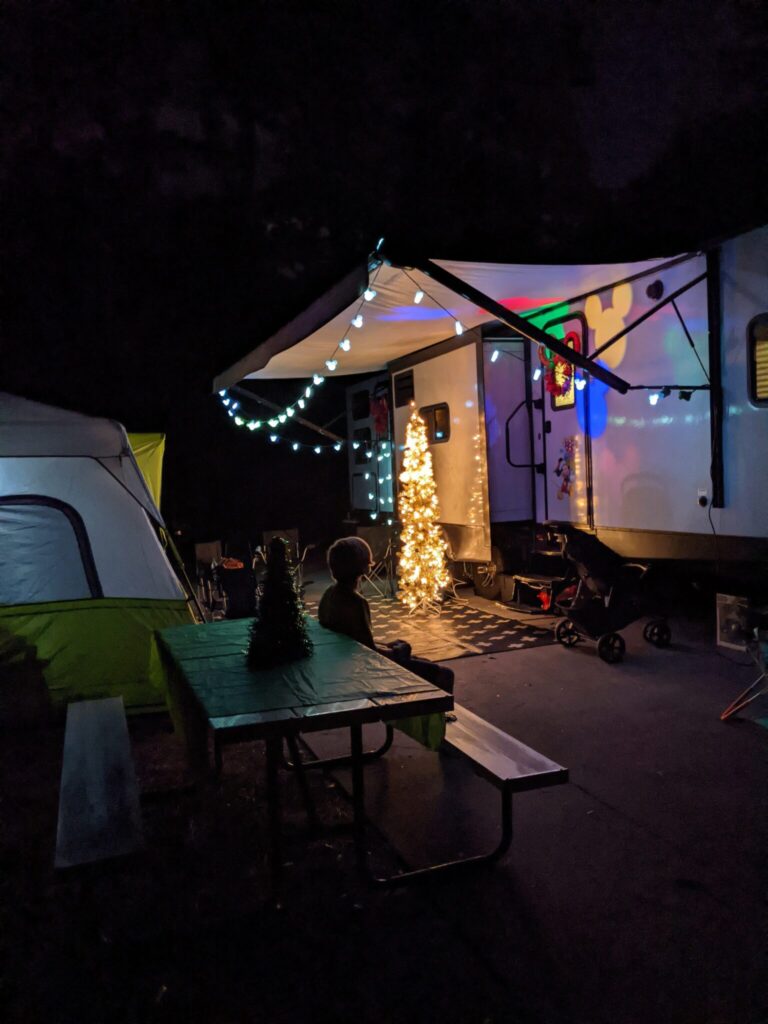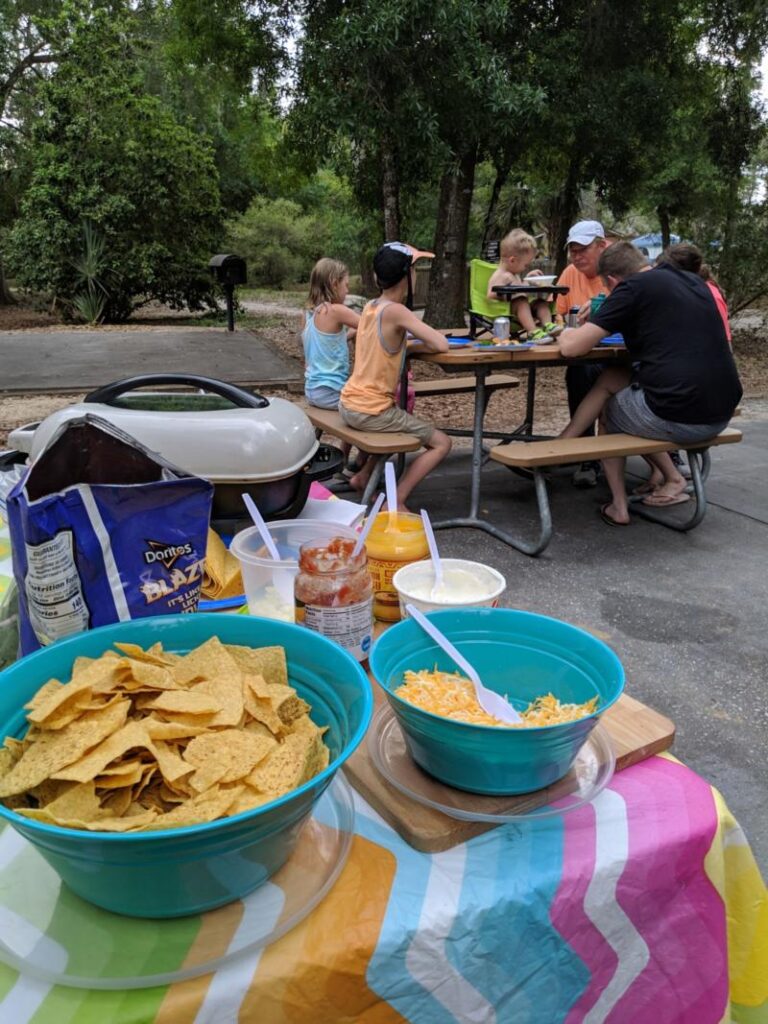 There really isn't a bad spot in the park. Every spot has shade, is level and within walking distance to a nice bathhouse or "comfort station." But, because the park is large, you will want to choose a spot closer to the activities you think you will be utilizing.
On the map below, I have circled the 400 loop that we stayed in once. I've also included other points of interest. There is a small "Wilderness Pool" located near the front of the park. This is great for those camping farther from the large pool. It's not nearly as kid-friendly as the Meadows Pool, but it is nice and quiet. The Meadows area is a one stop spot with drink refills, food, store, bike rental and activities.
—> This post does a great job of breaking down each site and helping you choose which one is best for you: Fort Wilderness for First Time Visitors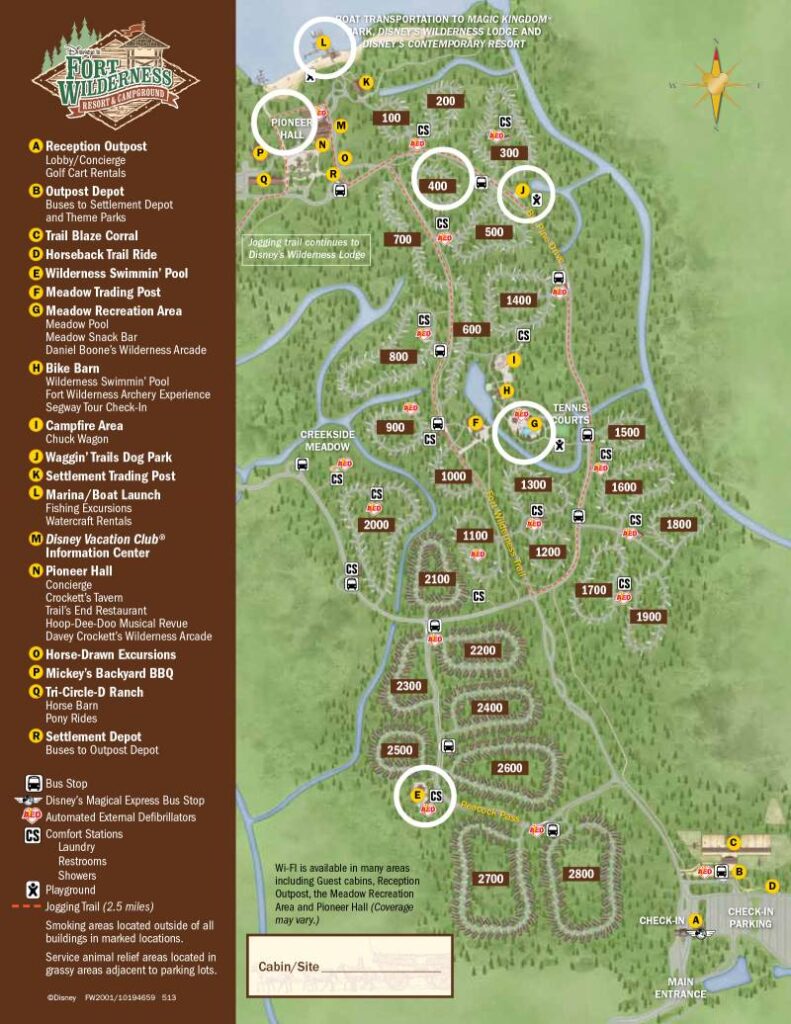 Conclusion
I highly recommend staying at the Fort Wilderness Campground if you're into camping!
Where else can you:
Camp
Experience a healthy dose of Disney hospitality
See fireworks every night
Catch a water parade
Sing around a campfire with Chip and Dale
Watch Disney movies under the stars
Enjoy a boat ride with views of Cinderella's castle
All at the same time?
If you've stayed at other Disney resorts, you do have to remember that this is a campground, not a hotel. There are obvious differences, yet you are able to benefit from so many of the same perks. It's really the best of both worlds.
Go prepared for the large size and plan on walking a lot. With that being the biggest and only real drawback we experienced, our crew gave it a big thumbs up!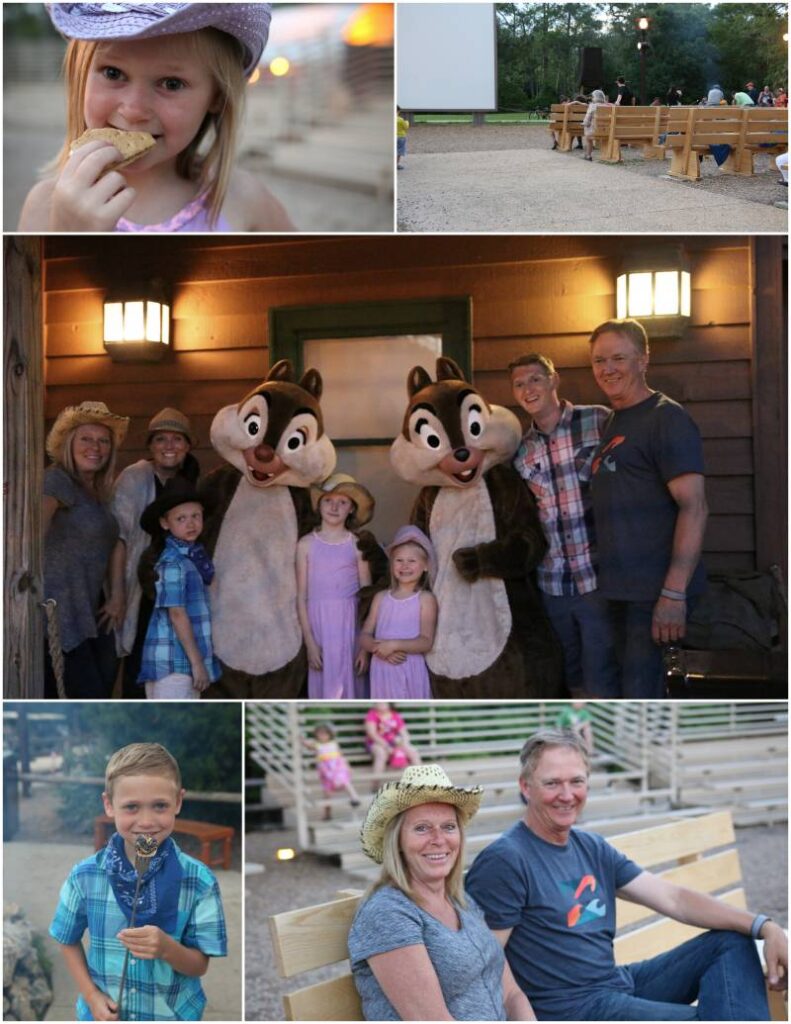 Helpful Links
Here are a few sites I found helpful in planning our stay:
Have you stayed at Fort Wilderness??
What did you think? I'd love to hear your thoughts and answer any questions you may have!