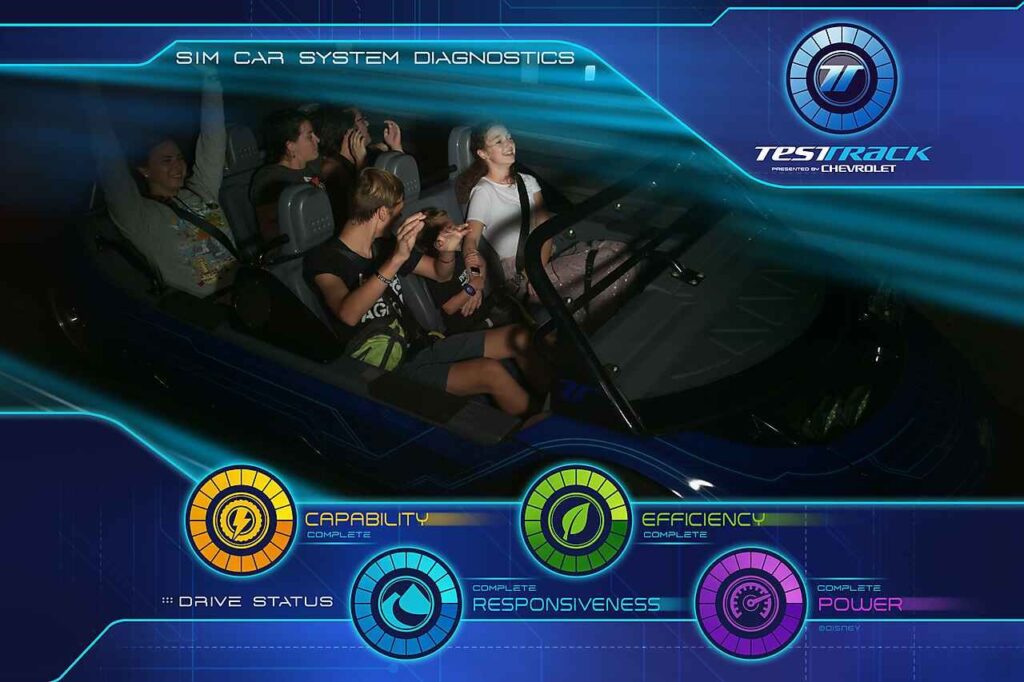 Location
Walt Disney World – EPCOT
Type of ride
Indoor dark fast ride
Test Track
Test Track is a thrilling high-speed adventure featuring sudden accelerations, stops, dips, and sharp turns. Enter this entertaining test analysis with your vehicle to compete against other test cars. Get out your creative skills to design your very own vehicle that will test for capability, efficiency, responsiveness, and power. For the four test groups, your vehicle will be tested for sustainability, undergoing harsh weather conditions, steering quickly out of danger, and speed.
Location
Test Track is in EPCOT's World Discovery Land. To get to Test Track, go passed the EPCOT ball and walk under the pavilion on the right of the Connections Cafe. Take another right, and the ride entrance will be in view.
What Age is Test Track Best For?
I recommend ages five and up for this ride. The ride itself is not too scary and intense for younger children. However, the ride is mainly in the dark and has some unexpected loud noises. For example, my five-year-old brother is afraid of the dark, but he absolutely loves this ride.
How to Ride Test Track
The regular standby wait time for Test Track is at least 45 minutes. You can also buy a Lightning Lane Pass to skip the long waits. Another option is getting Genie+ which provides expert advice on the best times to wait in ride lines.
Will I Get Motion Sickness on Test Track?
If you are prone to motion sickness on most rides, I do not recommend this ride for you. This ride has fast accelerations, sharp turns, sudden stops, and bumpy movements that may make you sick. I also do not recommend this ride for anyone with back, neck, heart, blood pressure, or other conditions that Test Track might aggravate.
What Items can I Take on Test Track?
You can take anything with you on this ride as long as your items fit either comfortably below your feet or in the pouch in front of you. Cast Members will require that you take loose items like hats and glasses and stow them in the pouch.
How Many People Fit in a Row?
Three people fit in one row, and each test car seats six people in total.
Can Children Ride on your Lap?
Children cannot ride on your lap on Test Track. If you want to take younger kids with you, make sure they meet the height requirement beforehand.
Are There Ride Photos available?
There are ride photos available for this attraction. Your ride photo will be taken soon after you accelerate out of the building, and you can view your photo at the exit of the ride. You can scan your photo either with your Magic Band or park ticket or keep your Magic Band with you while riding the attraction. Your photos will automatically appear on the Disney parks app.
Accessibility
You must be able to transfer out of your wheelchair for the attraction.
Insider Tips for Test Track
If you are riding with smaller kids, I suggest keeping an arm on them since the ride has sharp turns and fast accelerations.
If you are riding with any one of the minimum required height, make sure not to lean forward in your seat. Leaning forward or halfway lifting your arms in the air could hide the person from view in the ride photo (the photo up top of my hiding little brother proves that).